I Couldn't Decide What Color to Paint My House — Then an Online "Color Concierge" Helped Me Choose
We independently select these products—if you buy from one of our links, we may earn a commission. All prices were accurate at the time of publishing.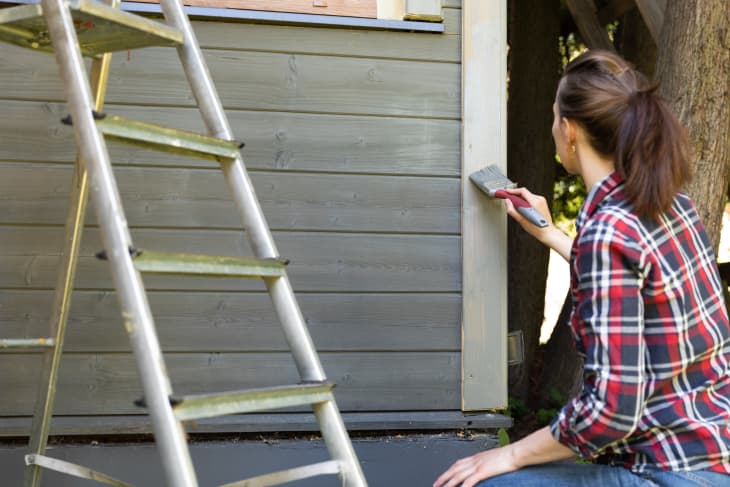 When my husband and I bought our current home last fall, I started making a list of potential projects. Painting the beat-up, mismatched exterior was at the top of the list. I spent hours scrolling through Pinterest and random design blogs, and I thought I knew what color schemes I liked. Then, I had a Photoshop-savvy friend mock up the colors on a photo of my house, and I realized I had no idea what I was doing. None of the colors looked right on my house. 
Follow Topics for more like this
Follow for more stories like this
I'd already scheduled a painter to work on the house for the following summer, so while I had plenty of time, I felt a little discouraged about my ability to pick the right colors. Painting is a big investment, and I wanted to do it right the first time. That week, I bumped into a neighbor who's an interior designer and ran a few of my ideas by her. 
She recommended searching online for a color consultant, which opened up a whole world I had no idea existed. Basically, paint color consultants consider factors like the style of your house, the color of your roof, the direction your home faces, and your neighbors' paint colors to help you choose the ideal colors for you. 
After vetting a few options, I ended up hiring The Color Concierge, a color consulting service that's fully online. The process was simple: I filled out an extensive questionnaire about my house, including several photos of my house from different angles and pictures of my neighbors' homes. The questionnaire also asked for some specific details, such as the style of windows and the color and style of the roof. I also had a chance to share inspiration photos I'd gathered and list out colors I loved and didn't like.
Within a few days, my concierge Michelle emailed me a very detailed PDF that included multiple personalized color schemes with mockup drawings, so I could picture how the paint colors would look. I sat down to show my husband and we landed on a whitish primary color with light blue shutters — classic enough to feel timeless on our colonial, but also bright and cheery.
In the process of filling out the Q&A and reading through the PDF, I learned so much about painting a home's exterior. I had no idea, for example, to consider choosing colors or even shades that matched my home's gray roof (it seems obvious, but I wasn't thinking about it). I also didn't realize our vinyl windows couldn't be painted, so I had to consider having white windows (or buying new ones) when choosing a paint color. Michelle also explained that the direction your house faces plays into the decision, as certain colors (especially whites) can look brighter in direct sunlight. 
My main takeaway: Paint, like your personal design style, is bespoke — and the process of choosing exterior paint colors should be as unique as your home is. Investing in this process wasn't exactly cheap — I paid $299 to work with a color concierge — but hiring an expert was more than worth it. I'd much rather do this big project like this right the first time rather than rely on my fleeting design inspo, and I'm sure my neighbors will appreciate the extra steps I took, too.