Kristen & Kourosh's 70s Modern California Beach House
We independently select these products—if you buy from one of our links, we may earn a commission. All prices were accurate at the time of publishing.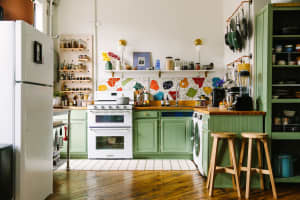 Can't-Miss House Tours Straight to Your Inbox
Keep up with our latest house tours each weekday with our House Tour of the Day newsletter
Name: Kristen Philipkoski, Kourosh Karimkhany, and daughter Frida
Location: Pacifica, California
Size: 2,000 square feet
Years lived in: 2.5 years; rented
Follow Topics for more like this
Follow for more stories like this
When Kristen Philipkoski, a science writer turned fashion blogger, spotted this 70s beach house in Pacifica, just 15 miles south of San Francisco, she knew she had to have it. Complete with a sunken living room, wall-to-wall shag carpeting, and a mod fireplace, plus awesome views of the Pacific, the retro architecture and boho-beach vibe suited her eclectic style perfectly.
Though she could have done without the dated kitchen cabinets and waterbed left behind, Kristen made them work with modern pairings. Her décor sources, like her fashion ones, include local vintage shops, but also online home design shops and places from her travels like Guatemala. Her mother-in-law's beautiful gifts from Iran (textiles, rugs, and pillows) add to the multicultural mix.
Her husband Kourosh enjoys a styled man cave downstairs with a roomy IKEA sofa, vintage bar, and globe lamps (the 70s wallpaper is original and grew on the couple over time). Kristen's lady cave is where she works from home — a closet full of vintage dresses and shoes sits on the other side of her desk, the perfect inspiration for her writing.
Their daughter Frida scored two rooms in one with a closet that divides the bedroom from the playroom. Vintage flash cards and Japanese embroidery, a rug from Iran, Marimekko fabric, and a Frida Kahlo jewelry box all work in harmony to create a playful, eclectic space.
Although their sleepy town is known for its fog, the day of my visit was sunny and warm — take a look, and thank these two for sharing their cozy home!
Apartment Therapy Survey:
My Style: I love mixing modern pieces with ethnic textiles. I feel very lucky to have a mother-in-law who has brought so many gifts — rugs, pillows, tapestries and lots more — from her home country, Iran. I also love mixing vintage with new. I scour the vintage stores in Pacifica for quirky, unexpected pieces. For larger pieces I usually play it a little safer and look for something new (preferably on sale!).
Inspiration: The rustic style prevalent in Pennsylvania reminds me to keep things simple. Domino magazine was a huge influence, and I still have all my copies. Last year we stayed at the Ace Hotel in Palm Springs and I've obsessed ever since. And after seeing photos of the new Ace in L.A. I can't wait to see it in person. Plus travel, the beach, the natural beauty of California, and my friends who have amazing style.
Favorite Element: The view. The fireplace is a close second.
Biggest Challenge: Definitely the baby's room. It has a closet sticking out of the center, and the landlords left behind a child-size water bed that weighs a ton. When a burly friend of ours was visiting, he and my husband moved the bed into the corner against the wall so at least now I can treat it like a day bed — albeit one that makes you a little seasick.
What Friends Say: Amazing view! Also: That's a lot of shag carpet!
Biggest Embarrassment: The downstairs back deck. We always forget about it and it's strewn with pine needles and pinecones.
Proudest DIY: The wall hangings in the living room and bedroom are Marimekko fabric that we stretched over wood frames. That's about as DIY as we get.
Biggest Indulgence: We recently splurged for a custom-made king bed, new mattress, bedding and the whole works.
Best Advice: To SFers wary of the fog in Pacifica: it's not as bad as you think.
Dream Sources: March, Kelly Wearstler Interiors, Cavalier, The Future Perfect, Viracocha, Big Daddy's, Monument, for X21 to get back in business, and far-flung flea markets.
Console table: Room & Board
Photograph: panorama of Dolores park by Jon Snyder
Art: vintage, a gift from my BFF
Silver vases and elephant: West Elm
Wooden tray: from a trip to Guatemala
Chandelier: landlord's flea market find
Tapestry: from India, wedding gift from Kourosh's aunt
Couch and silver floor lamp: Room & Board
Hanging lamp: eBay
Wall hangings: http://txtlart.com/
Orange tables: CB2
Wood rocking chair: H.D. Buttercup (via Craigslist)
White rocking chair: Fab.com
Rug and pillows: from Iran, gifts from Kourosh's mom
Wood side table: Vintage Cove in Pacifica
Lambskin: Ikea
Coffee table: Fab.com
Table and benches: vintage, X21 (RIP)
China cabinet: Room & Board
Art on China cabinet: gift from Kourosh's mom
Gardenia painting: by Kourosh' mom
Mirror: TJ Maxx
Glass candlestick holders: CB2
Orange candle holders: Vintage Cove in Pacifica
Upholstered chairs: West Elm
Table runner and wall art: TJ Maxx
Drawing of glass: by Kourosh's mom
Pitcher: Ma Maison (gift)
Sticks and Twigs: Paxton Gate
Curtains: vintage
Bed: custom from Greenpiece furniture
Crocheted afghan: made by my Aunt Gloria
Colorful textile: gift from Kourosh's mom from Iran
Birch tree wall hanging: Marimekko (http://txtlart.com/)
Black wall hanging and bird lamp: Urban Outfitters
Wood dresser: left behind by landlords
White dresser: Ikea
Side tables: garage sale
Lamps: Lamps plus
Ceramic side tables: Target
Metal picture frames: Room & Board
Wooden box and glass frame: TJ Maxx
Tiny box: from Iran
Chandelier: eBay
Green vases and rug: West Elm
Heart: The Yonder Shop
Green and red vase: Anthropologie
Shower curtain: vintage
Brown/white vase: gift
Eiffel Tower drawing: Pont Neuf in Paris
Desk, mirrored cabinet, white shelves, black shelves, wood shelf: Ikea
Glass globes and white-framed pictures: The Pickled Hutch (now in San Mateo)
Lamp, cow and dog paintings: Community Thrift
Lampshade: Dogfork lamp arts
Chair and fabric chandelier: Discarded to Divine auction, by Agustin Sanders
Large poster: Fab.com
Band of Horses poster: Outside Lands
Photographs in closet: by my Dad, Richard Philipkoski
Dresses: vintage
Couch and globe lights: Ikea
Textile on back of couch: from Iran
Textile on arm of couch: from Guatemala
TV Stand: Ikea
Bar: vintage, gift from friends
Stools: West Elm
Desk: left by landlords
Various white figurines: Mostly West Elm
Crib: Stokke, gift from friends
Shelves: Ikea
Flash cards and Japanese needlepoint: Uncommon Objects in Austin, TX
Mini ghost chairs, beanbag chair, yellow quilted pillowcase and light switch covers: Fab.com
White table: garage sale
Pink chair: gift from next door neighbors
White ceramic animals (with birds on heads), felt ram: Joy & Revelry
Ceramic calf: TJ Maxx
Hanging shells and beads: West Elm
Pom poms: Studio Mucci
Mirror: Crate & Barrel
Red bedspread: Marimekko from Crate & Barrel
Vera pillowcase: vintage, gift from friend
Quilted pillowcases: wedding gifts, handmade by Katie Dean
Mosquito netting: Amazon
Frida Kahlo jewelry box: gift, by Miguel Vasquez, from Casita Del Pueblo in Whittier, CA (http://www.casitadelpueblo.org/)
Rug: from Iran, Kourosh's mom
Rocking horse: Melissa & Doug via Amazon
Rocking chair: Vintage Cove
• HOUSE TOUR ARCHIVE: Check out past house tours here.
• Interested in sharing your home with Apartment Therapy? Contact the editors through our House Tour Submission Form.
• Are you a designer/architect/decorator interested in sharing a residential project with Apartment Therapy readers? Contact the editors through our Professional Submission Form.