A "Kennedys Go Camping" Restored California Craftsman
We independently select these products—if you buy from one of our links, we may earn a commission. All prices were accurate at the time of publishing.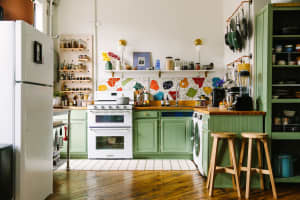 Can't-Miss House Tours Straight to Your Inbox
Keep up with our latest house tours each weekday with our House Tour of the Day newsletter
Name: Matt Gourley and Amanda Lund
Location: Pasadena, California
Size: 1340 square feet
Years lived in: Owned 1 year
Amanda and Matt live in a 1947 bungalow in the San Rafael hills of Pasadena. Although most people think of Los Angeles being more like a concrete jungle, Amanda and Matt found a place to call home on a gorgeous, quiet, tree-lined street with no sidewalks that ends at a lake. Wildlife roams their backyard. For now, the couple focuses on restoring the inside of their home to create a craftsman feel where they can get cozy in the midst of the trees.
Although Matt does so much work on the house that he technically could be labeled a contractor, they are also both actors and writers — and in fact met performing improv comedy together! They are also both second-generation Southern Californians. Matt grew up in Whittier and Amanda grew up in Long Beach. In Amanda's free time, she likes to read, play basketball on her team, The Pistol Shrimps and has a podcast entitled THE COMPLETE WOMAN. In Matt's free time, he does a lot of podcasting SUPEREGO, I WAS THERE TOO, PISTOL SHRIMPS RADIO but mostly just works on the house. They live with their huge and delicious cat, Margaux The Fat Guy.
Apartment Therapy Survey:
Our Style: I guess we'd call it "Mid-Craftsman?" "Mid-Century Rustic?" I don't know, maybe "if the Kennedys went camping." That's it.
Inspiration: Matt: When it comes to this stuff, I'm definitely my mother's son. She always had such a great style with this kind of thing — never pretentious, just kind of inviting and interesting, while still feeling a little curated. Also, just as influential to me: Ken Adam, the production designer for the James Bond Films.
Favorite Element: Amanda: The kitchen. It was something we gutted and redesigned from scratch. We knocked out a few walls to open it up and make it a true galley kitchen. I love the open shelving and amount of light that comes through since we installed a larger window. But I especially love the three little craftsman art tiles we put above the stove.
Matt: For me, it's the lounge. It ended up looking mostly like what I had imagined and I also I like it because we actually use it regularly. I really enjoy our morning time there, drinking coffee and watching the cat collapse under her own weight right at our feet.
Biggest Challenge: Matt: Stripping, sanding, staining the wood frames and replacing the 72 individual glass panes in the living room windows. It was the first thing I did on the house and it's a good thing, because I would never have done it if I'd known how involved it was going to be. It was so tedious and messy.
What Friends Say: "Cozy," "welcoming," or in Amanda's mother's case, "Just too masculine."
Biggest Embarrassment: Matt: I took down a cheap LED light fixture and used the plastic sconce shade as a bowl to put some old wood stain brushes and paint thinner in. Since it was made of plastic, it melted on our dresser and all the thinner and stain ran down our new bedroom wallpaper. We bought a new dresser and the mess is hidden behind that. But it still knows were there and whispers "I know what you did to me" in the middle of the night like a tell-tale heart.
Amanda: That we have some fake plants. They're nice fake plants but still, they always remind me of my inability to keep something alive. I'd like to have real plants but I'm a plant killer. There, I said it.
Proudest DIY: Matt: For me, I think it would be the wainscoting. I've always loved the look of it in old houses and I was curious to see if I could pull it off. I learned my carpentry skills as an undergrad when I studied scenic design. But those skills went toward building things that only needed to last two weeks. So far, everything in the house has lasted longer than that. But I know that one morning I'm going to wake up to find it has all sprung from the walls.
Biggest Indulgence: Amanda: We bought a refrigerator that has something called an "on-the-go" door. It's really just a door within the door for beverages. We don't really know what it's for but it's ridiculous and looks cool.
Matt: The leather-tufted door, for sure. I have an almost embarrassing love of James Bond films and it's always been a dumb goal of mine to get a leather-tufted door like the one in M's office. I guess both of our indulgences are door-based. Don't know what that means.
Best Advice: Don't always trust a level. Old houses are almost never true and straight and a level may make your design lines technically correct, but if a floor is slanted and a ceiling is slanted the other way, anything in between may need to have its angle cheated a little to make up for it. A level won't do that for you but a good eye will. Step back and look as often as you can.
Also, change into work clothes. I get so excited to work I just start in while wearing my regular clothes. I have a stack of ruined clothes that I now keep to use as work clothes but then I never use them either because I'll just dive in wearing my regular clothes again. The point is, I'm not learning.
The living room arches are made of alder. I started working on them before I realized how difficult it would be to converge all of them in one corner — two separate ceiling beams and one floor post, each with multiple angles, all of which had to wrap around the end cap of a wall. To make sense of it in my head, I had to build a Lego model to prove to myself that I could even do it.
All of the white wainscoting, window frames, door frames, and molding were installed by me last summer. It was before we had AC and Amanda was working in Atlanta for 2 1/2 months. We hadn't yet moved in so I would just come over each day, sweat like a waterfall, and hammer and nail it all in. I lost some weight.
Our cat is quite a furniture scratcher and we knew we wanted a tree or large plant in the living room so I built this planter out of a concrete pouring tube and some hemp rope. It took the cat a week or two to approve of it, but now it's her one-stop scratching place.
The sofa was designed by us so that the bench ottoman could fit right in the angle of the sectional. It's great as a bed for guests or for when you want to just watch all of season two of Narcos in a day and never leave the couch.
The mid-century lamp belonged to my grandparents and from what we're told, the vintage chair belonged to the Reagans at their Palisades home. I have no idea if that's true, but it does have a whiff of nuclear proliferation about it.
Walnut credenza — Room & Board
Ceiling lights — Schoolhouse Electric
Top down window shades — The Shade Store
Acacia wood 24″ wall mirror — CB2
Custom sectional sofa and bench ottoman — The Sofa Company
Coffee table — West Elm
Umbrella stand — Pottery Barn
Throw Pillows — Memnia McWilliams
Rug — Living Spaces
Wall paint — Farrow & Ball Cornforth White
The wood in this room — the alder wainscoting panels, crown molding, and arches — was the project I was most looking forward to doing. It was definitely the most extensive of anything in the house. The lounge is where we tend to have coffee in the morning and maybe read the paper or put on a record. The cat likes to hang out here as well, which suits her very particular tastes.
The framed half-finished crossword puzzle hanging on the wall was the one my grandfather was working on the day he passed away. He put me on to crossword puzzles and we used to talk about them a lot.
The wallpaper was custom printed and designed by us to feel like it could be found in an English pub or club, but also work with the gray of the living room, since both areas are in the same basic open room plan. The rug was from Amanda's family's house. We found it rolled up in the garage. Sometimes the best vintage store is your childhood home.
We bought an old brass fire extinguisher and just put a piece of round tempered glass on it to make a small end table. This room was by far the most indulgent and was inspired by my love of all things English. Especially the leather-tufted door, which was right out of a James Bond film. Fortunately, Amanda was on board with the look and also very tolerant in letting me do it. An upholster in Pasadena named Ed Lanzetti did the job for me and he was fantastic.
Coffee table — H.D. Buttercup
Custom leather club chairs — The Sofa Company
Brass reading lamp — Lighting New York
Leather-tufted door — Lanzetti Upholstery
Vintage bar cart — Shopclass
Wallpaper printing — Astek Inc.
Equestrian prints — Heritage Posters
Portable turntable — Crosley Record Players
We removed the north and west walls of the dining room to allow in more light and to achieve an open kitchen. The ceiling area around the old light fixture was very messed up. I didn't feel like sanding it and re-plastering so I thought of installing a wood ceiling medallion. As it turns out, it's near impossible to find a ceiling medallion that doesn't look like it belongs in Downton Abbey or The White House. My solution was to just get a $15 Crate & Barrel wooden plate, drill a hole, and pop it up there. It ended up having a sleek-looking feel and was ultimately a lot cheaper.
I built the window seat/storage bench. For some reason, this one was a relatively simple build. It was really last minute and yet somehow the quickest. I basically did it in a weekend. No, that can't be right. Maybe a week. I don't know, but either way, I didn't put a lot of planning into it and just went with it. I hadn't worked with oak before and it swelled the day after I installed it. I had to re-cut the storage lids out and trim their edges so they could be removed again. We bought some old vintage Hungarian grain sacks and reupholstered the dining room chairs. Then we made pillows for the window seat to match.
Vintage hutch — Sunbeam Vintage
Dining table — East Colorado Antiques
Rug — Living Spaces
Ceiling light — Dot & Bo
Brass wall register — Signature Hardware
Gold hands — Some vintage store in Utah
There was a similar situation to the dining room in here where the ceiling was pretty rough around the old light fixture. In this case, the ceiling medallion is just a rustic cheese platter from Target.
All of the windows were restored and repainted. I removed the window trim, baseboards, and door molding and replaced it with stained mahogany. The baseboards are painted to match the windows and capped with an oak quarter-round piece. I had gotten tired of trying to fit long pieces of lumber into my very small car so rather than buy 12′ boards for the mahogany trim, I bought 6′ pieces at Home Depot and did a little decorative joinery in the middle and the corners. That was a choice out of laziness that probably ended up costing me more time. I do that a lot. But also, I like the way it looks better and what else am I gonna do, go golfing?
Woods wallpaper — Cole and Son
Vintage Lane dresser — Sunbeam Vintage
Ceiling light — Schoolhouse Electric
Andes Acacia King Bed — CB2
Acacia wall mirror — CB2
Stanmore Bluetooth speaker — Marshall
Window roller shades — Smith & Noble
Nightstand lamps — West Elm
California Nlag — eBay
Bed throw pillows — Target
Window seat pillows — Target
Bedding — Restoration Hardware Outlet
Trim paint — Farrow & Ball Black Blue
Wall paint — Farrow & Ball Wimborne White
The two rooms of the house that we had done by contractors were the kitchen and the bathroom. I was too afraid to deal with that much tile and plumbing. We had them gut everything, including three walls — one that enclosed the dining room, one at the entrance to the kitchen, and one that inexplicably split the kitchen in half. The kitchen was the only thing that gave us pause in putting an offer down on the house. We went back to look at it one last time and I just sat there trying to visualize what the solution could be. When I realized it could be done, I did my best to explain the mess in my head to Amanda and we went for it! The kitchen ended up exceeding our expectations. The window was enlarged and the back door was replaced with one that had a lot of windows. The original kitchen was very dark. The combination of more windows and less walls really sunnied it up. We also put in new doors throughout the house to match the craftsman aesthetic.
The floor tile was something that took us a while to find. Our contractor kept asking for it and we kept stalling because we couldn't settle on anything we liked. We were really good with meeting our deadlines but this one was a challenge. Then one day Matt was driving in Long Beach and saw a sign that looked like 'The Twilight Zone' logo and then saw that it said "The Tile Zone." He stopped in and found the tile we ended up using in a herringbone pattern. The Motawi art tiles are Arts and Craftsman.
The floor tile is a combination of inexpensive Lowe's pinwheel tile and some nicer black lining tile. We wanted a classic subway or old Italian restaurant vibe in here forsome reason.
Oak vanity — Signature Hardware
Medicine cabinets — Pottery Barn
Vanity light sconces — Schoolhouse Electric
Faucets — Hans Grohe