A 1970s Cape Town Home After a Complete Makeover
We independently select these products—if you buy from one of our links, we may earn a commission. All prices were accurate at the time of publishing.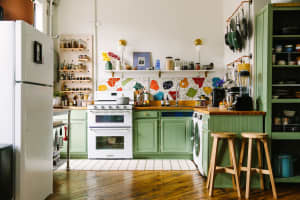 Can't-Miss House Tours Straight to Your Inbox
Keep up with our latest house tours each weekday with our House Tour of the Day newsletter
Name: Rian, Zeanne and their son Christo
Location: Newlands Village — Cape Town, South Africa
Size: 250 square meters
Years lived in: Owned almost 3 years
What was once a dark house with low ceilings has been transformed into a light and airy home with an understated elegance. Zeanne and Rian bought this 1970s house almost three years ago and had to gut it to create the beautiful space you see today.
Zeanne specializes in interior architecture and is passionate about doing home renovations, so their house was the perfect opportunity for her to play. She managed to achieve a high-end finish at a cost-effective price due to her skill set and knowing which materials to use. She also incorporated clever effects such as the floor-to-ceiling mirrored wall in the entrance, which creates an instant illusion of space. Another fabulous addition are the sliding doors in the living area and bedrooms. On a beautiful day, they'll open up all the doors, increasing the floor space and creating a wonderful flow from the inside to the garden.
Both Zeanne and her husband are passionate about travel and fortunately Rian owns a travel company, which allows them plenty of travel perks and opportunities. When they're away on travels they rent their home out via Airbnb and guests love the fact that their home has such a unique African essence in a sleek, contemporary setting.
Much of their furniture was bought at various auctions, which adds an interesting sense of story to their home. These collected treasures along with antique family heirlooms and artworks are blended together effortlessly to create a home that reflects their personalities and love for Africa and travel.
With travel being a big part of their lives, they decided to create a bedroom with a charming travel-inspired theme for their son. All of the wooden toys and decor in Christo's bedroom were bought in Prague on a trip. Zeanne was heavily pregnant and fell in love with the amazing handiwork. An extra suitcase had to be bought and they had to lug it around with them for the remainder of their trip. A real labor of love!
One of Zeanne's favorite quotes is by Coco Chanel and is so descriptive of their home and style, "An interior is the natural projection of the soul".
Apartment Therapy Survey:
Our Style: Our style is "Collected pieces that inspire us, transport us, and make us happy"… I suppose you could call it slightly eclectic, and with an undertone of living in Africa and appreciating the beautiful décor items that Africa has to offer.
Inspiration: Travel, the world, the way different people live! India, Africa and Europe! All of it! We watch documentaries, but we don't have a TV, we read and spend hours pouring over magazines (Zeanne does)… We find inspiration in other people's homes, in spaces collected, in memories from past travels and from design inspirations, such as the home of Geoffrey Bawa—Lunuganga Estate in Sri Lanka. We spent a night here a few years ago, and his work and especially his personal home have never left us.
Favorite Element: We wanted our home to feel like a tent, high ceilings, all light and white, doors that open to the outside and then collected objects from travels inside it…I think this feeling of all white and high ceilings in the main living space is what we love the most. The openness between the outside and the bedrooms and the main living space's relationship to the garden is also something that we value highly. Another favorite element to our home is living in a village, we walk every weekend and enjoy the coffee shops and boutique shops that the village has to offer as well as the familiar faces just down our road.
Biggest Challenge: Keeping our plants happy (we recently had a death in our plant family, and this was a really sad situation). That, and avoiding the compulsive need to always "re-arrange and shift things around" over a weekend!
What Friends Say: Our home is a personal space, we only invite our nearest and dearest into it. All of our friends have always been a huge support in all of our renovations; they have always been positive and full of encouragement when we take on the "renovation challenge"…as long as our home is filled with wine, food and laughs, we really don't want anything more. Our friends often say we are mad with our white couch and décor items…but they know us well enough to know, this is how we love living!
Biggest Embarrassment: Bidding against my dad for our bar chairs at an auction. I had told him I desperately wanted them, he was on one side of the auction hall and I was on the other, when the lot came up, he bid for me and I bid for myself…we had no idea we were bidding against one another… and we kept pushing the bid higher! My dad won the bid, and I got my chairs, but at a price.
Proudest DIY: Converting this home, from a face-bricked '70s dark space to what it now is…and then my converted "display" cabinet, which had held cups, saucers and crockery in my parents' and grandparents' house into a shoe-cupboard. It has a family history and now has a proud space in our bedroom, with all my favorite shoes and bags in it. This conversion and seeing the promise is my proudest DIY.
Biggest Indulgence: Our Art. We have pieces by Gabby Raaf, Lisette Forsyth, Uwe Pfaff, Lorraine Loots and various other collected pieces; we love these and I wish I could spend days buying art! Art and then allowing ourselves the luxury of bringing some heavy/ strange-shaped travel items home. Masks from Sri Lanka, textiles from India, and the list goes on…
Best Advice: Surround yourself with beauty, allow your home to transport you and be a personal haven of inspiration and tranquility. Buy items and art that you love and pieces that inspire you, in doing that, your collected pieces will automatically find a synergy and work together.
Dream Sources: Auctions! These are my favorite places to shop… to dream of what you hope to find on auction, then find it and then purchase it through the excitement of a bid and get a great price for it, is the ultimate shopping experience. It will mean the piece has a story, has created a memory and has been envisioned! Some of my ultimate auction finds are my Peacock chair, my Globe drinks-trolley and my "Museum" Coffee Table. Each were bought on separate occasions and each hold special memories of the "rush of the bid" and "winning".

If money were no option my absolute dream would be to travel to India for a month, with Rian. A personal assistant to organize the logistics would be there along with a huge container (or two) at my disposal. My finds would arrive in Cape Town and fill an all-white interior!