A 376-Square-Foot Swedish Studio's Stunning Remodel
We independently select these products—if you buy from one of our links, we may earn a commission. All prices were accurate at the time of publishing.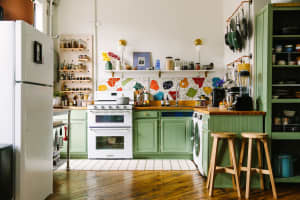 Can't-Miss House Tours Straight to Your Inbox
Keep up with our latest house tours each weekday with our House Tour of the Day newsletter
Name: Christina and Tor
Location: Stockholm, Sweden
Size: 376 square feet
Years Lived In: 2 years, owned
Moving the kitchen and opening up a wall in this small apartment are the key design decisions that turned what was originally a studio into a one-bedroom apartment. They're also the secret to how this tiny, under 400-square-foot space can feel so much bigger. "Best decision ever," confesses Christina. "The new layout is more efficient and makes the apartment feel a lot larger than it actually is, (despite the fact that the bedroom literally only fits a queen-sized bed)."
It's also the apartment's tall ceilings, original molding, tiled stove and other architectural elements that help with the bigger-than-it-seems illusion. And the building their apartment is located in, constructed in 1872, is in a central part of Stockholm, but also slightly tucked away from hectic urban life.
"The neighbourhood boasts quaint coffee shops, antique stores and small parks and was an area completely unknown to us before moving there (I have to admit, I was initially slightly skeptical). Now we wouldn't want to live anywhere else. Having lived abroad and moved four times in as many years, it's wonderful to have a place to truly call home."
Apartment Therapy Survey:
My Style: All over the place – I love a good dose of vintage and antique finds, mixed with mid-century modern pieces and the streamlined simplicity of Scandinavian design. I'm all about the details: as many personal trinkets, as possible. I've inherited many treasures from my grandparents that I cherish.
Inspiration: Everything: different places and cities I've lived in, travel, fashion and other people's homes (I'm nosy like that). I'm completely addicted to auction sites and spend way too much time on Instagram, Pinterest and blogs (erm, Emily Henderson, Apartment Therapy, MyDomaine and Room for Tuesday I'm looking at you).
I'm lucky; I can get away with daydreaming of all things design during office hours. (I do social media and influencer marketing for Bemz, a company that makes design covers for IKEA furniture, so it's kind of all in a day's work.)
I recently bought a loft in a 1910 water tower that's in very dire need of some TLC (read: gut renovation) and I couldn't be more excited about designing the space – it's literally all I think about. Stay tuned.
Favorite Element: The original tiled stove adds some old-world charm and the high ceilings trick the eye and make the apartment feel a lot more spacious than it actually is. I love how we've really made the space our own and it feels like home.
Biggest Challenge: The apartment's only 376 square feet which, to be honest, is sometimes a bit of a tight squeeze – especially when getting ready in the mornings. We're clambering around each other, sucking our stomachs in trying to get out of the door first. But we're lucky, the layout really makes it feel a lot bigger than it actually is.
I'd love to redo the bathroom; it lacks proper ventilation and heating. It's freezing during the winter and it takes forever for anything to dry in there so it's not the most functional bathroom – nor particularly visually inspiring; it's a work in progress.
Proudest DIY: The one and only DIY task I've ever tackled is the chest of drawers. It was a generic white, flat packed piece that suited the space size-wise, design-wise not so much. Inspired by my friend, who's a talented painter, I attempted to update it with Annie Sloan's chalk paint in Graphite. It took the better part of a weekend but the paint actually makes the MDF piece look like it's made out of wood and gives it a lovely texture. I switched out the handles to some vintage ones and I must say, I'm very proud of my accomplishment – I feel ready to tackle any DIY project you throw my way (not really).
Biggest Indulgence: Our coffee table — it's a vintage mid-century wood and marble piece with chrome legs and it weighs about a ton. I'd been eyeing it for two years, walking past our local antique shop every day, staring lovingly at it. One day it was gone from the shop window and I came home crying, literally – it turns out they'd just moved stuff around in the shop (super dramatic). My boyfriend took pity on me and gave it to me as a gift for my next birthday – a real keeper – him and the table that is.
Best Advice: Take your time when decorating your space. Avoid buying everything from one place and try to source as many second-hand and vintage items as possible. Not only is it often cheaper, it's better for the environment and helps you create and curate a personal home. Also, I'm Swedish, it's dark eight months of the year here, so I'm all about cosy layering, greenery and lots and lots of candles.
ENTRY
Chest of drawers – Mio that Christina painted with Graphite Anne Sloan Chalk Paint and updated with vintage handles
Vintage terrazzo lamp purchased at Bukowskis
Vintage mask – Afro Art
Ceramic hands – H&M Home
Brass candlesnuffer – Artilleriet
Portrait – A gift from Christina's grandmother on her 5th birthday
Glass vase – flea market find
Wooden industrial chair – vintage find from Domino Antik
Sheepskin throw – vintage
Leather runner – a gift from Tor's mother
LIVING ROOM
Daybed – Ilse Crawford for IKEA that Christina customised herself with a dark grey cover and matching cushions (this was before she'd discovered Bemz)
Rug – IKEA
Brown linen cushion – Bemz
Dark green velvet cushion – Bemz
Natural linen cushion – Bemz
Vintage Mudcloth cushion – from Etsy seller One Fine Nest
Coffee table – Vintage marble, wood and chrome table from the 1950s was purchased at Domino Antik
Vase — DBKD
Round black and white candleholder — Paradisverkstan
Round black and white platter – from a market in Marrakech
Silver trinket box – Svenskt Tenn
Brass elephant – Posh Living
Brass seashell – vintage
Bust – a handmade gift from a friend
Silver lily candleholder – was a gift from Christina's great-grandmother to her grandfather on his 25th birthday engraved with the date. Christina's mother gave it to her on her 25th birthday.
Brass floor lamps – flea market finds
Brass palm tree lamp – vintage from the 1950s purchased at Bukowskis
Armchairs – Vintage Matteo Grassi purchased at Bukowskis
Moroccan wedding-style blanket – Anthropologie
Curtains – Bemz
DINING ROOM
Wooden table – vintage from Tor's mother
Windsor chairs – vintage
Painting – Bo Alström (1971) Tor's grandmother bought it from the artist himself – his thank you note is pinned on the back. We've borrowed the piece from Tor's mother (with no intention of returning it)
Brass candlesticks – vintage
Spotted candle – Afro Art
Terracotta candleholder – handmade by Christina
Vase – 101 Copenhagen
Silver footed platter – inherited from Christina's grandparents
Ceramic plate – from a market in Marrakech
Napkin – H&M Home
KITCHEN
Kitchen – Kvänum
Large wooden cutting board – from a market in France
Round wooden cutting board – H&M Home
Marble cutting board – a gift
Brown stoneware jug – vintage
Small cream ceramic plant pot – thrifted
Marble pestle and mortar – from Christina's childhood home
Dishtowel – IKEA
Red coffee grinder – used to belong to Christina's great grandmother
Plate – Olsson & Jensen
Spice jar – Nickey Kehoe
Brass pepper grinder — Alexander
Mini black and white bowl — from a market in Marrakech
Wooden utensils – from a market in France and H&M Home
Grey speckled utensils – Food 52
Oil bottle – Artilleriet
BEDROOM
Natural linen bedding – Dirty Linen
Pink velvet cushion – Dirty Linen
Brown linen cushion – Bemz
Dark green velvet cushion – Bemz
Black out curtains – custom
Brass lamp – vintage from the 1950s
Black footed bowl – H. Skjalm P.
Light pendants – Muuto
Artwork – vintage
Prints – Hey Sosi
Vase – Vintage
Brass candlestick – vintage
BATHROOM
Vanity – IKEA
Bathroom rug – House Doctor
Stool – vintage
Towel – H&M Home
Bath brush – Iris Hantverk
Marbled plant pot – from a market in Marrakech
Black and white pot – from a market in Marrakech
Ceramic box – Posh Living
Black soap dispenser – Posh Living
Dressing gown – from India
Brass scented candle – Skultuna
Thanks, Christina and Tor!