A Beautiful Bay Area Rental is a Great Match for a Cute Couple
We independently select these products—if you buy from one of our links, we may earn a commission. All prices were accurate at the time of publishing.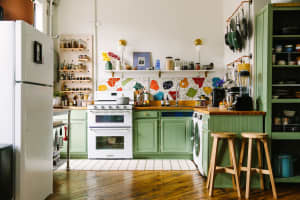 Can't-Miss House Tours Straight to Your Inbox
Keep up with our latest house tours each weekday with our House Tour of the Day newsletter
Walter was working and living in Abu Dhabi when Adam first spotted the building they now call home. Finding a home from a distance was difficult, but when Adam drove by the building, Adam thought this one might be a good fit. It was a quintessential 1950s apartment building that was recently updated, and Adam felt their style was reflected both on the inside and outside. Another bonus was its great location, with downtown and public transportation nearby, giving them easy access to nearby San Francisco for work and fun. "We wanted a place that would allow us easy access to the city everyday, but could be our nightly escape with enough room for the dog and the whole family," they say.
Adam and Walter really enjoy hosting and having family and friends stay with them, so a guest bedroom was a much-needed amenity. Luckily, this building checked it off their "want" list. Friends and family are important to the Bay Area couple, so they fill their apartment with hand-me-downs and memories that remind them of loved ones and their travels. Adam has a photo of himself as a newborn with his mother (who passed away when he was younger) on top of the living room bookshelves, and Walter has a bunch of collected items from his time in Abu Dhabi. Best of all, living on the third floor of the building allows them to enjoy beautiful views of San Leandro and the Oakland hills. So far, the apartment has been a great match.
Apartment Therapy Survey:
Our Style: Mid-century Eclectic
Inspiration: Travel is a big inspiration. I've taken cues from the various places we've stayed, whether it be the way a cabinet was organized to how art was displayed. Each culture places emphasis on different things and I find that fascinating. In the end, we've become partial to bold colors and lots of pattern. We are also big collectors. We love collecting various items (which Adam says is the first step toward hoarding). Walking through each room is a walk down memory lane. Everything has a story and holds a special memory.
Favorite Element: Adam: I love my art. I haven't been collecting long but it's been a fast and furious love affair.
Walter: I love the balcony and the cozy warmth of the apartment at night. When we moved in, Adam surprised me and installed the string lights from our wedding along the balcony, which always reminds me of those good times and our family.
Biggest Challenge: Adam: We lived in both New York and Abu Dhabi before moving to San Leandro, and both apartments had very different aesthetics and feels. Our New York apartment was much darker and masculine. In Abu Dhabi, we embraced bolder colors and natural treatments. Both apartments contain elements that we love and can't part with, so melding the two styles into one apartment (while downsizing) has been the biggest challenge by far.
Walter: The constant struggle of functionality vs. aesthetic. There are times when there is so much stuff that it becomes harder to get your daily tasks done. And visa versa. Making sure our dining table doesn't just become a dumping ground for life, mail, art, etc. We try to be in a constant state of cleaning and reorganization. We need to get better at purging.
"You do you. Your home is your sanctuary. If you like it, it's that's all that matters…but it's also nice when other people like it too." — Adam
What Friends Say: People either love our apartment or say it's too much. Many of our friends love a more minimalist style with a sparser aesthetic. That doesn't stop us. Friends have also said to us, "You guys are such adults. When you start displaying pasta in jars on the counters, that's when you know."
Biggest Embarrassment: The closets. Don't look in them. They are basically art refuge and Walter's clothes. Also, the fact that we lived in the Middle East for years and didn't come back with better rugs is a travesty. Also, there is not enough kitchen space. We moved from a large apartment with a beautiful island. We love to cook and host, so the tighter space in this area is often difficult.
Proudest DIY: Adam: Walter's an expert hanger. I'm so proud at how well he can space, level, and place anything on our walls. I'm more of an impulsive hanger, and it's usually crooked. We also turned some IKEA crates to hold our records in and put wheels on them for easy mobility. That was a fun project.
Walter: We custom built a bar for our wedding with the intention of finding a space that would allow us to utilize it on a regular basis. Unfortunately, the current apartment doesn't have the needed space. I designed and built, and Adam helped construct and added his own design touch, adding replaceable wallpaper to the facing for seasonal options.
"Creating a home is about layers. Don't design all at once. For me, a home is a collection of memories from over the years. Don't be afraid to build slowly." — Walter
Biggest Indulgence: Adam: Did I mention the art? Art books. Knickknacks. And barware. We have so many cups and trinkets. Walter has at least 20 different styles of ice cube trays. Walter: Yeah… I love ice cube trays. It's just a thing.
Best Advice: Adam: You do you. Your home is your sanctuary. If you like it, it's that's all that matters…but it's also nice when other people like it too.
Walter: Creating a home is about layers. Don't design all at once. For me, a home is a collection of memories from over the years. Don't be afraid to build slowly.
Dream Sources: One day, we hope to be able to afford things from 1stdibs — it's a huge source of inspiration.
ENTRY
Vintage Desk — found. Been in Adam's family for decades.
Vintage Beer Signs – found – Adam's uncles were all beer distributors at one point in their lives (he has 7 Uncles on his mom's side) so cool beer signs are not hard to come by.
LIVING ROOM
Table — Floyd legs with custom marble top from Abu Dhabi
Stool — Crate & Barrel
Crate — Vintage from Brooklyn Flea
Record player and table — Crosley
Black lamp — West Elm
Grey platform sofa — Urban Outfitters
Marble top side table — Homes R Us in Abu Dhabi
Flokiti rug — West Elm
White lamp — West Elm
Formica stepped side table — Vintage via eBay
Paddy floor lamp — Urban Outfitters
TV stand — West Elm
Mirror — Target
Runner — Carrefour (in Abu Dhabi)
Gold wall hanging — Dwell Studio
Red and white abstract painting — Vintage, Everything But the House
Butterfly art — Evolution, NY
Religious tile pieces — vintage Ebay
Framed metal stencil — Fab.com
Spool art — Etsy
San Francisco neighborhood scrolls – Etsy
Picasso prints — Housing Works auction
Clown painting – Ebay, Bernard Buffett
Matador painting – Housing Works auction
Gold candle sconces – Artisan Market (Abu Dhabi)
The frame alpaca throw in ink color – Dwell Studio
Cream Throw – Handmade by family
Pillows – Dwell Studio
Felt Pillow – West Elm
DINING ROOM
Fishs Eddy table — West Elm
Chairs — IKEA
Crosby library table – Dwell Studio
Vintage Japanese art– Everything But the House
GUEST BEDROOM
Mirror — Oly Studio
Franklin side table — Dwell Studio
Eames replica chair — yard sale
Dresser — Dwell Studio
Bed — Muji
Sheets — West Elm
Duvet — IKEA
Art — Brady Smith
Chalk Art — Gallery, Brady Smith
MASTER BEDROOM
Dresser — West Elm
Chair — Ebarza.com
Sconce — Vintage via eBay
Lamp — West Elm
Side table — IKEA
Iron side table — Urban Outfitters
Tom of Finland prints on German book paper — eBay
White rug — IKEA
Rug — Jack Threads
Duvet — West Elm
Sheets — West Elm
Coney Island Quilt — Won at auction in NY
BATHROOM
Shower curtain — Target
Towels — Williams-Sonoma
Water color — Painted by Adam's grandma
BALCONY
Chairs — Ebarza.com
Lucite nesting tables — IKEA
Rug — Vintage, Everything But the House
String lights — Target
Chiminia — Orchard Supply & Hardware
Gold side table — A gift from the Crowned Prince of Abu Dhabi
Dog bed — Amazon