A Bright Detroit Rental Loft Full of Local Pride
Name: Lori
Location: Downtown — Detroit, Michigan
Size: 1,195 square feet
Years lived in: Rented 1.5 years
Lori's downtown Detroit apartment is a good example of a space that appreciates functionality and modernism, but still manages to be a warm, welcoming home. She used her move to this space as a fresh start, and prioritized incorporating local designers' work into the mix. From art to custom-made furniture, Lori's love and support of her city is on full display. And from her corner apartment's big windows, Detroit's on full display, too!
Inspired by the revitalization of Detroit and all the local, handmade products the city offers, Lori's loft is bursting with city pride. She's incorporated many of these items into her home, infusing her home with their stories, as well. Along with vintage items are an array of contemporary designs, which give the space a sleek simplicity. "I have a love of contrasting textures and mediums that transcends most aspects of my life, so there is metal, leather and reclaimed wood all integrated into the design." Lori even tapped into Detroit's well of design talent for a little help in pulling her home's look together; Stephanie from North and Birch lent a hand in the design.
Apartment Therapy Survey:
My Style: Prior to this project, I would say my style was curious but unfocused with overall flow and sophistication. My move downtown was a transformation on many levels — it was a fresh start. Prior to moving, I sold most of my belongings with the house that I previously owned, so this allowed a clean slate for the downtown apartment.
Inspiration: My inspiration was the revitalization of Detroit and the simplicity and function of urban living. The goal was to show off the brilliant views of the city with a focus on supporting local designers for the key pieces. The main focus was 'good design tells a story' and there are many elements to the story from how I ended up moving downtown to how we put together all the pieces.
Favorite Element: There are so many elements of my space that I love and that appreciation tends to follow my movements throughout the day. My bedroom is beautiful and elegant, so I appreciate my morning coffee in my cozy corner chair that has a perfect view of the sunrise over the Detroit River. The foyer is stunning and is beautifully designed with a mid-century sideboard with all of my favorite accessories and a gorgeous Paula Zammit painting of an American woman ready to take on the world. But, my favorite element is the custom Workshop Detroit wood table that can be moved around the apartment. It was designed to be versatile and styled in three different ways to allow the flexibility of a game day table with view of the TV, a temporary work desk and centrally positioned in the room for an elegant dinner party table. My favorite placement is against the back wall where I can watch a Tiger's game or the excitement on the vibrant streets below.
Biggest Challenge: The biggest challenge was finding the balance between function and style, while working with the allotted square footage. I also struggled with styling the space with the appropriate finishing touches, so Stephanie helped bring my loft to life by curating a collection of vintage pieces, store bought items, and personalized elements.
What Friends Say: Wow. The view of the city and Comerica Park tend to draw friends immediately to the windows. But, as they pause to look around the space, I have found everyone connects with a different element of the design; whether it is the custom reclaimed wood table, the beautiful Paula Zammit paintings or the overall flow. I think that is a true indication of a beautifully designed space and an experience that captures your story.
Biggest Embarrassment: This is a funny story. Stephanie designed a custom table from Workshop Detroit. At Workshop, they reclaim wood from homes and buildings around the city, then repurpose into beautiful pieces for the wood's second life.
We took the measurements of the assembled table and the elevator bank and were sure it would fit. After spending 15 minutes maneuvering the table into the elevator, it became apparent that the table was just one inch too big. We quickly tried to take off the wheels as an unhappy building manager yelled at us for causing a disturbance, since I had negotiated a trip up the elevator with new tenants moving into the building. Eventually, those neighbors ended up opening the Ashe Supply Co coffee shop below so we still laugh about the day I used their elevator to move a table that was too big. Delivery attempt #2 was much more successful.
Proudest DIY: Getting all my Flor tiles to align evenly in the living room.
Biggest Indulgence: One of my goals with this project was to purchase art that was meaningful. My good friend Paula Zammit is a local Detroit artist with a studio in Corktown. I indulged and purchased two of her paintings — one of which is a painting of a Scott Hocking photo that was created for a MLK showing and the other painting is an amazing 5'x5' portrait titled 'American Woman'. I have adored both pieces from the moment I saw them and they draw inspiration for me every day.
Best Advice: My advice is to focus on your strengths and the meaning behind each decision. And, if there are elements that aren't your strength -– get help from a designer. I learned so much through this process and found joy and passion in the pleasure of looking through all the various mediums to find inspiration and stories. I also loved collaborating with Stephanie because I learned about spacial considerations and scale, accessorizing and finding pieces that had meaning. I just love every corner of my space and that brings me a lot of pleasure and comfort when I am home.
---
Explore this style: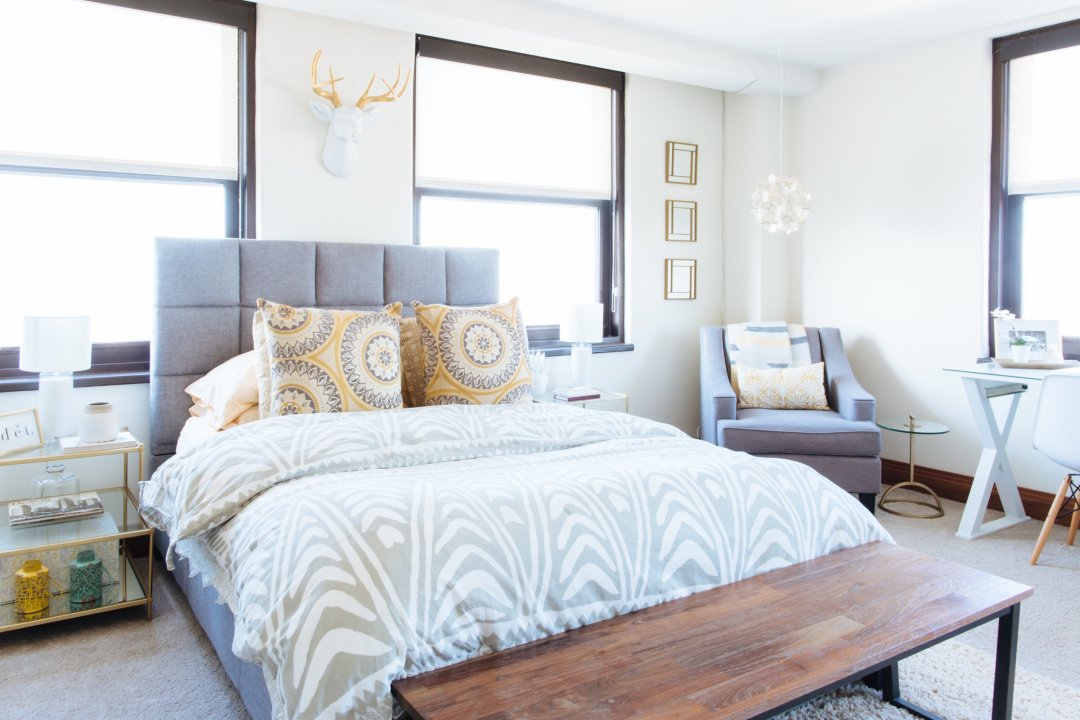 ---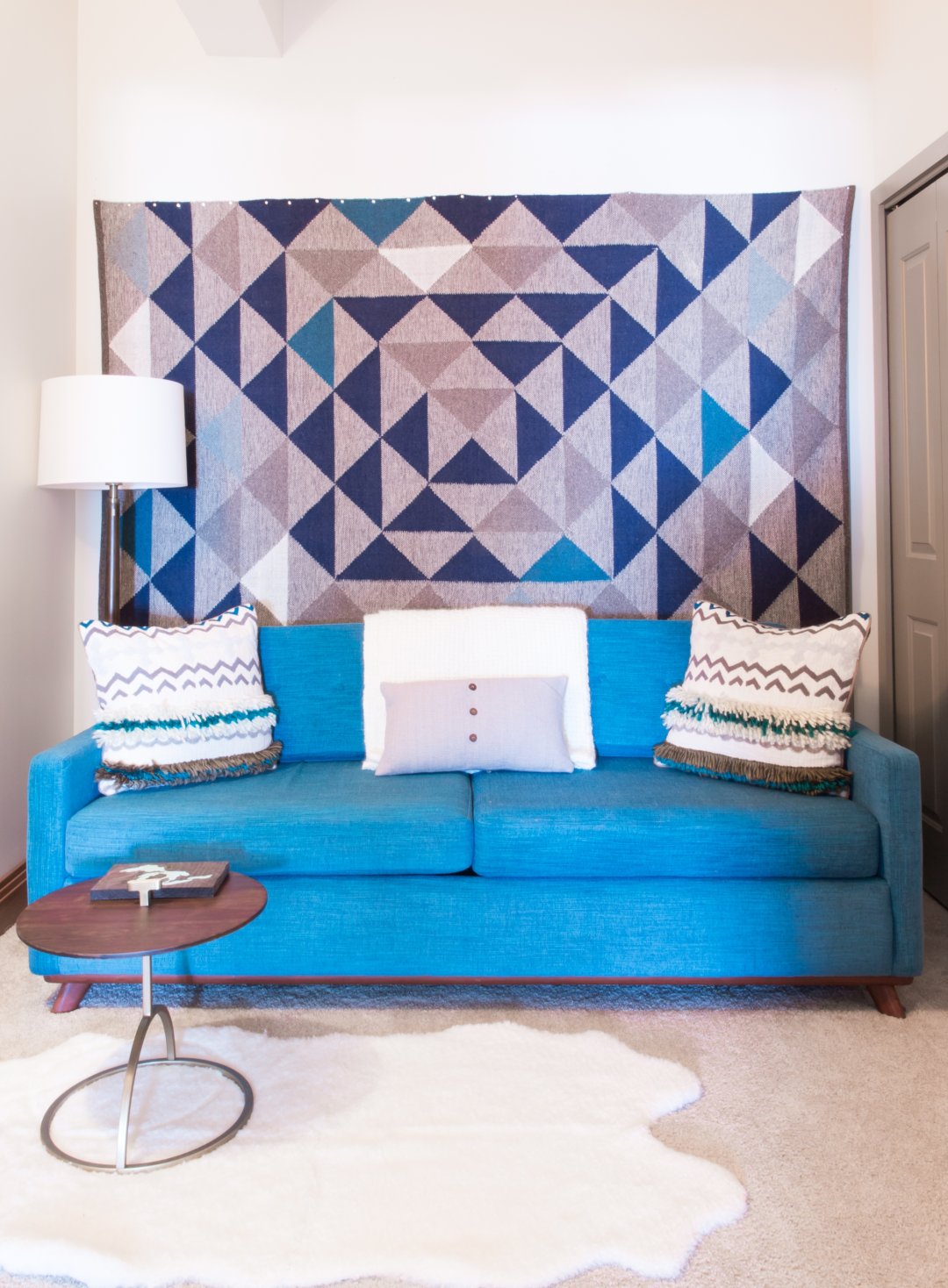 ---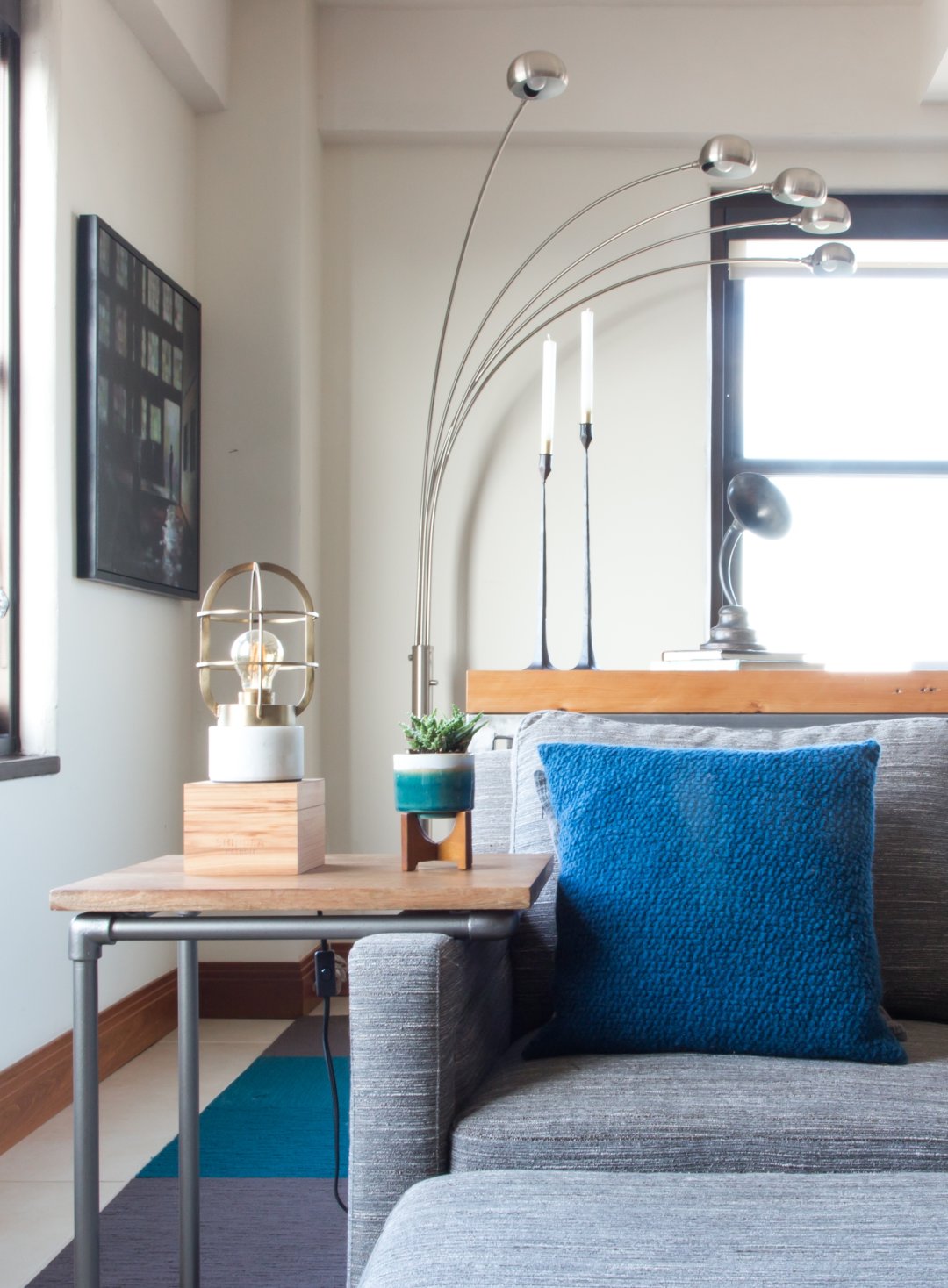 ---
More resources:
ENTRY
Floor tiles — FLOR
Sideboard — West Elm
Mirror — CB2
Accessories — Vintage markets, personal items, Hobby Lobby
Foyer Painting — Paula Zammit
LIVING ROOM
Custom mobile table — Workshop Detroit
Area rug — FLOR
Painting — Paula Zammit
Sofa and chair — Art Van (discontinued)
Credenza — CB2
Coffee and side tables — West Elm
Fiddle leaf fig — Bordines Nursery
Wall baskets — CB2
GUEST ROOM
Sleeper sofa — Joybird
MASTER BEDROOM
Bed — Overstock
Chair — Overstock
Bench — Overstock
Floor mirror — Pottery Barn
End tables — West Elm
Thanks, Lori!
---
Apartment Therapy supports our readers with carefully chosen product recommendations to improve life at home. You support us through our independently chosen links, many of which earn us a commission.