A Classic, Cheerful West Coast Apartment
We
independently
select these products—if you buy from one of our links, we may earn a commission. All prices were accurate at the time of publishing.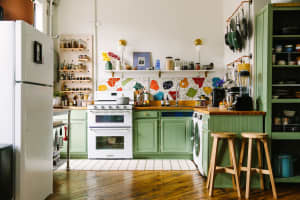 Can't-Miss House Tours Straight to Your Inbox
Keep up with our latest house tours each weekday with our House Tour of the Day newsletter
Name: Claire and Kasey
Location: Mission District, San Francisco
Size: 675 square feet
Years lived in: 3 years, renting
Claire and Kasey chose this apartment because of the light; it's warm and abundant. "When we came to look at the listing it was mid-day and I didn't have to do more than open the front door to know that I wanted to live here. I've lived in San Francisco for about eight years, and when my partner and I found (and then were picked to rent) this apartment it felt like a gift from the city, encouraging us to keep putting roots down here."
Claire shares more about their home: "I love that the space reflects my partner and I both; either of us alone would have decorated in really different ways, but the space is too small to segment into mine/yours. We both like changing the space around to try new layouts and had a lot of fun Craigslisting and flea-market shopping to find the furniture items we needed, one by one, when we first rented the space. For at least the first year we lived here we didn't have a coffee table — I finally found one at the Alameda Flea Market and then promptly received one (the mid-century piece we have out) from my grandmother! We've slowly collected the right pieces for the space.
I also love the period details — the apartment building has six units total and was built in 1917! Not a day goes by that I don't appreciate the glass doorknobs or the light fixture in our bedroom. The French doors between the living room and bedroom mean that we can open up or close the space off easily, which helps it to not feel too small."
Apartment Therapy Survey:
My Style: Curated, classic, cheerful, West Coast
Inspiration: San Francisco's beauty, unexpected and extravagant at once, inspires me every day. And honestly, I'm inspired by how beautiful the apartment itself is — the wood floors, the French doors and glass doorknobs — it feels like a period piece from 1918 (which it is). Every day I come home and just love the space itself, it motivates me to have the temporary stuff that we have in it to do the apartment some justice.
Like many younger siblings I copy my family shamelessly. My sister has a remarkable barn home (@barnhousehome on Instagram!) and throughout my life has gifted special pieces to me, from setting up my dorm room to now. My sibling spent a couple of years in college renting a walk-in closet as a bedroom; they decorate spaces like cabinets of curiosities in a way that's always inspired me, also.
Favorite Element: I love the bay windows in the living room and bedroom for their symmetry and for reminding us always of San Francisco. I love the deck and backyard; we have an avocado tree which is just the best. And the light that comes in is amazing. I love the chandelier in the bedroom, it's original to the unit. I LOVE my closet! There are two walk-in's so we don't have to share, and I notoriously keep a closet that looks like a clothes-storm recently hit so it helps to have my own space.
Biggest Challenge: It's a challenge to know how much to invest in projects, and which ones to take on, when you're staying in a rental for the medium or long-term. I'd love to change a few things — like the hood over the stove — but we can't take that with us, so. I'd also want to add sleek roller blinds to the bay windows (!), but since they'd need to be custom sized I'm not sure that we will.
Biggest Embarrassment: I'm super proud of our space! There are plenty of things I'd like to improve, but we're making the space bit by bit so I'm not in a rush. Doing the projects is as much fun as having them done, so I try not to be embarrassed by the works in progress.
What Friends Say: "Did you put in that light fixture yourself?"
Proudest DIY: We installed new flush mount lights in the bathroom, kitchen and living room- the bathroom and kitchen are super plain, replacing some 80's style fixtures that were there and the living room light is from West Elm. This felt more doable since one day when we move we can put back the fixtures the apartment came with, and the atomic fixture in the living room can come with us, and grow into a future space.
Biggest Indulgence: A project we indulged in (with good reason) was reupholstering the armchair in our bedroom! I shared this in our hose call- the wingback chair is from my childhood bedroom and is one of my favorite pieces. I searched for the fabric for years knowing it needed an update, and was thrilled to find the ikat print- there was just enough in the fabric bolt to do the chair, and our upholsterer was a magician who lined up the print meticulously. I was so happy when we got it home.
Best Advice: Fewer better! It's my advice to myself and I'm trying to practice it. We have a finite amount of space, and rather than trying to stretch it by adding extra shelves to every closet (seriously) I've taken the other route as of late, which is pare down until things fit comfortably in the space. It leaves more room to enjoy the things that I love.
Dream Sources: Alameda Flea Market , Heath Ceramics, West Elm, Palms Springs estate sales!
ENTRY
Bud vase — Heath ceramics
Rug — Marshalls
Print — SF Renegade Craft Fair
Key rings — Various Key Tags
Brass lion — vintage (gift)
Mirror — vintage
Tassels and heart — handmade in Sayulita
LIVING ROOM
Shelves — Ikea Vittsjo
Sofa — Crate and Barrel lounge
Desk (TV stand) — vintage/ craigslist
Light fixture — West Elm
Chair — vintage (on loan from my grandma)
Coffee table — vintage (also on loan from my grandma)
Bar — vintage/ Craigslist
Footstool — vintage/ Craigslist
Rug — eBay
Sheepskin — IKEA
Pillow covers — IKEA and Etsy
Art — Jeremiah Maddock
Cranes — Etsy (gift)
Ceramics — Wendy De Leon
Plant stand — Savers
Plant basket — IKEA
Cameras — vintage/ collected
KITCHEN
Fruit bowl — Heath Ceramics
Tea towels — Trader Joes
Knife rack — IKEA
Cutting board — IKEA
Cake stand dome — Martha Stewart/ Macy's
Knives — Wusthof
Table — vintage/ Craigslist
Chairs — vintage/ Craigslist
Picture ledge — IKEA /
Mobile — Flensted
Print — McSweeneys
Jadeite cake stand — Reformation
Mixer — KitchenAid (Pistachio)
BEDROOM
Bed frame — IKEA NYVOLL
Duvet — West Elm
Bed pillows — IKEA
Pillowcases — Handmade (gift)
Bedside lamps — IKEA
Bedside table — Vintage and IKEA
Mirror — IKEA
Rug — vintage, layered over target
Chair — vintage/ reupholstered
Blanket — handmade from Puerto Vallarta
Desk lamp — Target
Desk — vintage/Craigslist
Chair — vintage/Craigslist
Curtains — IKEA
BATHROOM
Shower curtain — Target
Bathmat — Urban Outfitters
Towels — Target