A Bright Montreal Home Bursting With Cheery Spring Colors
We independently select these products—if you buy from one of our links, we may earn a commission. All prices were accurate at the time of publishing.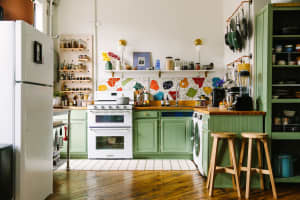 Can't-Miss House Tours Straight to Your Inbox
Keep up with our latest house tours each weekday with our House Tour of the Day newsletter
Name: Elyse
Location: Ville-Marie — Montreal
Size: 700 square feet
Years lived in: 6 months
Elyse's apartment is a museum of small objects that are decorative rather than strictly functional. In fact, she calls it her "tchotchke heaven." The bright light pouring in through big windows and the clean white walls prove to be the perfect gallery for her collection. But the main reason she chose to live in this apartment is the open floor plan and flow, perfect for having people over. This fact was what excited her the most; she hasn't had a place she could entertain in for years.
Her home is a vibrant mix of second-hand finds, DIY projects and things brought back from travels. Actually, not just her travels, but her family's adventures as well. She also can't live without a hefty variety of textiles, prompting her friends to often remark on her amount of throw pillows. "No one needs this many pillows!" her friends often exclaim. Sure, the amount of pillows might be more than anyone actually "needs." But they sure make her space ultra cozy and inviting.
Apartment Therapy Survey:
My Style: "Colourful, collected clutter". Or tchotchke heaven. Honestly, I don't really know how to define it; it's just a big mix of second-hand finds, DIY projects and things brought back from travels. Not just my travels, but my family's travels as well. The tray table in my living room, for example, was brought back from Morocco by my dad's parents before I was born, and my grandmother on my mom's side bought my bedside table lamp in China. I found them both in my parents' attic, just waiting for a little love.
Inspiration: The main reason I rented this apartment is I hadn't had a place I could entertain in for years, and the open floor plan and flow are so conducive to that. So a lot of my choices — like my huge sectional/sofa bed and the chairs hanging on the walls — are just inspired by a desire to have people over, whether to hang out, to eat or to stay.
Favorite Element: The things with a story. The photograph of the old man I bought at a midnight market in Chiang Mai. The marble vanity I found on craigslist that had been shipped from Paris when its previous owners moved here, but that had to be sold when their baby came along.
Biggest Challenge: Finding a sofa bed that I didn't hate and could actually afford.
What Friends Say: That no one needs this many pillows!
Biggest Embarrassment: I'm not really embarrassed by it, but definitely the most awkward element is that my shower is in my bedroom. I have no idea what the people who renovated it were thinking, but it makes for some interesting getting-ready-coordination when I have visitors….On the other hand, the bathtub being in my bedroom is amazing. I love it.
Proudest DIY: The dishwasher "garage" my dad and I built. This place doesn't have a built in dishwasher, so I wanted to figure out a way to have a portable one without it being an eyesore. When I moved in we built a three-walled hut with a butcher block top (made out of three IKEA cutting boards joined together), and then velcroed an old African coffee bag around it. It unvelcroes easily and I roll the dishwasher out. Problem solved.
Biggest Indulgence: Textiles. I honestly do have more pillows and throws than anyone needs, and so many are tucked away in closets because I've found new ones but can't part with the old. It's a problem.
Best Advice: Made by hand — whether yours or someone else's — always feels more special. Also, books are the best decor.
Dream Sources: Anthropologie, Loom + Kiln, Rug and Weave, flea markets anywhere and everywhere.
PAINT & COLORS
Benjamin Moore — Simply White

LIVING ROOM
Sofa bed — Structube
Boujad Pillow – Rug & Weave
Pink velvet Ikat pillow – deconceptshop
Mudcloth pillows – Fabric from Brooklyn Flea
Scarlet pillow – Ikea
Green Ikat pillow — Etsy
Ikat pillow – Etsy
Leather poof – eBay
Tv unit – Kijiji (a kind of craigslist popular in Canada)
Baskets – Home Sense (Canadian Home Goods)
Green bottles – Anthropologie, flea markets
Plant stand as side table – Ikea
Juju hat – Brooklyn flea
Sconces – DIY
Tiny swimmers canvas – Kiki and Polly
Abstract on cabinet – Mary Ann Wakeley
DINING ROOM
Table – Kijiji, but originally Ikea (painted)
Chairs – vintage from Kijiji
Rug — eBay
Sideboard/dishwasher hut – DIY, vintage textile from flea
Gold planter – Urban outfitters
Urchin bowl – Element Clay Studio on Etsy
Pendant light – DIY
Wooden shoeform hooks – DIY
Brass lobster – High Street Market
Blue and gold bowl – Anthropologie
BEDROOM
Vanity – vintage from Craigslist
Dresser – vintage from Kijiji
Headboard – DIY
Rug – eBay
Bedding – Home Sense
Kilim Pillow – eBay