A Collector's Maximalist New Orleans Home
We
independently
select these products—if you buy from one of our links, we may earn a commission. All prices were accurate at the time of publishing.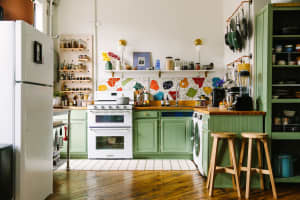 Can't-Miss House Tours Straight to Your Inbox
Keep up with our latest house tours each weekday with our House Tour of the Day newsletter
Name: Carla Williams
Location: "New Marigny," Seventh Ward — New Orleans, Louisiana
Size: 2,500 square feet
Years lived in: 3 years, owned
Carla may have been born and raised in Los Angeles, but New Orleans blood courses through her veins. "I grew up with all these New Orleans ladies," Carla says while pointing to her grandmother Thelma and four great aunts in a black and white photograph. Though her mother's family left the Crescent City to settle in California in the 1940s, New Orleans continued to loom large in their lives. "We grew up with everything New Orleans in Los Angeles — the people, the culture, the accents, the plants, the architecture, the food — we even got our seafood from a market owned by a New Orleanian in LA," she explains.
Throughout graduate school, Carla started coming to New Orleans as often as she could. When she began teaching in 2009, the visits began lasting all summer long. Finally, three years ago, she decided to make New Orleans her permanent home and purchased a converted Italianate double shotgun in the Seventh Ward. "As an avid history buff, I wanted to live on the 'French' side of Canal Street, in a neighborhood that my ancestors would have been allowed to occupy. I like being able to walk the paths they would have walked," she explains with a beautiful sense of sentimentality. The neighborhood, also known as "New Marigny," was founded in 1810 and by the mid-19th century, was home to a thriving Creole community. The area was known for its many successful family-owned businesses and its contribution to the birth of jazz.
"Sometimes, when I wake up in the morning, I need to take a minute to remember where I am in the world, and when I remember I'm in New Orleans, I'm joyous."
Professionally, Carla wears many hats — shop owner, photography historian, writer, and editor — but the common thread in all that she does is her passion for art and her black roots. Her home is filled with a collection of Afro-centric art she's been building for decades. "My scholarly expertise is black photographers and the representation of black subjects, so when I started collecting, it was imagery that was most familiar to me, as well as work by artists I had written about or admired," she explains. "But I'm a collector and collect a bit of everything that piques my interest," she adds, "and I like a lot of quirky things — teeth, vintage taxidermy, bones and body parts, real or simulated…" She curates the merchandise in her shop Material Life with the same vision, selling items that reflect black cultural identities.

Carla's motto for her store is "live with what you love." This is clearly something she does with gusto. But what does she love even more than being surrounded by her collection of beautiful things? "The thing I love most about my home is it makes me feel like I've completed some kind of familial circle," she says. "Sometimes, when I wake up in the morning, I need to take a minute to remember where I am in the world, and when I remember I'm in New Orleans, I'm joyous."
Apartment Therapy Survey:
My Style: Maximalist for the win! I like everything so I mix everything — new with old, cheap with fancy, extremely sentimental with completely silly, pious with naughty.
Inspiration: Things that delight both the eye and the imagination.
Favorite Element: The bits and pieces from every era of my life that keep me connected to the many loved ones who have moved into and out of my life.
Biggest Challenge: Staying on top of the constant repairs of an older home.
What Friends Say: That it's like a cabinet of curiosities — the ultimate compliment for me.
Biggest Embarrassment: The various crumbling things at the front of the house — disintegrating front doors, collapsed steps, and roosting pigeons — to which I haven't yet attended. I like to think that the interior's magic melts away the impression that the façade gives.
Proudest DIY: Buying a house!
Biggest Indulgence: Having a fully stocked kitchen that I virtually never use because I live in such an amazing food city.
Best Advice: It's actually the motto for my store: Live with what you love. That's the only criteria you really need in making your home.
Dream Sources: My dream source would be coming into possession of a very old home that comes with centuries of accumulated contents — nothing ever updated, nothing ever removed — and it's all mine to sort and repurpose. Swoon.
PAINT & COLORS
Manufacturer — Paint color name
All of the paint is either Benjamin Moore or Clark and Kensington because that's what my local Mary's Ace Hardware in the French Quarter sells. I love that store!

ENTRY/LIBRARY
White benches — AKA Stella Gray, New Orleans
Wanderlust Globe by 1canoe2 — Anthropologie
Mattel Imaginings Box — (that's my sister on the box!)
Painting — eBay
Knit Fetal Pig dissection — aKNITomy
My house is a converted Italianate double shotgun (which I learned thanks to littlehistories.net), and currently I enter through the library rather than the living room. The bookcases are trusty Ikea Billy bookcases that I installed myself—they fit almost as custom, which was nice since I couldn't afford custom shelving (a dream for later).

I scored the Moooi Dickie chair by Anthony Kleinpeter on eBay for $50 while I was obsessively looking for one of their pig tables that I could afford (which I've not yet found). It's one of my favorites, and quite comfortable.

LIVING ROOM
Rug — West Elm
Gray sofa — Room and Board
Moroccan wedding blanket — Jacaranda Home
Pillows — Shine Shine; Mickalene Thomas for Henzel Design, Material Life
Blue Velvet Henry sofa — West Elm
Indigo textile — Africa Direct
Pillows — Mr. Somebody & Mr. Nobody, Material Life
Moroccan pouf — West Elm
Coffee table — West Elm
Jonathan Swift ashtray — Izola
Gold Tray — West Elm
Tramp art box — my grandmother
Confederacy of Dunces coasters — I.J. Reilly's
Indigo Africa basket with coasters — J. Crew
Console table — AKA Stella Gray, New Orleans
Blackamoor lamp — friend's garage sale, Rochester, NY
Jonathan Adler rhino statue (I broke his nose, though) — eBay
Mid-century blackamoor vases — eBay
Rontherin Ratliff — St. Joe cast glass brick
Vintage photographic paperweight — Material Life
Plant stand (family hand-me-down—started with my mom and has lived now with three of four sisters)
Mirror desk — West Elm
Lucite Tray with New Orleans Map, — Hazelnut New Orleans
Tramp art lamp — Etsy
Wire bird — Deirdre Visser
Club DeLisa decoupage Tray — Paris Hotel Boutique
Wardian Case — Paxton Gate, San Francisco
Michael Aram chair — Arena's, Rochester, NY

Art
Woodblock print of my house — Deirdre Visser
Portrait drawing — eBay
Louisiana cutout map — perrodinsupply.com
Bozo Leopard Mask — Material Life
Portrait of nude woman — eBay
Portrait of Young Man — eBay
Bamileke Headdress — Sassafras, Rochester, NY (now closed)
Sheila Pree Bright — Blue teeth photograph, from the Grillz series
Cristina de Middel, Afronaut series — 20×200.com and the artist
Emmet Gowin, Edith, c. 1970s — gift of the artist
Kaas Glassworks Skulls & Heads Tray — Gold Bug Pasadena
Blackamoor paintings — eBay
Candleholder arm — eBay
The African Lady sculpture — Material Life
Wood sculpture — James Lear, Jr. (my uncle)
Bird of America carving — James Lear, Sr. (my grandfather)
Large Radio Box — Mr. Somebody and Mr. Nobody, Material Life
Deborah Luster — Crime Victims Chronicle, Orchard Press
Fazal Sheikh, Wedding Portrait — c. 1980s
Tall Colon Figure — Material Life

Fireplace mantel
Cire Trudon, L'Esclave Bust Candle — Material Life
Jonathan Adler Utopia Fro Bud Vase
Hand candle holder — Material Life
Gold Clonette Doll — Material Life
Candle — Haremesque
Coral — my grandmother
Second line wand — Bargain Center, (504) 948-0007
Painting — eBay

DINING ROOM
Dining Table — Bargain Center
Lucite Candle Holders, Kenneth Wingard — Material Life
Chair with blue cushion — Bargain Center
Upholstered Chair: Chair from House Stuff — New Orleans; fabric from Ardmore, South Africa

Mantel:
Moroccan Lantern
John Derian alphabet tray
Ceramic fortune cookies — a thrift store somewhere
Glass pig bank with every fortune I've received in the past 30 years at Chinese restaurants
Chicken wings — Paxton Gate, San Francisco
Face jug, The Black Potter — Material Life
Bolivian Mask — Casa, Santa Fe
Liquor cabinet — West Elm
Piñata — Confetti System for Urban Outfitters
Hank Willis Thomas glasses — International Center for Photography
Anatomy of Digestion Plate Teeth — Anatomy Boutique
Sanford Biggers, Cheshire plate — The Listings Project
Jean Michel Basquiat plate — MoMA
Gold soft sculpture crown — 3buu
Poulet Frite tea towel — La cerise sur le gateau
Artemis Antippas, Chicken (purple, green and gold) — Community Supported Art
Chris Ofili Tea Towels — Material Life
Religious Lamb of God embroidery — eBay
Paintings — eBay

KITCHEN
French Bull coffee maker
Drip coffee pot
Teapot
Pajak, Folk Arts of Poland, Santa Fe
Rooster, Davis Mather Folk Art Gallery, Santa Fe
French sideboard, PopShop
Jonathan Adler Utopia Fro Mug
Jonathan Adler White Lies canister
Mickalene Thomas melamine trays, Artware Editions
Kara Walker Pitcher, Bill Hodges Gallery
Carew Silhouette Glasses
Golliwog pitcher, eBay
Sophie Calle Le Porc plates, Artspace

Artwork
Fazal Sheikh — Untitled still life from Mütter Museum, Philadelpia, c. 1980s
Jerry Sandoval, Santa Lucia — Spanish Market, Santa Fe
Silhouette by Vivia Barron — Material Life
Toothpick steamboat — James Lear, Jr.
Carved walking stick — James Lear, Sr.
Vintage Altar Boy Cassock — eBay (but inspired by Bush Antiques)
Terracotta skeleton — Bargain Center

BEDROOM
Canopy bed — Restoration Hardware
Throw Pillow — Eva Sonaike
Reversible silk comforter — Lotus Bleu, San Francisco
Cedar chest — my mother
Recliner — La-Z-Boy, bought for my dad but he never used it
Lamps — my sister
Velvet embroidered pillow — West Elm
Side table — Bargain Center
Miscellaneous art — eBay
Carrie Mae Weems, Magenta Colored Girl — Visual Studies Workshop Auction
Gary Simmons — Paradise A Love Affair, Art.com
Erzulie Haitian Sequin Flag — Island of Salvation Botanica

BATHROOM
Paul Roberts — Primate Sequence Wallpaper for Anthropologie
Ottoman — Target.com
Medicine cabinet — Restoration Hardware
Framed vintage pillowcase — Material Life
Shower curtain, Rugs — West Elm