A Colorful & Quirky Apartment…in a Basement!
We independently select these products—if you buy from one of our links, we may earn a commission. All prices were accurate at the time of publishing.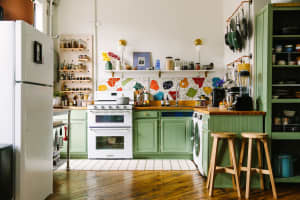 Can't-Miss House Tours Straight to Your Inbox
Keep up with our latest house tours each weekday with our House Tour of the Day newsletter
Name: Chad
Location: Cape Town, South Africa
Size: 968 square feet (90 square metres)
Years lived in: 6 years, owned
A quirky sense of decor (and bold color scheme) instantly draws you in and makes you want to explore this playful Cape Town home. Chad, a young freelance designer, director and entertainment consultant cleverly transformed his parents' basement into a gorgeous apartment.
When Chad's parents suggested renovating the basement of their home and turning it into an apartment, Chad jumped at the chance. It meant he would get to stay in an area that he loved plus get to design his dream space. They had to do some excavation and go down a bit deeper to gain extra height and add as many windows as possible to let light in.

Situated on a slope, the apartment is dark by nature, so one of the things they did was cut away part of the bedroom wall and create a bookshelf in the opening. This allows light into the bedroom but also adds a screen from the dining area.
A shoestring budget meant Chad had to be super resourceful. Together with his father they tackled many elements themselves to keep costs down. The shelving and kitchen cupboards were custom-made and fitted by themselves and a friend made all the curtains.
Being a collector at heart, Chad's home is filled with all sorts of interesting and unusual decor items and collectibles. You'll also spot plenty of theatrical elements as Chad studied at the College of Magic from the age of nine! Most of these smaller items have been gathered from flea markets and sales and salvaged from friends and family, creating a distinctive and unique feel. Each piece really tells a story.
Apartment Therapy Survey:
My Style: Granny meets mod/contemporary. I have many vintage pieces that I've collected over the years. When I first moved into the apartment, I used what I had available, which included hand-me-downs as well as treasured pieces from my parents and grandparents. As my style has developed, I've tried to incorporate more modern pieces and make the space lighter and brighter.
Inspiration: My inspiration comes from lovely design in and around my hometown, Cape Town as well as fantastic bloggers like Emily Henderson and local bloggers like Lanalou. I have an emotional investment in just about every piece in my house — so those inspire me too.
Favorite Element: My favorite element of the apartment is the open plan feel of the space. I spent a great deal of time working out the plan for the renovations — which walls to remove and which to keep. The apartment is very warm and cozy during the winter months and cool during summer. I love how it turned out.
Biggest Challenge: It is a basement apartment that is partly built into the side of Table Mountain. The biggest challenge is the moisture and lack of light in the space. I've had a major flood caused by underground waterways, and it's an ongoing battle to keep things dry.
What Friends Say: People are always complimentary. The apartment has a gradual reveal as you walk down a long flight of stairs in the outside alleyway. The usual reaction is based on the amount of light we have managed to capture, the ceiling heights and the overall sense of space. I think I've also managed to create an interesting mix of styles which prompts further conversation and interest.
Biggest Embarrassment: My bathroom. It was the only room that stayed pretty much intact. I changed the paint colors, added the diagonal gray stripe, and re-tiled. Unfortunately the floor tile was more beige than gray and our DIY installation also left a lot to be desired. That is why when I decided to tile my kitchen backsplash in marble I decided to hire a professional tiler for the install.
Proudest DIY: Design-wise, my favorites would have to be the furniture I designed and that we put together. These include my dining table, metal shelves, desk and TV unit.
Biggest Indulgence: I'm a very thrifty shopper — pretty much all the large pieces in my home I've bought on sale or scratch and dent discounts. My biggest indulgence is probably my sofa which was the first purchase I ever made for the apartment (before it was even finished being built!) — it was a floor model and massively discounted but it was still a big splurge for me at the time.
Best Advice: Be methodical in your approach. Create mood boards and scale drawings; get the basics right, then you can go a little more wild with the finishing touches.
Dream Sources: I'd love to spend some time at amazing flea markets like the Rose Bowl or in Miami. We don't have those in South Africa. I'd also be quite happy to spend my time shopping right here at home. I just wish I had the budget to make it count!