A "Crap Whisperer's" Colorful, Converted Attic in Concord
We
independently
select these products—if you buy from one of our links, we may earn a commission. All prices were accurate at the time of publishing.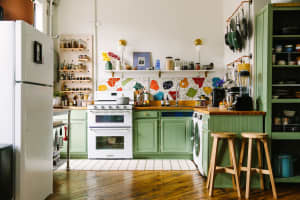 Can't-Miss House Tours Straight to Your Inbox
Keep up with our latest house tours each weekday with our House Tour of the Day newsletter
Name: Arnie Arnesen
Location: Concord, New Hampshire
Size: 900 square feet
Years lived in: 4 years, own
"Everything is an excuse for art and color," Arnie muses about her apartment, or as she calls it, her "pied-à-terre:" a 900-square-foot, open-concept living space on the attic story of a Victorian house in Concord. "As a young girl I always wanted to live in an old attic in a historic home or a Manhattan loft," Arnie explains. "When I inherited this huge old Queen Anne from my aunt, the attic, with its widow's walk, vaulted ceilings, and sloping walls was screaming: this is home! Reinvent me!"
Arnie rents out the lower levels of her 5,000 square foot home to law students and has an Airbnb on the first floor, but her husband, who passed away in 2013, insisted that she fulfill her dream of living in an attic after he was gone. "You need to live in a space that will reflect your crazy love of color and space where you will be able to look out the windows and see the Concord you love," Arnie recalls him saying.
Arnie is a radio host, political commentator, JD, and former politician; in 1992 as the Democratic nominee for Governor, she was the first woman in New Hampshire history to run for the office as a member of a major party. While she jokingly refers to herself as a "politician in recovery" she remains politically active at the national and local level, regularly opening the doors of her home to people and causes that make a difference.
A generosity of spirit guides Arnie's philosophy towards stuff, which can be summed up in two words: waste not. A self-described "crap whisperer," Arnie is just as likely to rescue and revive a found treasure as she is to give it away. Her daughter-in-law, who recently moved to the area from New York City, had very little furniture, so Arnie took her "shopping," as Arnie likes to call sifting through her extra belongings. Arnie's generosity extends to non-family members in the community as well, like helping a homeless friend furnish a new apartment. "Crap whisperer" to the rescue.
Arnie's home is a testament to the people in her life, a living museum, of sorts. And while bordering on sensory overload, her home is also full of tips and tricks for small space living, color arrangement, and how to mix different styles of décor, all while staying happy and grounded by the things you love. "As it becomes harder to influence the levers of power, I turn to my space to bring color, creativity, and humor to my world," Arnie says. And on her childhood dream finally fulfilled? "It may not be a SoHo loft but this is as close as I will ever get!"
Apartment Therapy Survey:
My Style: I call myself a "crap whisperer." My style is eclectic. I take inherited pieces from my French aunt (think Diana Vreeland meets Jackie O), mix it with treasured memories from my Italian grandparents (who ran an upholstery shop in Sheepshead Bay in Brooklyn) and I thread in my "finds" from thrift stores, yard sales, dumpsters, neighbor's attics. I look at my space like I am designing a quilt, different materials, colors, textures, periods, but when sewed together a work of art that tell a story — my story.
Inspiration: I have had many addresses in New Hampshire. The first was in a tiny town on the Connecticut River that Washington Irving in 1832 is quoted as saying "In all my travels in this country and in Europe, I have seen no village more beautiful than this. It is a charming place — nature has done her utmost here." My current home is in the shadow of the Golden Dome of the State House. My space reflects my love of my state, southern France (my aunt's address for 30 years) and China, the home of my oldest daughter's fiancé's family. The shrinking planet is my inspiration.
Favorite Element: The vaulted ceilings, the interesting nooks and crannies, the sloping walls that define the space.
Biggest Challenge: Giving things the space they need to be seen and valued. I love the whole picture but I adore the separate parts.
What Friends Say: "Think Isabella Stewart Gardner museum meets old-school boarding house," remarked a recent Airbnb guest. Anyone that knows me well: "Is that a new painting? Did you change the pillows, the comforters, the rugs, rearrange the art? Can you come home with me and help me rethink my space?"
Biggest Embarrassment: That I live in this amazing 1890 Queen Anne Victorian…I have always struggled financially and then I inherited this work of art; it is both embarrassing and magical. I pinch myself every day and realize that it is a gift that I need to share.
Proudest DIY: I am torn, is it the old metal sewing legs that I repurposed as a vanity for the marble sink I found under the eves in the attic? Or the record holder that I now use to hold my dishes? Or the lights that hang off the old apple orchard ladder over the dining room table? Or the 100-year-old paper cutter that now serves as my coffee table? Too many to pick one.
Biggest Indulgence: The chrome and glass chandelier that came out of a mansion in Fort Lauderdale, Florida…it is unbelievable and fits the space like it was designed for it despite the fact it is NOTHING like anything in my house. It is the perfect exclamation point.
Best Advice: If you are attracted to the shape, the color, the texture of anything, grab it (whether it is on the side of the road, at a thrift store or yard sale) bring it home and let it sit, in a closet, under the bed, in your basement… in a week, a month or a year you will find the perfect place for it to land. Success is not a switch, it is an evolution.
Dream Sources: Store windows in NYC, Shanghai, Montreal, Cannes, art books, Houzz.com, designsponge.com, Dwell Magazine, Bedrock Gardens in Lee NH (An Oasis of Art, Horticulture and Inspiration), any fabric store (my favorites are in Chinatown in NYC), Company C, dumpsters outside of old houses and barns being renovated.
PAINT & COLORS
Main Living Area — Benjamin Moore, Cloud
Dining Area Wall — Benjamin Moore, Revolutionary Storm
DINING AREA
Chandelier over Dining Table — League of NH Craftsmen
Lights over Dining Table — Feiss, Urban Renewal Collection
Apple orchard ladder — found in attic
Dinette Upholstery Fabric — Company C
BEDROOM
Pillows / Rug — Company C
Chinese Writing — Gift from student in Shanghai
Curtains — IKEA
Sliding Barn Door — DIY, three hollow core doors, filled and glued
Ceiling Fan — Modern Fan Company Atlas Hugger Ceiling Fan
BATHROOM
Marble Sink — Found in Attic
Antique Chinese Washboard
Shelving made from an apple orchard crate