The "Comfortable Luxe" Brooklyn Pad of Two Stylish Expats
We independently select these products—if you buy from one of our links, we may earn a commission. All prices were accurate at the time of publishing.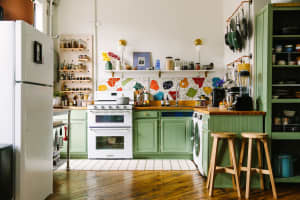 Can't-Miss House Tours Straight to Your Inbox
Keep up with our latest house tours each weekday with our House Tour of the Day newsletter
Name: Carlos João Parreira and Greg James
Location: Brooklyn, New York
Size: 1500 square feet (with a whole lot of stairs)
Years lived in: 2 years, owned
Carlos and Greg are an incredibly talented and kind couple in Brooklyn, New York. Travel lovers, their style has been inspired by all the places they've been. Their loft is in a building that used to be a cheesecake factory, so the architecture is as big a part of the design as their own style.
Unfortunately, Greg had to work and wasn't able to make it for a photo and the dog was not into big cameras, but we got the cat (can you find her in the gallery?) and Carlos. And if you happen to find yourself in their neighborhood, there is a really great coffee shop and late night craft beer spot called Sugarburg.
Apartment Therapy Survey:
Our Style: Comfortable Lux
Inspiration: Since we're both expats (Greg is British, Carlos is Portuguese) and we love to travel, our inspirations have been our favorite spaces along the way. Anything from friend's collected and eclectic apartments to some of our of favorite hotels. And there's something about the idea of a comfortably lived-in '70s apartment in Woody Allen's NYC that's always struck a chord. Our favorite spaces have always been those that truly reflect their occupants.
Favorite Element: All the nooks and crannies. We wanted a space that didn't feel cookie-cutter — the building is a converted cheesecake factory, which feels very New York to us. Since it's a converted loft and not a conventional apartment building, the layout and spaces have real character. The outdoor space is pretty great too — rare in this city so it's a dream come true.
Biggest Challenge: Trying to have the apartment be versatile enough for all that we need it to be. Comfortable and (hopefully) stylish enough to entertain friends, but professional enough for Carlos to have meetings, hold inventory and generally run his home decor business, LUSITANO1143.com.
Also, with the space being on three levels it was a challenge to tie the apartment together aesthetically with a practical flow. The previous owners used the apartment completely differently: Our living room now was originally their bedroom, our dining room was their living room…
What Friends Say: "Who needs the gym with all these stairs??"
(The apt is three floors and it starts on the 4th floor of a building with no elevator!)
Biggest Embarrassment: The very obvious evidence that we have a cat who loves clawing everything…except her scratching posts.
Proudest DIY: To anyone who'll listen, Greg will talk about his "secret TV cable box nook" under one of the landing stairs above the TV on the first floor. It hides all the cables and somehow still works with the remote!
Not terribly glamorous, but very practical.
Biggest Indulgence: The kitchen countertops, for sure. We thought about it for ages and cut the budget in a few other areas in order to make it happen — so the kitchen is a great example of combining both high (where you can) and low to get the final look you want.
Best Advice: Keep it personal and trust your instincts. Your space has to reflect your own stories to make it really meaningful to you and your own friends and family.
In our case we had different cultures we brought together — England, Portugal and our shared experience in the U.S. For both of us, family is important so there are family photos and personal, collected items throughout. All the art was given to us or collected along the way — it all has a story! And that's what we like best.
Dream Sources: Trips back home to the UK and Portugal, ABC Home, Hudson Valley stops, Williamsburg Flea, Espasso, BDDW, Workstead, Apparatus and friends — Greg's sister, Ria and Carlos' friend Ben who he worked with at Jonathan Adler. These two always know the spots.
DINING AREA
"Cimento" Vase3 – LUSITANO1143.com Lighter than it looks!
Color bowls – Canvas
Dining Table – Crate&Barrel
Dining Chairs – From Keith McNally's staging warehouse, via Craigslist ($20/chair!!)
Record Player Sideboard – Vintage Danish from REPOP around the corner
Magenta Lamp – Gold+Williams
"Distressed" Rug – West Elm Hides the cat scratches surprisingly well!
Ceiling Lamp – Dot&Bo, rewired to have plug. Ceilings are cement, so no wiring
Speaker – Sonos
Gagosian Poster – Actual invite for the show from when Carlos worked at an Art Gallery. Most frames throughout from AJ Friedman.
B/W Artwork – Created from tiny photo of Greg's Great Aunt and Grandfather, gift from Carlos. Amazing enlargement was done by SugarHill Works, framing by Jack's Art Framing in the UWS
Walls – Benjamin Moore Pigeon Gray
Ceiling – Benjamin Moore Tundra

GUEST BEDROOM
Lamps – Ikea
Bedding – Pottery Barn
Gray Pillows – Room&Board
Movie Posters – Vintage
Walls – Benjamin Moore Pigeon Gray
Ceiling – Benjamin Moore Tundra

STAIRWAY
White Sideboard – CB2
Table Lamp – West Elm
White Throw – John Lewis (UK)
Swallows – A Vida Portuguesa
Print "Lady Gelatine" by Feed Me a Story (collaborators Laura Nova & Theresa Loong) at an LMCC Auction via Paddle8 – Laura Nova & Theresa Loong's piece is a statue of liberty form made out of JELL-O – during the 1900's Immigrants were given JELL-O at Ellis Island as a "Welcome to America" gift. Since Carlos was to become an American Citizen the next day and had a couple glasses of wine, he just couldn't pass it up. Meant to be.
Walls – Benjamin Moore Pigeon Gray
Ceiling – Benjamin Moore Tundra
Stairs – Benjamin Moore Onyx

MEZZANINE
Trapeza Mari Vase – LUSITANO1143.com
Console – CB2
Bookcase – CB2
London TWA Poster by David Klein – Vintage from Ebay
Portugal TWA Poster by David Klein – Vintage from Ebay
Michael Kagan Print – Exhibition A They work directly with incredible artists to create limited edition prints at a fraction of the cost of their original work. The original Kagan was tens of thousands and 8 feet tall!!
Walls – Benjamin Moore Pigeon Gray
Ceiling – Benjamin Moore Tundra
Wall leading up to Bedroom – Benjamin Moore Dior Gray

LIVING
Coffee Tables – Vintage – Greg's dad shipped these from the UK via FedEx!! They're a little worse for wear from the journey but we still think they're perfect.
"Cerne" Decanter – LUSITANO1143.com Each decanter is hand-blown from the void in the core of a tree. The tree core continues to wear, and lives on as each decanter is created.
Sofas – Cobble Hill at ABC Home
Emerald Pillows – Crate&Barrel
Ruby Pillows – Aviva Stanoff for ABC Home
"Mod" Pillow – Jonathan Adler
Chair – Jonathan Adler
Black console – Jonathan Adler
Tripod Lamp – West Elm
Table Lamp (chrome) – Vintage
Rug – Steven Alan for West Elm
Porcelain Key – Klein Reid One of Carlos' favorite ceramists. Carlos found it at one of their warehouse sales when it was all he could afford and it's been at every coffee table since.
Walls – Benjamin Moore Pigeon Gray
Ceiling – Benjamin Moore Tundra