A Ceramicist's "Between Minimalist & Maximalist" 1880s Cottage
Name: Rose and Dan
Location: Red Hill — Brisbane, Australia
Size: 2368 square feet
Years lived in: 12 years
This gorgeous worker's cottage in Brisbane's inner suburbs is owned by ceramicist and collector, Rose, and her musician husband, Dan. Having lived in this house now for a cozy 12 years, their home is well-loved and decorated with a beautiful and organically grown collection of furniture and decor.
The most lovely and interesting collection of ceramics and pottery creates a beautiful display throughout the home. What I loved most is Rose's refrained approach, maintaining space around the objects.
Featured as lamp bases, in the kitchen as utensil holders, and stylishly decorating most available surfaces, pottery made by Rose herself — as well as pieces collected near and far — fills the home. Her custom-made shelving by a local furniture designer helps her collection truly shine.
Apartment Therapy Survey:
My Style: Somewhere between minimalist and maximalist. Right in the middle I think.
Inspiration: Other artists and creatives! Anyone who has the conviction to create something with their hands and keep learning, even when it's hard (which it almost always is!) I'm a bit of a Pinterest nerd too!
Favorite Element: The open plan living and kitchen area which leads onto the back deck through two sets of French doors. It's a wonderful house for entertaining; you're never far from your guests. Also my garden is a wonderful place to relax.
Biggest Challenge: Storage! Our house is an 1880s Workers Cottage so it's quite small with basically no storage. Even though it can be frustrating it's a blessing in disguise. I've learned to give things away and not hang on to objects I don't need.
What Friends Say: Friends always comment on how neat our house is. And one of my closest girlfriends always cat sits for us when we're away. She says she loves to poke around and look at all the beautiful things.
Biggest Embarrassment: I used to have a spare room which became a dumping ground (lack of storage!). It got to the point where we would just open the door and throw stuff in. Looking back I can't believe I did that! We've turned that room into my husband's recording studio.
Proudest DIY: I would say my garden. It has been a work in progress over the years. With the help of mum and my friend Erin, we've managed to get it to a point where it is beautiful but low maintenance. I also painted the entire inside of our house last year. WORST JOB EVER.
Biggest Indulgence: My two bespoke pieces of furniture designed by local cabinet maker James Talty.
Best Advice: Fill your home with beautiful things that are special to you. You will never tire of something that has a memory attached to it. Also, don't follow trends, you'll only end up hating it all in a year!
Dream Sources: Antique stores for something unique.
---
Explore This Style: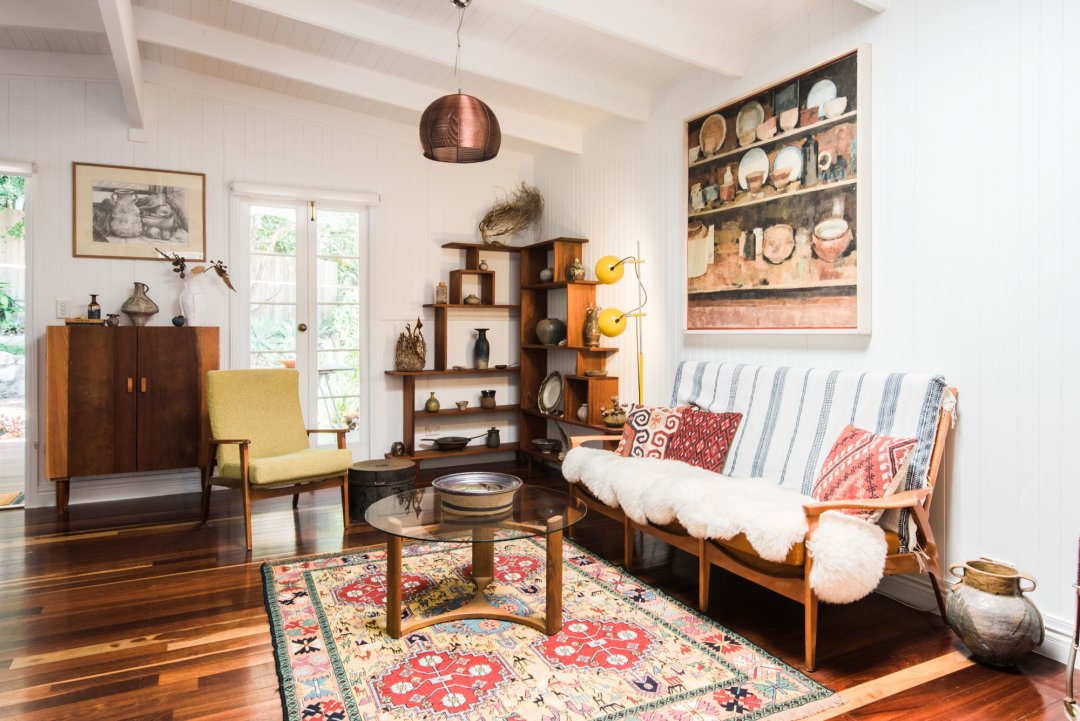 ---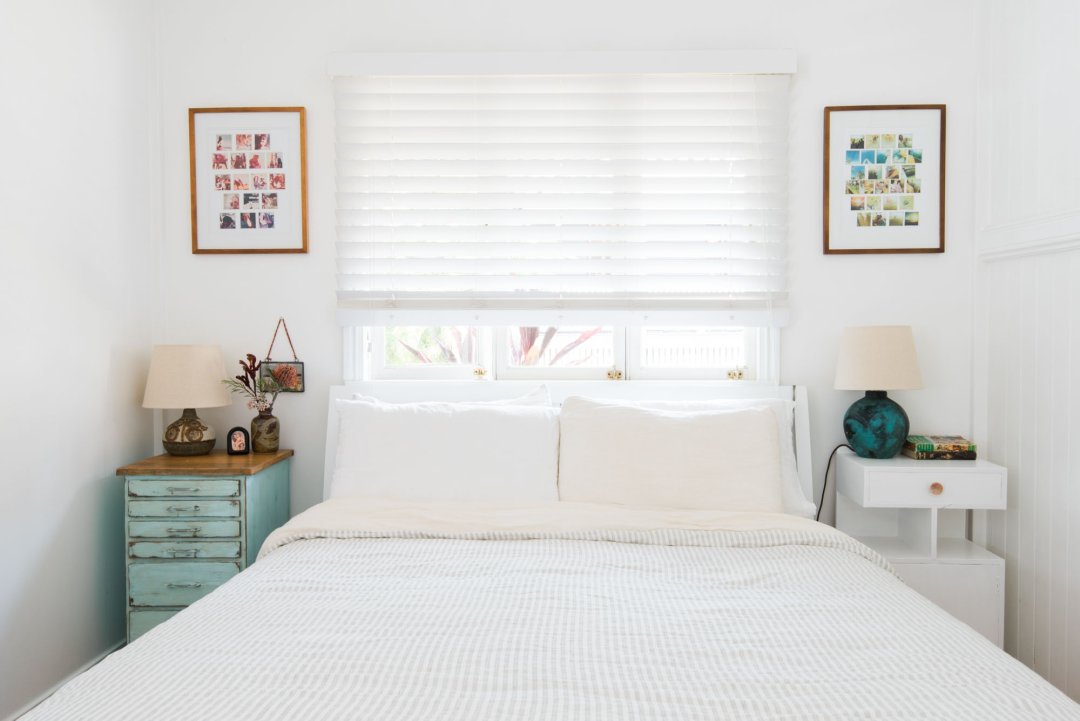 ---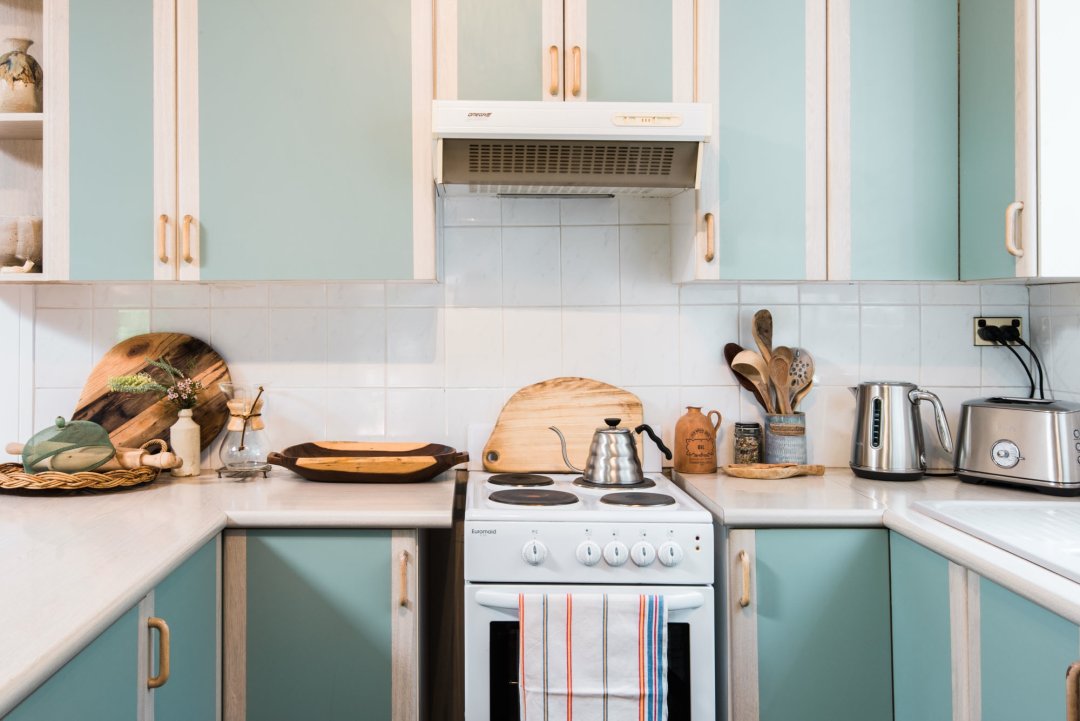 ---
More Resources:
PAINT & COLORS
Outside Dulux Teahouse
Front door Whaling
Inside Pure White

ENTRY
Turkish rug by Karavan Oriental Carpets Paddington
Old Ladder road side throw out
Various artwork on walls by my mother in law Ronnie Pratt and my husband

LIVING ROOM
Parker mid century credenza
Don Rex mid century sofa from Advintage
Turkish rug Karavan Oriental Carpets
Corner shelves by Local Designer Talty Sargent
Bookcase by Talty Sargent
Various ceramics by myself, some vintage, other Australian ceramiscists

DINING ROOM
Dining table wedding present from my mum
Mid century chairs from Retro Metro Paddington
Ceramic planter by Modernica

KITCHEN
Olive wood spoons collected in Italy
Large wooden bowl a gift from a friend
Large vintage Italian ceramic cheese bowl

BEDROOM
Bedside tables from Paddington Antique Centre
Vintage Danish ceramic lamps from Paddington Antique Centre
Linen bedding from West Elm
Antique stool used as dresser belonged to my bosses family

BATHROOM
My bathroom is very boring!

Thanks, Rose and Dan!
---