A Cozy Rental in the Center of Vibrant Cape Town
We independently select these products—if you buy from one of our links, we may earn a commission. All prices were accurate at the time of publishing.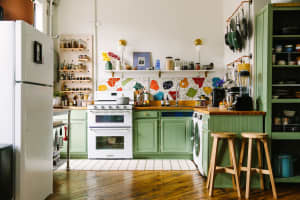 Can't-Miss House Tours Straight to Your Inbox
Keep up with our latest house tours each weekday with our House Tour of the Day newsletter
Name: Darren Sandras
Location: Tamboerskloof — Cape Town, South Africa
Size: aprox. 1550 square feet
Years lived in: 5 years, renting
Tucked away in the heart of Tamboerskloof is a row of semi-detached Victorian houses, each with a different colored door. And if you enter the blue door, a surprise awaits you: A beautiful and relaxed home that has come together over time.
The fabulous location is what initially drew Darren to his home. As he says "There are few areas that can beat the City Bowl for vibe, energy and convenience." Although Darren currently rents, he's hoping that at some point the property will become available so that he can buy and renovate it to its full potential.
In the meantime, Darren has made the space his own by painting strong gray focal walls, hanging art, and adding plenty of plant life. After a stressful day he finds comfort in styling his home and moving items around to create different vignettes. The open bookshelf in his living room is beautifully curated and includes vintage video cameras and photography equipment that used to belong to his father.
You'll also spot a number of typewriters dotted around the living area, which are a clue to his love for writing and fascination with typewriters. (This started when he was just a kid; he used to love using his electrical typewriter!) Darren studied journalism and now co-owns a small marketing and communications agency called One-eyed Jack — this of course still involves quite a bit of writing.
It's these personal touches and sentimental details that gives Darren's home its quirky character and unique stamp.
Apartment Therapy Survey:
My style: I don't think I have a specific style. I enjoy a combination of simple, modern interiors with elements of vintage. Comfort plays a big role too.
Inspiration: I'm inspired by "real" homes. By that I mean seeing how people actually live in their space, decorate it, design it. Seeing beautiful homes in magazines, Pinterest and the like is certainly inspiring, but they're glossy and stylized. I'm intrigued to see what people's home look like when you visit them: Real life homes where people live and watch TV and spend time with family and friends.
Favorite Element: Light – and lights. I cannot live in a dark space. I need lots of natural light, white walls (with accents of color) and at night, good artificial lighting.
Biggest Challenge: Finding/sourcing what you want. There is nothing more frustrating than seeing something you love but don't know where to find it. This is why, again, I love visiting people's homes (people you know) so you can ask about their pieces, find out where they came from and possible use these as opportunities to source similar pieces.
What Friends Say: They say my home is well-decorated, ordered (I hate messiness) and comfortable. It has a sense of being a warm and inviting place, which makes me happy — my home is my sanctuary.
Biggest Embarrassment: I have a very acute attention to detail (both a good thing and bad thing) so I tend to notice all the little things that are "wrong" or out of place, which most people wouldn't see. These things can be embarrassing because I want everything to be perfect.
Proudest DIY: I am not the biggest DIY person. For a while I was ashamed of it, but I realised it's not who I am. Interior decorating is a form of DIY in itself: moving things around, changing things. But I haven't built a cupboard or refurbished an old chair before.
Biggest Indulgence: This changes all the time. For a while it was rugs. Then picture frames. Then cushions. I try now to indulge in unique pieces that tell a story, have some history.
Oh, and plants. Plants – lots of plants – are a must. I buy them all the time.
Best Advice: Take your time. When you move into a new space, there is a tendency to decorate and furnish everything in one weekend. You have to live in space to understand it. So take time getting to know it and decorate/design/furnish the space organically (make sure you have a fridge, washing machine and bed at least!)
DINING AREA
Loft dining table: @home
Dining chairs: second hand store in Stellenbosch
Drawer unit: Mr Price home
Turquoise typewriter: a birthday gift from his team this year
Pendant lamp: 44 Stanley, Joburg
Kelim: Canal Walk
Gold Skull: Mr Price Home
Candle sticks: H&M
Grey candles: Mr Price Home
LIVING AREA
Sofa: Mr Price Home
Chair: second hand store in Stellenbosch
Throw: gift from a friend
Book shelf: Weylandts
Cameras: belonged to Darren's father
TV stand: Mr Price Home
Art: Bought at an art dealer in Stellenbosch, these belong to Darren's partner
Decanters: Crystal Direct
Tray: bought in Istanbul
Standing lamp: Mr Price Home
MAIN BEDROOM
Art: bought at an art gallery in Joburg many years ago.
Rug: H&M
Throw: H&M
Pillowcases: Zana
Bedside tables: @home
Copper lamps: The Artisan