A Designer Created a Colorful Connecticut Home on a Budget
We independently select these products—if you buy from one of our links, we may earn a commission. All prices were accurate at the time of publishing.
About this tour
Location
Brooklyn, West Hartford, Connecticut
Style
Colorful, Mid-century Modern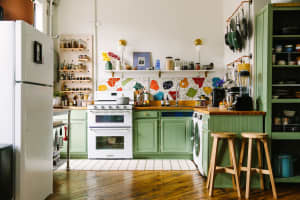 Can't-Miss House Tours Straight to Your Inbox
Keep up with our latest house tours each weekday with our House Tour of the Day newsletter
Name: Angela Belt, her husband Leon and their daughter Brooklyn
Location: West Hartford, Connecticut
Size: 900 square feet
Years Lived In: 8 months, renting
Angela's career revolves around interior design and creativity. As a senior designer and contributing editor for Homepolish and an interior stylist and art director for AphroChic, her work has been featured in publications like Elle Decor, House Beautiful, The Washington Post and more. Both her portfolio and the home in West Hartford she shares with her husband and daughter are proof that she's got a passion for design and a keen eye for what is on trend.
But it's also Angela's dedication to the importance of positive Black imagery in interior design that makes her work and her home so meaningful. For the past two years now, she's highlighted Black tastemakers during Black History Month to promote Black designers, artists and other trendsetters from around the globe in fine arts and design. For Angela, it's about showing the reality of how diverse our country and the interior design field is.
"So much of interior design is about storytelling and providing people with drool-worthy pictures of what they wish their homes could look like…including the people that live in these spaces. The lack of Black imagery in this industry makes you feel like your lifestyle is limited or non-existent in the conversation about interior design," she writes.
"If we don't expand and explore other cultures and perspectives we get stuck creatively."
"In today's current environment with the Black Lives Matter movement, positive Black representation is more important than ever. The Black experience needs to be humanized. We need to be seen as people like everybody else: We entertain, we cook, we have two-parent families, and we have beautiful homes. Simply showing more visuals where Black people are seen as people versus threats can help re-shape the narrative about who we are.
When we continue to explore design through the same circle of people, the design perspective becomes stale and expected. This is tough because we all get lured into interior design trends like all-white walls and boho chic style that is beginning to dominant the design marketplace. Now don't get me wrong, I LOVE those styles but they're not the only options when it comes to interior design. If we don't expand and explore other cultures and perspectives we get stuck creatively."
Apartment Therapy Survey:
My Style: Mid-Century Modern Meets Industrial Chic
Favorite Element: Our family wall story in our living room. It was something I wanted to create for a long time, and I wanted to highlight everyday moments from our life.
Biggest Challenge: Painting all of the walls. When we first moved in all of the walls were either yellow, dark red or purple. Also, since it's an old row home from the 1940s, all of the walls have a texture to them so I knew it was going to be a huge task. I partnered with Behr to help save the day! My husband specifically wanted a house with "no white wall" so I think mission accomplished.
What Friends Say: Most people are surprised we haven't even lived in this space for a year, and it's already finished. Most people say they are so nervous about painting the walls and getting it wrong, but seeing our home lets them know they can do it too.
Biggest Embarrassment: In the dining room we have a pendant that hangs above the dining table that is not wired to anything. One of the biggest challenges with this rental space is that there is no overhead lighting. So I didn't get to have as much fun as I would like with dramatic overhead lighting. For the dining room I just couldn't resist; I figured just fake it!
Proudest DIY: Definitely would be the mudcloth Roman shades in our dining area and bedroom. I can only take partial credit for these since I watched an awesome Youtube video from Better Homes & Gardens on how to make these without sewing anything. Plus, Leon was the skilled hand to make sure they fit just right in all of the windows.
Biggest Indulgence: The blue chair and coffee table from Article in the living room. I was so happy to move into a space, and realize we were finally past the rocking chair phase and we could have a coffee table again (parents you know what I'm talking about). The blue chair is my favorite chill space to read a book with Brooklyn.
Best Advice: When designing your space create a home that reflects who you are. It's so tough seeing so many jaw-dropping homes online and in magazines and not thinking, "I want to live in a room just like that." I know because I often thought about doing those same ideas myself, but I stopped and forced myself to find the right pieces that not only reflect my style, but work for my entire family.
Dream Sources: I know this may sound corny but most of my dream sources are already in my home. I'm good, call it a day.
Thanks, Angela, Leon, and Brooklyn!