A Graphic Designer's Collected Seattle Home
We independently select these products—if you buy from one of our links, we may earn a commission. All prices were accurate at the time of publishing.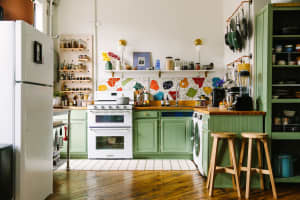 Can't-Miss House Tours Straight to Your Inbox
Keep up with our latest house tours each weekday with our House Tour of the Day newsletter
Name: Jordan
Location: Capitol Hill — Seattle, Washington
Size: 1,000 square feet
Years lived in: 3 years, renting
A friend of Jordan's once called her a professional appreciator, and that is just exactly the right title to give this creative force of a woman. She's a freelance graphic designer, but I first knew of Jordan as a source of restaurant recommendations via her Instagram account, Local Trove (there are so many great spots in Capitol Hill that it's tough to keep track—it's important to have sources on the inside). Soon, I came to think of her as a source for great shops, unique art, interesting people, and inspiration.
All the items have been collected with care over many years in her Capitol Hill apartment; I got the sense that the common thread throughout her home was her, rather than a specific design style. It all just works.
Some corners—such as the bedrooms—are given a little more breathing room with simple whites and thoughtfully placed plant life, ceramics, and art. While other areas—the living room in particular—are cozily packed with furniture that encourages gathering, and accessories that are conversation starters to keep guests chatting well into the night. And while there is no shortage of hip spots to visit in her neighborhood, I imagine among her friends—Jordan's home is definitely the place to be.
Apartment Therapy Survey:
Favorite Element: Besides the actual location of my apartment (Capitol Hill) and the incredible light I get from my east and west facing windows, I love that my home is filled with stories. I can tell you something about the majority of the artists represented in my home; most of the pieces of furniture have some sort of narrative behind how/where I got them. I love seeing the ways my aesthetic has remained consistent over the decades and the other ways it's been refined.
Biggest Challenge: I'm single and live by myself so honestly, my biggest challenge is that if I'm working on something around here, I often need to ask for help. When I decided that I was more than capable of rewiring a lamp myself, my friend Erick advised me. When I realized I didn't have enough hands to actually hold up said lamp and screw it into the ceiling, my friend Lindsay came over and held the fixture while I drilled. While I don't always like asking for help, I am a firm believer in community and in the fact that we DON'T HAVE to do everything ourselves. So…I'm thankful that I have people I can call and say, "hey…I'm in a bind. Can you give me a hand?"
What Friends Say: Last fall I picked up my niece for a sleepover and she said to me, "Do you know my favorite place in Seattle?" While I was ready for Molly Moon's, Seward Park, or Great Wolf Lodge to come from this 10-year old, what I didn't expect was for her to say, "Your apartment." She told her mom that my home was calming. I can't think of a better compliment.
Biggest Embarrassment: I wouldn't call it an embarrassment but until a month ago, I didn't fully love my master bedroom. Full disclosure, knowing this feature was coming up, I suddenly received the needed motivation to make the changes I'd intended to prioritize. My guest room is a tiny, all-white, jewel box of a room and I love it. There are plenty of nights that I'd actually choose to sleep in there. When I first moved here though, I decided on a dark grey statement wall behind my bed in order to bring some contrast between the rooms. Honestly, there was nothing wrong with it; it was lovely. I had numerous friends encourage me to keep it as-is. But, I didn't take a deep breath when I entered…and that's what I want of my bedroom. So, even though my other bedroom was all white, I decided to repeat this color scheme (there's that Scandinavian influence rearing its head). I grabbed a can of paint and brightened the space up, changed out the overhead light using a previously owned fixture with an addition of a basket from Target, and found a little writing table on Craigslist. Other little tweaks may happen over time, but now this space has the desired effect I've longed for. So, no it wasn't an embarrassment but it just didn't feel right until recently.
Proudest DIY: For the longest time, it was the repurposing of my flat file turned coffee table (which entailed stripping and adding wheels). With this apartment came the addition of the guest room armoire, the entryway table, or most recently the repurposing of my master bedroom pendant light. Really, it's a tie.
Biggest Indulgence: Definitely my Eames Lounger (purchased years ago with the help of a friend's Friend and Family discount) or my Room and Board chair. But I believe in two things: 1) Investing in quality over quantity and 2) A design aesthetic made up of "high/low," not only for financial reasons but also for interest. Frankly, I love some of my pieces that fall in the "low" category. Low doesn't have to mean compromise.
Also of note, the pieces I have invested in are ones I loved for years before purchasing…they weren't "on a whim" buys.
Best Advice: Besides the above (invest in quality while incorporating a high/low interplay) I also believe in buying items you love and then figuring out how to make them work. Granted, there's a place for filler pieces, items that meet a specific need even if they're not your favorite) but whenever possible, I buy what I love and figure out how to make it work (perhaps this has contributed to my more eclectic style). Most homes come together over years; I believe patience will provide layers of interest and narrative and beauty.
Dream Sources: Madsen Modern sells vintage mid-century furniture and is Seattle-based (but ships nationwide). It's owned by two brothers, Brandon and Brian Madsen and their work is impeccable. I pop into Big Daddy Antiques from time to time for some inspiration. I only own a couple little kitchen bits from Portland-based Schoolhouse Electric, but I do love what they've pulled together in their store. Regarding the bigger stores, at any given moment there's likely a piece or two I'm swooning over at Room & Board. But, as it is clear with my space, a lot of my pieces come from the unexpected spots — salvaged, hand-me-downs, Craiglist. No matter what sort of budget I was given, I think these unexpected finds would still remain favorites.
PAINT & COLORS
Entry way — Chalkboard wall was there when I moved in + I kept it.
All other rooms — I painted Kelly Moore, Swiss Coffee (the Swiss must love a lot of milk in their coffee). I believe Kelly Moore has since been bought by Miller Paint, but they still have the color.
ENTRY
Photo above the table by Seattle multi-disciplinary artist — Hardie Cobbs
Table — DIY.
LIVING ROOM
Couch — Henredon couch from Craigslist
Coffee table/file cabinet — Vintage from Two Jakes in Brooklyn
Chairs — Eames Lounger, a friend worked for a Herman Miller distributor and I jumped on a Friends & Family discount.
Leather and wood chair to the right of the couch — Room & Board
Antique cigar chair — Hand-me-down/ gift from my aunt over a decade ago. Rug — Turkish hand-me-down from my parents.
Curio cabinet — Craigslist
Side tables (facing the couch, from left to right): Costco Home (Next to the Eames Chair); Urban Outfitters (Left of couch); Target (Right of couch); West Elm (white)
Wall clock — Crate & Barrel
Wall lamp —Bought it when I lived in NYC in a little Williamsburg shop called Nightwood; it's by Brooklyn designer Doug Newton.
Nesting Bowls on coffee table — East Coast maker, Judy Jackson. I have a number of her pieces and am a big fan!
Black & White oil painting — Previously Seattle, now Texas artist Jen Grabarczyk
Etchings (2) next to oil painting — Sacramento artist, Jim Carlson (my uncle)
Large graphite and red ink drawing — Sequin artist, Wanda Batdorf
Oil portrait (above the curio cabinet) — UK artist Melodie Stacey (found on IG)
Ceramics above curio — a combination of vessels from Portland artist
Sarah Van Raden of Notary Ceramics, East Coast ceramicist, Judy Jackson, and a hand-me-down from my grandma's lenox collection.
DINING ROOM
Table — Crate & Barrel outlet
Chairs — Emeco Navy Chair, Ebay
Entry drawers — Land of Nod
Mirror — (circle mirror above drawers) CB2
Stainless steel sideboard— Hand-me-down from my uncle
Metal locker baskets — Salvaged locker baskets from Seattle's Cleveland High School, purchased at Second Use
Eames Plywood Chair — DWR
Nest painting — Bellingham artist, Christen Mattix
Gallery wall
Pear Oil Painting by me
Below pear, drawing by my [then] three-year old niece of her, myself + friend
Below this, large photo of my grandparents, Thor + Eleanor Carlson
Beside that, small etching of Brooklyn Bridge — Can't remember this NYC artist's name)
Below Bridge etching, dark blue collage and chalk pastel — Ginger Huebner
Small dark oil painting above — Jen Grabarczyk
To lower left, shoes with yellow background — print of painting; can't recall artist.
To the left, Black + White photo of girl walking through grass — Seattle photographer, Valeria Spring [www.valeriaspring.com]
Above that, tall narrow black and white etching by Jim Carlson (my uncle)
Left of that, Oil painting of spoon, small + grey — Whidbey Island artist, Jason Waskey
Below that, etching of scotty dog — grandfather brought back from Europe during WW2
Photo of bedroom with pink wall — Seattle photographer, Aran Goyoaga
KITCHEN
Stainless island — salvaged and restored
Yellow stools — Target
Gallery wall
I cannot remember most of these artists. A number of them are paintings I've had for quite some time.
Top left painting_was my parents' by California artist Maurice Lapp (one of my mother's art professors).
The middle portrait on the far left is another by UK artist Melodie Stacey
The bottom ice house oil painting (orange surrounding abstracted house shape)__ by college professor Dale Johnson
The portrait over my fridge is a Sargent study done by my grandfather, Jack Ballance.
MAIN BEDROOM
Bed linens — West Elm
Bench at end of bed — Ikea (actually sold as a table)
Dresser — Bought when I lived in Brooklyn off of Craigslist from a guy who resold items he purchased at estate sales.
Small white drop leaf table — Craigslist
Woodard Sculptura knock-off/inspired chair — Cost Plus
Light fixture —Well…this is a story. I have a designer light fixture that I purchased when it was coming out of a local coffee shop. I love it, but I had it up and it simply wasn't right for this space. I found a $30 basket at Target and thought, "This would be a great pendant!" So, I dismantled what I didn't want of the current fixture, used the casing of a large pen to create a channel through the basket that would allow me to thread through wiring, and I situated my new "shade." I love the result. While I'm sure one day I'll use the designer fixture as it's intended, this is exactly what I wanted for this space.
Artwork
Black and White oil painting above bed — Previously Seattle, now Texas artist Jen Grabarczyk
Tiny oil painting of flowers on the left side of the bed__West Virginia artist, Amanda Blake
Large water photo — Seattle photographer, Deb Achak
The photo above the dresser — by a gal I went to college with, Julia Taylor.
The floral etched bowl/ plate + rainbow etched plate — Seattle Artist Carolina Silva of Dorotea Ceramics
Small vase by Target lamp, under Deb's water photograph, holding white flowers — Sarah Van Raden of Notary Ceramics
Little tri-pod bowl on table below water photo —Pigeon Toe Ceramics
Two small pod-like vessels, one next to Swedish horse, one on dresser — both by Seattle artist, Hardie Cobbs