A First-Time Homebuyer's "Glam-ohemian" Charlotte House
We independently select these products—if you buy from one of our links, we may earn a commission. All prices were accurate at the time of publishing.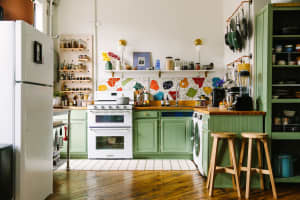 Can't-Miss House Tours Straight to Your Inbox
Keep up with our latest house tours each weekday with our House Tour of the Day newsletter
Name: Seana
Location: Charlotte, North Carolina
Size: 2,600 square feet
Years lived in: Own. I am a first-time home owner!
Seana does not claim to be a design expert, but she could have fooled us. As a corporate professional she spends her days in a more formal atmosphere, so her first house provides a unique canvas to express her creativity. Reluctantly labeling her style "Glamohemian," she describes herself as a "modern bohemian with a touch of glamour" while rolling her eyes at herself. Seana's home reflects an eclectic collection of influences that are very dear to her; her has family roots in Louisiana and she spent fifteen years in Brooklyn. Artifacts on display also illustrate her love and passion for hip hop and the African diaspora, as well as several "nerdy interests" and her "lifelong obsession with fashion."
Making our way through Seana's home was a moving experience. Her devotion to family is prevalent as evidenced by portraits of her parents when they were children, a fourth grade self-portrait that her mother held onto, and artist renderings of her family homes in Louisiana, created by her architect father. All of this is complemented by greenery symbolic of her father's passion for plants. Seana shared her experience in New York as an intern working two blocks from Ground Zero on September 11th; on display are the heels she wore that day that carried her all the way to Brooklyn, a powerful reminder.
Seana told us she thinks her home "reflects the tension between my love of an urban aesthetic and the reality of my current life in the 'burbs.'" The contrast that results is thoughtful and alluring.
Apartment Therapy Survey:
My Style: Eclectic yet serene; Louisiana meets Brooklyn meets Hip Hop meets African Diaspora meets Nerd meets Fashionista
Inspiration: My family. Both of my parents love design. Dad is an architect and has always been a fierce modernist. Mom loves cozy, cottage style and antiques. Both are avid gardeners. Although I've always been aesthetically-driven person, it took the urging of my cousin, a graphic designer, to find my inner creativity. I find that I am inspired by the juxtapositions of different elements — the crisp lines of modernism and the fluidity of of Bohemia… the nostalgia of vintage glamour and the grit of hip hop… the organic earthiness and just the right amount of bling.
Favorite Element: I can't name one but among my favorites are my art, my windows, and my plants. I also really like the ethnic touches and textiles in my home — some of which I've picked up during my travels. I also love my neighborhood — a quaint pocket located just outside of downtown Charlotte. It is a walk-able area and home to many cool restaurants and shops.
Biggest Challenge: I have several. I am very sentimental and I like to hold on to things that are meaningful to me — this can create clutter so I have to watch that. I can be overly-frugal so sometimes that leads to mistakes that cost more in the long run. Also, I bought the house as new construction but unfortunately, I was too late in the process to pick out any fixtures. I am still on a journey to personalize my home and infuse it with a sense of character.
What Friends Say: "Your house looks like a gallery", or "How do you maintain all of these plants?" Sometimes they're just quiet when they think I've done something too weird.
Biggest Embarrassment: As a former city girl, I know nothing about yards. My yard definitely needs some landscaping. I saw a huge snake in the yard shortly after moving in. I was traumatized (Post Traumatic Snake Disorder) and now minimize my time out there. Also, my laundry room usually looks like a bomb exploded in it.
Proudest DIY: Probably some of my art and framing projects. I am not very handy or artistically talented, but I've learned that I'm pretty good at being resourceful, finding unique uses for random things, and pulling a look together. I've collected a lot of interesting stuff over the years — much of it has been free or second hand so I'm proud of how I've been able to pull a lot of random stuff together to create something I find beautiful.
Biggest Indulgence: I'm fairly budget-conscious. I don't really have anything wildly expensive but I have invested in small touches that add up over time.
Best Advice: 1. Personalize your home by surrounding yourself with things you love. 2. Don't buy expensive things sight unseen that cannot be returned. 3. If you are single, make being handy part one of your dating considerations ;-). For me, handy is the new sexy.
Dream Sources: Village markets in Accra and Morocco. Wisteria, ABC Home & Carpet, Anthropologie, Room and Board, and Don't Sleep Interiors, which has the cutest pillows. Several local stores in Charlotte: Slate Interiors, Dressing Rooms Interiors, Tuft, and City Supply. I want to shout each of them out because the entrepreneurs who run each of these shops have been immensely helpful. I've spent a lot of time in these shops as a shopper and a stalker. Not only do they have great stuff, the owners were always available for a side of advice. I've also purchased a ton of great stuff from stores like HomeGoods, Target, World Market and West Elm. Oh… and I can't forget the thrift stores in the nice parts of town! I'd consider myself a high-low shopper. Actually, I'm probably more like medium-low. I'm not willing to turn my nose up at the possibility of finding something fabulous anywhere.
PAINT & COLORS
Anew gray — PPG paints (all of the interior walls came in this color).
I've only painted one wall in upstairs den — Valspar tintable chalkboard paint
ENTRY
Bench — Slate Interiors
B&W painting — Dante Yarbrough
Rug — Vintage
Pillows — Target and Crazy Jane's
Graffiti art — The streets of NYC
New Orleans print — Purchased on eBay
Woodcarving of faces — done by my Dad
LIVING ROOM
Polk Sofa — Custom-made from Van Peursum… was returned by original customer
Chaise — West Elm, part of the "Peggy" sectional
Swing Chair — HomeGoods
Mirrored coffee Table — Century furniture (bought from resale shop)
Jute Zig Zag Rug — World Market (discontinued)
Cowhide Rug- Had it forever… ordered online at least 10 years ago
Pillows — Don't Sleep Interiors, Little Design Co, West Elm and Ikea
Silver floor lamp — Target (discontinued)
Random side tables around the house — HomeGoods and second hand finds
DINING ROOM
Dining room table and upholstered chairs — Rooms to Go
Teak dining chairs — Flea market
Teak pedestal table — Nadeau
Rug — World Market
Light fixture — Thrift store
Mirrored tray and stand— West Elm (discontinued)
Silhouette art— Gustavo Soto
Romare Bearden print — Mint Museum
Colorful abstract prints — flea market
Pink planters — Anthropologie
KITCHEN
Backsplash art — Erika Ekerson (local Charlotte artist)
African gourds — HomeGoods
Counter stools — HomeGoods
POWDER ROOM/DOWNSTAIRS BATHROOM
B&W sketches — done by my dad
Woman with flower — Society 6
Black and white photograph — Reprint of photograph from 1941 "Negro boys on Easter Sunday" by Russell Lee
Round wooden mirror — HomeGoods
STAIRWAY
Artwork— Target and thrift store
Driftwood sculpture — Details in Charlotte (I think it's supposed to go in front of the fireplace but I use as a sculpture)
MASTER BEDROOM
Upholstered headboard — Rooms to Go
Nightstands — Gabby Furniture
Lamps — Homegoods
Rug — Homegoods
Chandelier — Pottery Barn (discontinued)
Mirror and Dresser — Vintage/thrifted
Armoire — Pier1 circa 2004
Leopard chairs — custom upholstery designed by me
Mardi Gras print — "Kings and Jungles" by Annie Moran
Silhouette dripping — Dante Yarborough
Orange circles poster — Target (old)
GUEST BEDROOM
Headboard — second hand carved wood screen
Drapes — African waxcloth fabric bought from distributor/importer I know
Rug — KennedyRoseInteriors
Pillows — World Market (old/discontinued)
Japanese painting — Dress My Rooms Interiors (local vintage shop)
UPSTAIRS DEN
*Most of the items in this room were things I've had for a long time, thrifted and/or gifted by friends and family.
Sofa — Room and Board Metro sofa
James Baldwin "freedom" pillow — Don't Sleep Interiors
Rug — World Market
TV table — Thrift store (Vanguard furniture)
Morroccan poufs — Local African shop
Wicker chair — Pier 1 (old, discontinued)
Elephant tapestry art — Bought in Mumbai
Blue face painting — An artist friend, Pel
African batik art — gift from mom
Chinese jacket — bought in Hong Kong
African baskets — gifted from friends and family over the years (mostly from Ghana)
African masks — From Mali, Ghana and Cameroon- mostly gifts
Mudcloths — Importer/distributor connection who imports them from Mali
Gold window draping (an old bellydance hip scarf)
Mid-century table under window — Vintage hand-me-down from my aunt
"GIRL CAVE' SITTING ROOM
Sofa — Rowe furniture
Acrylic coffee table — World Market
Pink stools — Target
Large colorful portrait on plywood — Dammitt Wesley
Smaller portrait on bookcase — Slate interiors (artist unknown)
Loop textured rug — Rug & Home