"Flea Market Chic" Modern Style in the Philippines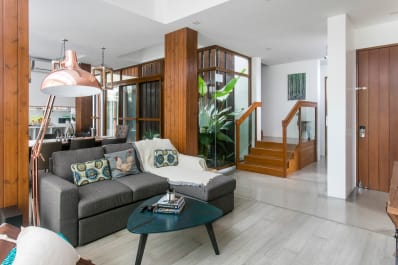 (Image credit: Jar)
Name: Jar and Kay (and their 5-year-old son and 2-year-old daughter)
Location: Quezon City, Philippines
Size: 375 square meters
Years lived in: Owned 3 months
Jar writes: "This is my wife and I's first house together. We worked closely with our architect [Denise De Castro of DDC-Vida] to achieve a sustainable structure that would cater to a growing family. We were able to incorporate a lot of natural light and ventilation with a pocket garden in the middle of the home. We also have a rainwater harvest system that saves water for garden use. I'm a photographer and the architect wanted the house to be a 'museum of light' so she intentionally had light enter every room a different way. Solar panels also help us save on our electric bill."
Jar continues: "We've used the landscaping space to good use by planting a lot of fruit trees and edibles [like calamansi, satsuma orange, star anise, turmeric, moringa, gotu kola, blue ternate, and malabar spinach]...We love the pocket garden and how it creates an atmosphere of the outdoors inside especially in the dining area.
We like things with clean lines and mixing old with modern. We love this 50-year-old narra wood cabinet we bought that we repurposed to be our shoe cabinet. We decorate our house with things from travels or things that mean a lot to us (such as a wall art that I made of streets in San Francisco that were important to me when I lived there)."
Apartment Therapy Survey
Our Style: I like flea market chic/industrial. My wife is into more modern, cleaner lines and surfaces.
Inspiration: Mainly our son (as our daughter wasn't conceived yet during the design process). We incorporated a lot of sustainable features that should make the home last for several lifetimes. Low maintenance surfaces that can withstand a good pounding that kids usually do. For interiors, we use our travels as a main inspiration. You can see little artifacts and references to our travels all over our house.
Favorite Element: Glass. I love how it brings in so much light and how it makes it feel like the outdoors are in.
Biggest Challenge: We worked with a brilliant architect and a horrible contractor. That must be our biggest challenge. You must work with someone who you trust can actually do the work — and not just because they were your friends. So overcoming that without getting discouraged was really a challenge.
What Friends Say: The most interesting would have to be, "If ever there was a zombie apocalypse, you guys would have an advantage."
Biggest Embarrassment: Not really embarrassing, but we are on our third baby (just found out this month!). So that leaves us with no more guest rooms in the years to come.
Proudest DIY: I love my photography that I've printed on the walls. And the graphic I made of streets in San Francisco that mean a lot to me.
Biggest Indulgence: Having a space that was really built exactly for your needs.
Best Advice: Mix things up! Make sure it works for you. Function definitely over form.
Dream Sources: I am in love with Vito Selma's work. Also owning a Kenneth Cobonpue piece would be a dream.
Thanks, Jar and Kay!
---