A Couple Built This Cozy Vermont Farmhouse Entirely By Hand
We independently select these products—if you buy from one of our links, we may earn a commission. All prices were accurate at the time of publishing.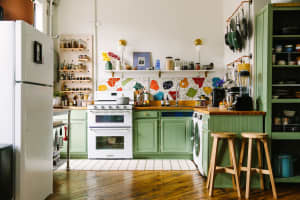 Can't-Miss House Tours Straight to Your Inbox
Keep up with our latest house tours each weekday with our House Tour of the Day newsletter
Name: Sarah Priestap-Porter and Jeffrey Porter. Our land-mates are Arlo (rescue mutt) and Glaumur (Icelandic Horse)
Location: Tunbridge, Vermont (Central Vermont, for y'all who have no idea where this is)
Size: 1620 square feet
Years Lived In: 1 year, owned
When I started dating Jeff back in 2009, one of the first things he told me was how his dream was to build a house for his family some day. It was college, and the time when everyone talked about big dreams, so I never took it seriously. After all, he was a photography major with a little woodworking experience at the time, not some experienced builder. It wasn't until 2011 when we moved to Vermont and he began to apprentice with a timber-framer that I realized how real his dream may be.
We started casually looking for land in 2013, and after a two-year search, we found our 12 acres with apple trees, stone walls, a brook with a waterfall, and terrific southern exposure, all on a road with a covered bridge in our favorite town in Vermont. For those of you wondering, the price tag on the land was $56k. Pretty good for all that.
Once we had the land we were able to plan the house that would sit on it. Our most important desire for the house design was to have good light. For one, we're both photographers, but also Vermont winters are long; we need as much Vitamin D as we can get. Light also provides heat, with big south facing windows we can get a lot of passive heat from the sun.
We also knew that we wanted our house to be energy efficient. Jeff found the science of efficient home building to be fascinating and challenging. There were a million different ways of accomplishing efficiency goals and one just had to be decided on. This was an early source of frustration in design, mainly because of the technical aspects, as we both consider ourselves to be more artistic. However, once decisions were made about how to build the wall, roof, and floor system in a way that would be efficient but also durable, more time could be spent on the aesthetics of the house.
We spent over a year designing our house together, using the wonderful, free program, Google Sketchup. We bought lots of used home books on Amazon and pieced together our favorite elements. The biggest must-haves in our house? A big open first floor, a more private and cozy upstairs, a loft, a plant shelf, a big bathtub, and a spacious mudroom (Vermont can be a very messy state).
Jeff began cutting the timber frame for the house in January 2016 and also built the doors and other interior features during this time (while also working for clients during the day). We front loaded all our photography client work from January until we raised the frame in September 2016, cutting the frame in the evenings and on weekends until we worked full-time on the house from September 2016 until July 2017. We, along with our brother-in-law, Ross, and neighbor Evan did everything ourselves EXCEPT the foundation, electric, and plumbing. We learned a lot from Youtube videos and Googling. We were very cold from November until mid-February when the windows finally came and we were able to close the house in. We moved in on March 1, 2017, and only the loft was completed at that point, so we lived there until July.
Now that the house is "finished" (we'll add a porch this summer and will always be improving), it's a tremendous source of pride and confidence to get to live in something we built and designed together. Every morning we walk down the stairs and think "holy crap, this is our house!"
Apartment Therapy Survey:
Our Style: Shaker-Japanese-MCM-Jungle-Vermont Farmhouse
Inspiration: Traditional Japanese homes, Shaker homes and design, mid-century modern
Favorite Element: Sarah: The walnut arch that connects the mud room and the rest of the house- Jeff made it for our wedding in 2012 with the dream that it would be in our house. It was featured in a sculpture show for a year, then lived in our backyard of our rental before it became part of our house, symbolizing the promises we made to each other.
Jeff: I like that the house is a blank canvas that will take us years to fill with new ideas. Our tastes will change and other, smaller, humans will help shape the house as well. My favorite space right now is the loft; its a place that is just for us.
Biggest Challenge: Living in a house that was designed and built by you is great and rewarding, however, when some proportions don't look exactly right or a door has trouble closing there is only YOU to blame and it can become a bit tiring. Some things were done quickly simply because of the schedule of building a house, but other things that you did you just won't like forever, and that is okay. It helps to realize that craftsmanship is a journey. It is logical that as time goes on and more skills are added to your quiver you'll find that you can improve on things that you built in the past.
Proudest DIY: The ENTIRE HOUSE!
Biggest Indulgence: The big bathtub, the triple-pane tilt/turn windows.
Best Advice: DO YOUR RESEARCH. Both with financing a construction loan as the builder/owner, and deciding exactly what we wanted in our house, we spent YEARS of research, both using the internet and friends/family/random strangers as advice. Also, for decorating, quality always wins over quantity. Also, minimalism = less crap to dust.
PAINT & COLORS
No paint! Everything is veneer plaster. (We wanted to start with all the walls white and decide colors in a few years)
ENTRY
Bench — made by Jeff
Coat racks — made by Jeff
Saddle rack — made by Jeff
LIVING ROOM
Riad Shag Rug, 8'x10′- West Elm (no longer sold)
Abstract Painting by client and friend, Attie
Sofa — Sloan Corner Sectional from Interior Define
Orange Chair — gift from Sarah's grandmother, no label on chair.
Duck Lamp — West Elm (no longer sold)
Lamp Shade — one of a kind from Lampscapes in White River Junction, Vermont
DINING ROOM
Table — made by Jeff (it's actually a desk, we're hoping to make a big dining room table in the next year)
Chairs — Jens Risom dining room chairs (found at a roadside sale for $5.00 each)
Candleholder — H&M Home
Ceramic lamp — consignment from Just L in Littleton, NH
Lamp Shade —West Elm
Painting — from the Quechee Antique Mall in Quechee, VT
KITCHEN
All light fixtures — Schoolhouse Electric
Cabinets — handmade oak by Jeff
Countertops — Black Walnut by Jeff and Soapstone
Stools — West Elm
Most of the dishware was thrifted.
BEDROOM
Bed — made by Jeff for our first anniversary
Rocking Chair — IKEA
Dresser — found on consignment
Black and White Sheepskin — bought from friend who raises sheep
Ladder — made by Jeff (in an afternoon!)
Lamp — IKEA
Framed Print — An Illustration from Carson Ellis and Colin Meloy's book Wildwood
Traveling desk — Made by Jeff for Sarah for Christmas back in 2011
Green chair — found on the side of the road for freeee