A Sunny, Stunning Loft Apartment in an Old Textile Factory
We
independently
select these products—if you buy from one of our links, we may earn a commission. All prices were accurate at the time of publishing.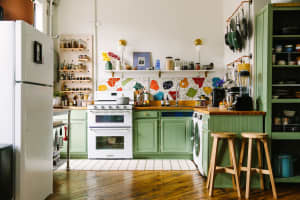 Can't-Miss House Tours Straight to Your Inbox
Keep up with our latest house tours each weekday with our House Tour of the Day newsletter
Name: Liz Sparacio
Location: Northern Liberties — Philadelphia, Pennslyvania
Size: 2,400 square feet
Years lived in: 2.5 years, renting
Liz resides in a natural-light filled loft space that was origionally part of an old textile factory in the Northern Liberties neighborhood of Philadelphia. From the skylight in her lofted bedroom there's access to the building's roof, where she has spectacular views of both Center City Philadelphia to the southwest and the Ben Franklin Bridge to the east. Northern Liberties was a textile manufacturing mecca in its heyday, and though not used for that original purpose now, the architecture and stories behind the old warehouses still remain. Nearby, the American Street Showroom is one of the most wildly inspiring and spectacular places in Philadelphia.
Liz works at one of Philadelphia's number one places for thrift store goods, Jinxed. Working there has certainly given her the opportunity to fill her home with really special and unique items. Liz admits, "Because of this, my home is ALWAYS evolving and changing as I bring new pieces into my space. Constantly shifting to keep things fresh and making space for new additions in my home is part of my everyday! As for the items that come in and out of the store: I'm always curious about what happens to these treasures once they leave with their new owners! I have to hope that they will love and appreciate them as much as I do!"
Apartment Therapy Survey:
My Style: I wouldn't say that I adhere to any specific style. A mix of modern and eclectic with some quirk. I know what I like when I see it!
Inspiration: Minimalists. Oh, how I envy you!
Favorite Element: I will never get over the windows and the ceiling height! I live on the top floor of an old textile factory, and the combination of the full wall spanning/ floor-to-ceiling windows and the skylights floods the loft with the most exceptional light. My plants love it just as much as I do! And of course, the mannequin legs hanging next to my bed. I saw them, I had to have them, and took them home on the subway with me!
Biggest Challenge: It's a bit ridiculous, but space! Everything is out on display for all to see and there is nowhere to hide my dirty secrets! This has helped me stay pretty tidy, and since I really dislike clutter in my living space, I try to only bring things into my home that I either truly love or are functional. My biggest problem is that I love a lot of things! Additionally, don't look closely, but there are crumbles of brick all over everything.
What Friends Say: At first look it's "You actually live here?!", and then followed by "Will you let me know if anyone ever moves out of this building?"
Biggest Embarrassment: My "dressing" room! With no proper closet to house my overwhelming amount of clothing, I opted to dedicate the only space with actual walls in my loft to them. I like being able to see all my options and I frequently rotate some of my favorite items onto the walls or the dress form to enjoy them even when I'm not wearing them. While it's a little embarrassing for me when anyone see my stacks on stacks of hoarded denim, my friends are admittedly a little jealous of my "closet"!
Proudest DIY: All of it! I love that my loft is filled with all of my favorite things and is a place that my loved ones want to visit and spend time in. I'm lucky to call this place my home! In the same vein, I prefer that my living space be filled with the art and craftsmanship of others rather than my own work!
Biggest Indulgence: I searched both highs and lows for everything in my home (and of course working in a vintage furniture shop is majorly helpful!) and selected the pieces that were right and within reason for me. My most recent purchase was the tufted leather and chrome sofa (that was not for sale) that I unabashedly begged its previous owners to sell to me right from underneath them! It's my dream sofa and I'm so thrilled that they agreed! Yet, my biggest indulgence is probably that I have all this to myself! I can be pretty, well, particular. Cohabitation is a bit of a challenge for me, whoops! Oh, and plants. I've probably spent a small fortune on plants.
Best Advice: When you can, SEEK OUT VINTAGE AND HANDMADE! The process is exponentially more fun, personal, and you will end up with collected, special pieces that truly make your space feel like a home! And though it has been said a thousand times, never underestimate IKEA!
Dream Sources: Egg Collective and Matter Store! More than anything, I dream of one day having a Sabine Marcelis light fixture in my home!
ENTRY
Mirror – Vintage
Live Edge Table – DIY
Art – Vintage Painting
KITCHEN
Tulip Table – IKEA Docksta found on Craigslist
Dining Chairs – Vintage Marcel Breuer style found at Jinxed
Wooden Bakers Rack – IKEA discontinued
BEDROOM
Rattan Hanging Chair – Vintage 1960s Rohe Cane
Mirrored and Metallic Artwork – Vintage found at Jinxed
Black Trunk – Vintage found at Jinxed
Coffee Table – DIY
Triangular End Table – Vintage found at Jinxed
Wood and Cardboard planter – DIY
Leather and Chrome Sofa – Vintage found at Meadowsweet Mercantile
Shag Rug – Urban Outfitters Discontinued
Floor Lamp – Vintage and DIY
White Plastic Chair – Vintage Mid Century Modern Chromcraft
Bedside Table – Vintage Mid Century Modern Lane found at Jinxed
Bedside Lamp – Custom
Mannequin Legs – Vintage
Persian Rug – Vintage
Bedframe – IKEA Tarva
Gold Velvet Pillows – DIY
Yarn Bowl – Thrifted
Art – Bob Guccione "Bathers"
Mirror – Architectural Salvage
BATHROOM
Shower Curtain – IKEA cotton curtain
Rattan Mirror – Anthropologie
DRESSING ROOM
Wardrobe – IKEA
Curtains – IKEA
Art – Vintage
Blonde Cabinet – Vintage Mid Century Modern Lane found at Jinxed
Gold Side Table – Vintage found at Jinxed
Glass Shelving Unit – IKEA Vittsjo
Baskets – Home Goods
Wooden Dresser – IKEA Tarva
Brass Thonet Chairs – Anthropologie
Rolling Racks – Thrifted and IKEA Turbo