A Candy-Colored Seattle Studio
We independently select these products—if you buy from one of our links, we may earn a commission. All prices were accurate at the time of publishing.
About this tour
Home Type
Studio Apartment
Location
Seattle, Seattle, Washington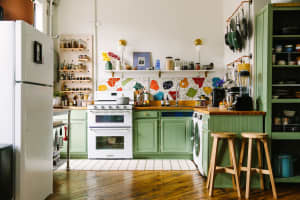 Can't-Miss House Tours Straight to Your Inbox
Keep up with our latest house tours each weekday with our House Tour of the Day newsletter
Name: Suki
Location: Queen Anne — Seattle, Washington
Size: 677 square feet
Years lived in: Owned 9 months
Before she started decorating, Seattle homeowner Suki set out to create a space that felt like a vacation home, which worked out nicely for me since it was an especially gloomy day the afternoon I showed up to snap some pictures. I was desperately in need of a mini getaway and Suki's condo totally delivered.
A confetti-like array of colors were on display around her space in the form of bold palm tree wallpaper, patterned pillows that ranged from geometric to abstract, an eclectic collection of framed originals and prints, and thoughtfully chosen furniture that anchors the space.
Apartment Therapy Survey:
My Style: My style has changed and evolved since my last House Tour. I still love old, vintage artifacts, but after living in a 1920s condo building that sported a lot of personality for eight years, I started craving simplicity. A blank canvas, a place where I could freely express myself. I wanted to have a modern, grown-up kitchen and a queen-size bed. It took me four months to find my new gem, and as soon as I walked in, I knew it was going to be my next home. I instantly fell in love with white walls and glossy concrete floors. And, who would not want to live above a giant grocery store? Oh, what is my style? It is simple but colorful and fun. Yes, minimalism can be colorful and fun, too!
Inspiration: I felt like a kid in a candy store. I wanted to try everything that was not possible at my old condo. I also wanted my home to feel like a vacation home without being overly kitschy. I work a lot. After a long day of work, I wanted a place where I could get recharged and feel inspired.
Favorite Element: I love my palm tree wallpaper. I was terrified of committing to real wallpaper, but I am so glad I got over my fear. (She's even embraced her palm tree wallpaper by dressing like it!)
Biggest Challenge: Making the most out of the space. I gained an extra 200 square feet when I moved to the new place but I still had to be mindful of my small space. I became a minimalist and only bought the things I really needed and that gave me extra storage and extra joy.
What Friends Say: Many things, but mostly either "I absolutely love all the colors!" or "please help me decorate my place!" But my favorite quote is from my dear friend, Amy Clancy; "You have turned a place I couldn't imagine living in to a place I'd love to live in."
Biggest Embarrassment: No rugs! I am Korean and am not used to having one. I am still debating if I should get one.
Proudest DIY: I put together my very first gallery wall. I was sleepless in Seattle for many months and Pinterested until I passed out. I read many blogs and articles about creating a gallery wall, and watched endless YouTube videos. I also looked at so many paintings, prints, and frames. I ended up mixing my own paintings with my best friend, Tamara Nelson's and local finds.
Biggest Indulgence: Stone-washed linen bedding from Restoration Hardware and Cultiver. Oh so nice.
Best Advice: Less is more.
Dream Sources: Seattle Art Museum shop. There are so many paintings I want to buy!
PAINT & COLORS
Bedroom Paint – Benjamin Moore's Sage Tint
Bedroom Wallpaper – Anthropologie's Fanned Fronds Wallpaper
ENTRY
Antique halltree
Kitty shrine painting — mine
Coat hanger painting — mine
HIDDEN DESK
Chair – Flea market find upholstered by the lovely and talented Miss. Clancy.
LIVING ROOM
Couch — West Elm's Monroe Mid-Century Sofa
Ottoman — Anthropologie's Slub Velvet Edlyn
Tray — Kobo Shop & Gallery
Sea shell — Celestun beach, Mexico
Left side table — Poly + Bark's 20″ Marble Eero Saarinen Tulip Style Side Table
Vintage orange mushroom table lamp — Etsy
Right side table — Etsy (it is a mid-century telephone stand)
Credenza — France & Son
Amplifier and speakers — Glow Audio
Day of dead doll — Merida, Mexico
Sangean WR-11SE Radio — Amazon. It is cheaper than Tivoli, and I honestly think it sounds better.
LIVING ROOM PAINTINGS
Orange Orchid print — Kobo Shop & Gallery
Hydrangea (HORTENSIA #1) print
Print, man taking a walk with his dog in the wood — Antique shop find
Bird print — My best friend, Tamara Nelson's work.
Two abstract paintings — mine
Small beach sunset photo — Garage sale
Pink dog — mine
DINING ROOM
Dining table — Homestead
Dining chairs — Wayfair's Arne Side Chairs
Floor lamp — Anthropologie's Winding Course Floor Lamp
Heart painting — The beautiful abstract painting behind the dining table is from my best friend, Tamara Nelson. She is an amazing local artist. I love her and her work.
KITCHEN
Bar cart — Wayfair
Wooden box — Thrift store find
Miffy night lamp — Amazon
Paper tabby cat — flea market
Stretching cat photo — Penang, Malaysia
Watercolor flower base painting — mine
My condo layout doodling — mine
BEDROOM
Restoration Hardware's Printmaker's Storage Bed
Light Pink Pillow Case: Cultiver
The rest of bedding — Restoration Hardware's Stonewashed Belgian Linen Tipped Set
Accent Pillow — Crate and Barrel
Framed abstract art — Craigslist, but originally from West Elm
Table lamp — PhotonicStudio
Vintage typewriter table — Ebay
Vintage stool — Craigslist
Woven art — Hellohydrangea (instagram.com/hellohydrangea)
Watercolor landscape painting — Thrift store find
Foxy glutton Asian girl painting — mine
Full-length mirror — BoConcept