A "Rainbow Chips Ahoy!" Modern Montreal Apartment
We independently select these products—if you buy from one of our links, we may earn a commission. All prices were accurate at the time of publishing.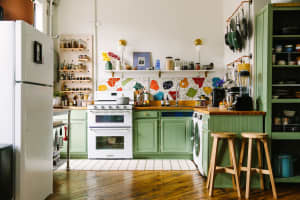 Can't-Miss House Tours Straight to Your Inbox
Keep up with our latest house tours each weekday with our House Tour of the Day newsletter
Name: Jonathan, graphic designer and founder of Pulp and Pixel
Location: Rosemont-La-Petite-Patrie, Montréal
Size: 1,000 square feet
Years lived in: Rented 1.5 years
Graphic designer Jonathan has a great eye for design, and he's carefully collected decor for his rental apartment that reflects his personality. His home is something like a Rainbow Chips-Ahoy! cookie: mostly plain with pops of color throughout.
There's a great balance of old pieces (mostly rescued from his grandparents' house), accessories designed by friends, handmade projects, and vintage stuff from auctions and garage sales. And while the walls are mostly white, the vivid colors of the objects and art animate the space.
Apartment Therapy Survey:
My Style: My apartment is something like a Rainbow Chips Ahoy! (the cookie): mostly plain with pops of colour throughout.
Inspiration: Ever since I was young I remember being drawn to vintage stuff. I'm not sure when or how it started but I still haven't kicked it. I would often go to my grandparents' house and ask about all the vintage stuff they ended up replacing over time. A lot of those pieces are in my home today.
Favorite Element: The lamp in the living room I am still obsessed with. It is from D'armes, a line made here in Montréal, which was launched by two friends. Also the bedroom wall which is Yakisugi or Shou Sugi Ban (a Japanese method of charring wood to preserve it). The wood was supplied and installed by a Montreal company Arbres & Bois. It really turned this room into something else. I ended up removing the doors since it felt like a shame not to showcase it, and I love it way more than I was expecting to.
Biggest Challenge: Most of the buildings in Montreal are quite old. They're great but have some challenges such as slanted floors, layers upon layers of paint, and patching jobs done by previous tenants. I have to remind myself this is a rental and I can't control every single detail, but considering this place is about 115 years old, it's looking pretty solid. The landlord has taken great care of the building (and she's really awesome)!
What Friends Say: "Let me know when you leave this place."
Biggest Embarrassment: I honestly can't say there is anything I find embarrassing in here. I've changed the layout probably a dozen times so maybe that's the embarrassing thing—me and my inability to commit!
Proudest DIY: The shelves in the kitchen came out really nice and feel like they should have been there from the beginning. The way the appliances fit into the room created a big empty space behind them, so it seemed like a good idea to add more storage. A friend helped me with the wood and I painted the walls to match the backsplash. We decided not to finish the shelves, which looks nice against the dark walls. We used pine which is pretty cheap and it took about a quart of paint to paint behind it all.
Also the dining chairs! I found them on Kijiji from a vintage reseller. I got them at a discount because they were not refurbished and were looking a little rough. One friend helped me sand them down, another helped me sew the cushions from what I found in a bargain fabric shop and I upholstered them myself. Took a while but they came out pretty nice and it was a fun project.
Biggest Indulgence: Definitely kitchen stuff. I've moved across the country and back a couple times and that's usually all I ever move with me. If I'm at a thrift shop, you'll find me in the dishes section for sure.
Also, I don't know what took me so long but I recently became obsessed with plants. Now, whenever I go somewhere and see one I don't have, I try to leave with some clippings (with permission of course). But then comes all the pretty pots and hangers and stuff, so I have to control myself with those.
Best Advice: If something doesn't feel right, keep trying. You probably know someone who has extra paint kicking around or a skill to lend or some ideas. There are also lots of trade groups popping up all over social media, so with a little (ermmm, a lot of) patience and the right timing, you can come across stuff you need at little to no cost. Also, I often set alerts on the classifieds apps so when something I'm looking for is listed I know right away and can jump on it.
Dream Sources: A lot of my stuff is from different second-hand sources and classifieds sites. I actually bought three pieces from the same person but I never save their number so each time we negotiate via text and whatnot we realize we've gone through this before so that's kind of funny. They gave me a pretty sweet deal on the shelves in the office. Otherwise, some larger pieces I ended up buying new since I left most of my belongings behind when I moved from Vancouver.
PAINT & COLORS
I painted white everywhere, except the bathroom and kitchen which are the colour the previous tenants left it. The charcoal behind the shelves is Racoon Fur by Benjamin Moore.
DINING ROOM
Chairs – vintage chairs refurbished by me (and friends)
Suspended light – Amazon
Dining table – vintage from craigslist
Credenza – vintage from craigslist
Prints – Seth Bogart

KITCHEN
Shelves – DIY project
Dish Rack – Simple Human
Toaster – Grandparent's house
Rug — Ikea

BEDROOM
Wall – Yakisugi in 'Reptile' by Arbes et Bois
Rug & Bed frame – Ikea
Side tables – Vintage from a rummage sale
Ball lamp – Vintage from grandparent's house
Ladder stand & Wall shelf — Umbra
Rocking Chair – Structube
Dresser – Vintage from Craigslist
Bike Rack – CB2

OFFICE
Desk & Chair — Structube
Stendig Calendar – Room in Order
Shelves – vintage from craigslist
Desk lamp – vintage from auction
Coat rack — kikkerland