A Creative Prop Stylist's Southern California Home
We independently select these products—if you buy from one of our links, we may earn a commission. All prices were accurate at the time of publishing.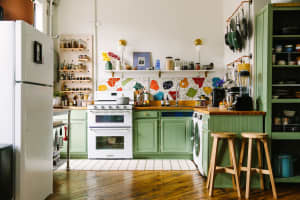 Can't-Miss House Tours Straight to Your Inbox
Keep up with our latest house tours each weekday with our House Tour of the Day newsletter
Name: Rebecca Buenik and Bruno Tysh
Location: Echo Park, Los Angeles
Size: 1050 square feet
Years lived in: 8 years, renting
Both creatives in their own right, Rebecca, a prop stylist, and Bruno, a television and movie writer, have created a home that also doubles as their creative workspace. The pair met at a school in Chicago, moved to LA after graduation and made a home for themselves in the Echo Park area before it became the popular area it is today. They largely attribute their staying put to the amazing vendors and artists that have popped up in their neighborhood since their arrival. Exploring their neighborhood, traveling, and doing research for their collaborative upcoming tiki book keeps them moving and inspired.
Rebecca and Bruno have made treasure hunting a special part of their lives; their eclectic style has grown out of their desire for a space filled with love and memories. Curated statement and vintage pieces mixed with a Southern California flair inspire their ever-evolving display of curated goods. Before moving them into her studio, Rebecca rotates new accessories and art into their home, harmonizing work and play. This keeps their space in an energetic — yet also relaxing — constant state of flux.
Apartment Therapy Survey:
Our Style: The Southern California vibe has taken over. Mix of boho/eclectic/vintage finds and art pieces by friends.
Inspiration: Mad Men has had a big impact on my style/inspiration. Everything was so beautiful and well-pulled together. Other sources of inspiration are vintage interior books and my collection of 1970s Architecture Digest. Grand old houses in the neighborhood I grew up in — traditional, lots of wallpaper and statement pieces of furniture.
Favorite Element: The original built-in bar that was from the '70s. It's orange leather and amazing. It really feeds our growing tiki collection.
Biggest Challenge: The light. Because our apartment was converted from two smaller spaces, the windows and light aren't distributed evenly. Our bedroom specifically. No matter what, it's like being in a cave. Also the kitchen, I cannot stand the cabinets above the island. It cuts off the space and makes it really awkward for parties — where everyone always seems to gather. If I wasn't renting I would have ripped it out years ago — plus updated the pulls/hinges.
What Friends Say: "Wow it looks so much better than I thought it would from the outside." The exterior can very much use a face-lift. "It's so BIG!" That our space is homey and pulled together.
Biggest Embarrassment: The bathroom — again, because we rent, putting money into new fixtures, lights, etc. just seems like a waste of my money.
Proudest DIY: Hand-painted mural that was inspired by some vintage ribbon. My friend from Chroma Studios and I collaborated on it.
Biggest Indulgence: Dark green club chairs from the 1920s. Bruno and I found them at a vintage clothing store and fell in love. Being younger and broke we had a jar with a photo of the sofa on it and saved for over a year. It was a big turning point in our relationship because we agreed we we have to bring these pieces to our next house together, no curbside for them.
Best Advice: Don't be afraid to change it up and rearrange. As a stylist my house is always in a state of flux of new accessories and art. I rotate new pieces into the house before moving them into my studio/prop closet. It keeps things fresh.
ENTRY/LIVING ROOM
Macrame plant holder — made by me
Linen covering it — elephant landing
Ceramic planter (brown and white) — friend Alexis Wade @guera_borracha
Geo plant stand — left over from installation from artist friend Jessica Pezalla from Bramble Workshop
Books — vintage/flea market/grandma's collection
Watering can — IKEA
Wicker Owl — grandma
Geo — Rose Bowl Flea Market
Antler — found by mom on a nature walk
Bookshelf — curbside find
Stained glass — vintage
Basket — IKEA
Artwork of couple kissing — $5 garage sale find
Purple candle stick — Pasadena Flea Market
Figurines — Golden girls from Funco
Concrete plant holder — Homegoods
Chairs — garage sale find
Record player — GE wildcat portable record player with built in speakers 1970s.
Birthday Gift Table — curbside find
Horse painting — White elephant gift
Sofa — Crate & Barrel (second hand) think it's discontinued but this is the closest
Coffee table — vintage boomarang table, thrift store find
White pillow — Etsy
Indigo Pillow — textile from flea market made by me
Moon Phase wall hanging — designed and made by me. Needed something to fill the large wall. While sewing ran over my finger. First time in 20 years of sewing that I did that.
OK hand — Consort design
Ashtray — vintage/Rose Bowl Flea Market/ left over from shoot
Red vase — garage sale
Bookshelf — West Elm (Second hand to us)
Vintage cameras — estate sale
Horse drawing — sketched by my grandfather
Books — some vintage, Pioneer Girl: the life of Laura Ingalls Wilder
Beads — Rose Bowl Flea Market
Games — We collect vintage board games. Our favorite right now – Mille Borne
TV — second-hand from a friend
TV console — IKEA
Typewriter — vintage / thrift store
Brass lamp — World Market
1970s architectural digest magazines — rescued from an older woman throwing them out
Hello — West Elm
Basket — gift from friend
Cedar chest — street side find.
Picture — of Rally when she was a kitten
Big white geo — Homegoods/left over from shoot
Incense holder brass shoe — vintage ashtray gifted
Coat rack — thrift
Purses — pink: Larsen and Lund; black: Cuyana
Scarf — Blockshop Textiles
Entry table — street find
Artwork — Rose Bowl
Missoni Home Tray — Target
Big keys — garage sale
Bearded man painting — thrift store. We call him Ernesto
MIDDLE ROOM
Mid-century bench — Dekor
Mid-century lamp — grandparents
Books — vintage, The Jungalow
Fabric — flea market
Bar — original from '70s
Tiki cups — collection from flea markets and bars we have been to
Phone — flea market
Decanter with gold — World Market
White bookshelf — IKEA
KITCHEN
Paint — peony
Drying rack — Target
Rug — Target
Coffee/tea holder — thrift
Owl textile art — made by my grandma Grey
Garbage can — IKEA
Cutting board — Boyce Studio
Thanks, Rebecca and Bruno!