A D.C. Couple's Quirky, Memento-Filled Home
We independently select these products—if you buy from one of our links, we may earn a commission. All prices were accurate at the time of publishing.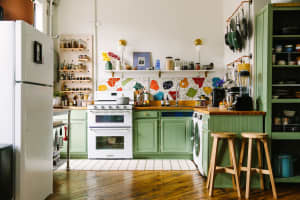 Can't-Miss House Tours Straight to Your Inbox
Keep up with our latest house tours each weekday with our House Tour of the Day newsletter
Name: Ron Kelly and Emily Goodstein
Location: Petworth — Washington, DC
Size: 750 square feet
Years lived in: Ron has lived here for 4.5 years, Emily moved in last year; owned
Colorful, comfortable, and warm, Emily and Ron's home is full of treasures with a tale. They've decorated with a combination of modern and bohemian elements that give a global feel to their Washington, D.C. apartment. And when Emily moved in last year, the two took great care to find pieces that worked for both partners.
Emily and Ron are a vibrant and active couple with an array of skills and interests. Ron, who has a Master's degree in City and Regional Planning, has traveled across the globe and amassed a collection of art and mementos. Emily is a birth photographer and digital strategist, with a background in grassroots organizing and a passion for baking. Their friends and loved ones also play a key role in the shaping of their nest, which is evident in the gifts and meaningful artwork on display.
Apartment Therapy Survey:
Our Style: Emily – quirky, colorful, bold
Ron – understated, international, modern
Inspiration: Emily – Our friend Dayana. She has helped me decorate several spaces. We make dinner and she comes over with suggestions…then, we spend the next few months texting her photos of the space after we've made changes. She's really a crucial element to the apartment decorating process.
Ron – International travel. History. A sense of place.
Favorite Element: Emily – Our bed, for sure. I am a pro napper and am generally a fan of being under lots of blankets and resting for a bit in the afternoon (or really, anytime). The bed itself was a total splurge when I bought it (before I met Ron)…I love the bright yellow color, which feels like a fun contrast to the sort of formal lines.
Ron – The Moroccan rug in the living room. I bought it at the beginning of a trip to Africa and Europe, which required that I schlep it from place to place. The heavy suitcase was well worth it, though…
Biggest Challenge: The floors have these odd raised areas in the living room and the kitchen and we weren't sure if we should ignore them while planning the space or use them to guide furniture placement. Also, we worry folks will trip over them.
What Friends Say: Can you come decorate my apartment? or… Where did you get this rug?
Biggest Embarrassment: The crying at the couch store, maybe?
Proudest DIY: Stretching the Kenyan tapestry that was given to us as a gift from our pal Donna onto a canvas frame so we could display only part of it over the couch. It is huge and we both love it, but didn't have a wall big enough to show off the whole thing.
Biggest Indulgence: Our couch, no question. We looked for this baby for months (Emily only cried in one furniture store when the search wasn't going so well) and love everything about it. Our goal was something mid-century feeling that was still versatile and comfortable, and allowed us to show off many of the super colorful treasures we've both acquired before moving in together. We also wanted something that we could both lay down on while watching TV. Lastly, the couch is convertible so we can put the chaise on the other side if we rearrange the room or if we move…or remove it all together and convert the couch to a standard three seater.
Best Advice: A friend told us that his in-laws used a simple guide about buying art, which we've adopted for all apartment-related purchases. It isn't a negotiation — strive for both partners to actually like whatever it is you're considering. This makes the purchasing process take a bit longer but in the end, we're both in love with our space and the items in it.
Dream Sources:
Emily – Dayana's basement full of treasures, CB2, Chartreuse & Co, Joybird, Etsy, eBay, World Market
Ron – modern art museum gift shops, developing countries, Fishs Eddy, Ikea
PAINT & COLORS
Behr — Iced Slate (Living Room)
Behr — Kittery Point Green (Bathroom)
Glidden — Chinchilla White (Bedroom)
LIVING ROOM
Antique Arts and Crafts style desk — very generous gift from friends
Baskets — Long low wicker baskets in antique walnut brown from The Basket Lady
Desk chair — Belfort furniture, Cross Island Arm Chair
Orchid — Gift from Emily's mom
Blanket — Gift from Emily's sister Rebecca (purchased at a pow wow in Whitefish, Montana)
Painting — Oil on canvas by Florence Kaplan, artist
Rug — From Ron's trip to Fez, Morocco, purchased at an artisans co-op
Under rug — World Market (no longer for sale)
Picture frame — CB2 gallery brass 4×6 picture frame
Dino planter — Gift from our friend Sarah, UrbanStems
Throw pillows — West Elm: Metallic Laurel Leaves Pillow Cover – Regal Blue; Cotton Luster Velvet Metallic Blocks Pillow in stone;Washed Silk Quilted Pillow Cover. And World Market's Teal Velvet Lumbar Pillow from World Market
Blanket — gift from Ron's parents
Couch — Joybird Hopson Reversable Sectional in ash
Coffee table — Purchased from our pal Dayana, originally from CB2
Chair — World Market Xander Armchair in Berry
Low white bookcases — IKEA, KALLAX Shelf unit
Wooden Native Mask — From Ron's trip to Isla Mujeres, Mexico
Moroccan inspired lamp — World Market (no longer for sale)
Silver tray — inherited from Emily's mom (in her words… "That silver tray was part of a silver tea set (coffee, tea, sugar, creamer, tray) that was always gleaming in my dining room when I was a little girl. It had been my paternal grandmother's (your great-grandmother). I don't know what happened to the rest of the pieces, but I always loved that tray. About 10 years ago, I had it replated and gave it to you.")
Tapestry — Gift from our friend Donna, purchased in Kenya
Minnesota State Fair poster — Purchased at State Fair Wear, framed by Framebridge
Red Wooden Letter P — Rho from fake fraternity sign, Cornell University, Ithaca, NY
Ganesh Statue — From Ron's trip to India, purchased at Halebidu Temple
Record Player — Crosley CR8005A-TU Cruiser Portable 3-Speed Turntable, Turquoise
Mahjong set in distressed carrying case — gift from Emily's Grandmother
Willie Nelson for President Poster — framed by Framebridge
Candlesticks — a gift from our friend Sarah
DINING ROOM
Blue buffet — PlumDandyAntiques on Etsy (no longer in business)
White dining room table — CB2, Compass Dining Table
Dining Chairs — Overstock, TRIBECCA HOME Portman Cow Hide Parson Chairs
Mirrored lamp — Homegoods (no longer for sale)
Bowling pin — Chartreuse & Co
Obama birth certificate tray — Fishs Eddy (currently unavailable)
Black and white photograph — Ansel Adams (reproduction)
Planned Parenthood poster — saved from the 2004 March for Women's Lives, framed from Framebridge
Plant — gift from our friend Dena
Velvet Elvis — Black Velvet Elvis purchased on eBay
Sun God Statue — Purchased near Teotihuacan, Mexico
Mini Tajine — From Ron's trip to Marrakesh, Morocco, purchased in Jemaa el-Fnaa
Ceramic artisanal mug — Purchased after a great meal at Restaurant La Lomita, Isla Mujeres, Mexico
Buddha head — gift from Amy Born, purchased in India
Squid and octopus, ladybug paintings — minimum wage art, purchased at the Dupont Circle Farmers Market
Shell casing — Used during the Battle of Gallipoli, purchased in Canakkale, Turkey
Toy dog — Emily's toy from growing up
Basket — Emily's grandfather's fishing basket
Felt camera — gift from Amber Wobschall
Ceramic bust — made by Emily in HS
Aloe plant — plant from Ikea, concrete planter from Home Depot
Salt lamps — purchased in Sedona, AZ
Teeth — mold of Emily's mouth produced during dental work (NOTE: prized possession)
KITCHEN
Distressed stools — Chartreuse & Co
Bell — Arcosanti Bronze Bell
Kelly Family Arms Magnet — purchased in Smoky Mountains
Decorative plate — From Ron's trip to Marrakesh, Morocco, purchased in Jemaa el-Fnaa
Black and white photograph — Ansel Adams (reproduction)
Framed map — Historic map of Busti, NY, purchased at an antique store in Westfield, NY
BATHROOM
Marion Barry Letterpress Print — Fenton Street Market, Silver Spring MD (no longer operating)
Sink — Ikea, YDDINGEN Sink, white
Certificates of Ministry from The Universal Life Church
Shower Curtain — Kikkerland, Shower Curtain Birch