Friends Squeeze into a 450-Square-Foot San Francisco Rental
We independently select these products—if you buy from one of our links, we may earn a commission. All prices were accurate at the time of publishing.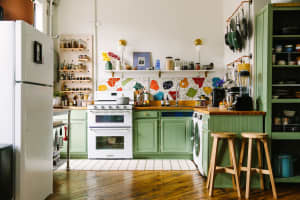 Can't-Miss House Tours Straight to Your Inbox
Keep up with our latest house tours each weekday with our House Tour of the Day newsletter
Name: Cai Haun and Britt Maton
Location: Oceanview — San Francisco, California
Size: 450 square feet
Years lived in: 5 months, renting
Having a complete and comfortable home is really important to Cai. She's moved at least once a year, every year, since she was 13, so adapting quickly has never been an issue. But because of the frequent moves, she noticed she wasn't putting much effort into her homes as she'd like to (since she would inevitably move out within a year). But when she finally moved into this San Francisco apartment last year, she wanted to try something new. She wanted to get comfortable, and this time, she wanted to do it quick. "I focused my energy and my funds into making my home what I wanted it to be as soon as possible," Cai says.
She shares the small apartment with her friend Britt and another friend, and for once, she's happy with the setup. "Living in a house full of close friends who are all creative in some capacity has been incredible," she says. "You have this constant energy of creation happening around you and it leaves you inspired daily." It can be tricky when roommates have different styles, but Cai and Britt made it work, and ultimately created a harmonious space filled with minimal decor and bohemian accents. In this apartment, they can entertain, make things, study, or just hang out. For Cai, this one might be a keeper.
Apartment Therapy Survey:
Our Style: Feminine Scandinavian modern—on a student's budget 😉
Inspiration: I pull inspiration from anywhere and everywhere. Movies, blogs, magazines, friend's homes. I've been using pinterest since its beginning, when you still had to be invited to join haha. My boards are extensive.
Favorite Element: Living with so many close friends! Our upstairs neighbors — who are good friends of ours — used to live in this apartment and I came over all the time to cook dinners and hang out, so when they moved upstairs, I jumped at the chance to move in. The place already felt like home before we even started decorating.
Biggest Challenge: The lack of light. I'm an all "windows open, blinds always drawn" kind of person and living in this little cave has really been an adjustment. I've tried to bring some life into the place with lots of plants and use mostly light, soft colors to keep it feeling airy.
What Friends Say: "Wait. Is this you?!" about my childhood glamour shots on the fridge. My family owned a glamour shot business when I was growing up, so I have about a hundred different pictures in a hundred different ridiculous outfits. I came across some one night and my roommate insisted on putting them up.
Biggest Embarrassment: I love the coziness, but this place is teeny-tiny. If the couch isn't positioned juuuust right, you can't open the fridge and the front door at the same time. Haha!
Proudest DIY: I couldn't pick! So much of our house is DIY or handmade. I love looking around and realizing how many things were made by friends or myself.
Biggest Indulgence: Probably my iron bed frame. I've lugged all 250 lbs of it across the country and to six different homes. I found it rusted and sad on the curb when I lived in South Carolina and restored it. I'm not letting it go!
Best Advice: Don't keep anything in your house you don't absolutely love or have a use for. Moving often and living in small rooms (and now this tiny apartment) has really taught me the importance of minimizing. Except for plants. Have lots of plants.
LIVING ROOM
Futon – IKEA
Throw – from Oaxaca
Pink pillows – IKEA
Rug – Urban Outfitters
Stool – IKEA
Planters – Lowes
TV shelf – IKEA (hacked)
Record player – Crosley
Ceramic jar – by Britt
'All About' books – estate sale find
Face planter – Lowes, painted by Cai
Wall shelf – IKEA
Printed notebook – Alameda Antique Fair
Ceramic bud vase and candle holder – by Britt
Framed print – print by Cai, Ribba Frame
Driftwood wall hanging – by Cai
KITCHEN
Watering can – IKEA
Dry good jars – IKEA
Grey clay jar – by Britt
Herb planter – IKEA
Rug – IKEA
Butcher block – family heirloom
Rolling pin – Crate & Barrel
Trivets – IKEA
Salt dish – by Cai
Tea towel – IKEA
Ceramic mugs – by Britt
Brown mug – Atelier Dion for Sightglass
Wooden scoop – by Cai
Copper measuring spoons – Crate & Barrel
Colander – IKEA
Wire basket – Alameda Antique Fair
Coffee brewer – Chemex
Scale – Acaia
Ceramics on cart – by Britt
Ceramic vase – The Granite
Shelves – old IKEA
Pink dish set – IKEA
Ceramic bowls on shelves – by Britt
Planter – painted by Cai
Be Well Garland – People I've Loved
Planters (left of fridge) – IKEA
HALLWAY
Ribba frames – IKEA
Moon Phase Print – Under Aurora
Abstraction prints – by Cai
Bookcase – IKEA
Cameras – vintage finds
Planter – a diy by Cai. Took an old light fixture and hollowed it out.
Russian dolls – family gift
Ribba frame – IKEA
Ceramic combs – by Britt
BEDROOM – Cai's
Framed drawing at entry – by Cai
Snake plant planter – old IKEA
Mirror – IKEA
Ribba frames – IKEA
Painting – by Cai
Curtains – IKEA
Bedside lamp – diy by me
Bedside tables – by Cai
Bag with the fern – from Oaxaca
Candles – Haight Ashbury Tattoo
Iron bed frame – Curb find! Restored and painted.
Indigo throw – Alameda Antique Fair
Cream throw – IKEA
Throw pillow – old IKEA
Bookshelves – IKEA
Straw bag – from Oaxaca
Record player – my grandfathers
Speakers – Alameda Antique Fair
Fox figurine – Alameda Antique Fair
Framed square prints – Pictures by Cai, printed by Parabo Press. I've taken pictures of poorly executed graffiti cover ups for years, they remind me of Rothko's paintings. I post them on a separate instagram too. @untitled_no.0
BATHROOM
House tissue holder – old Crate & Barrel
Vase with lavender – Urban Ore
Textile hanging – made by Cai
Hanging Pots – painted by Cai
Kilim rug – Alameda Antique Fair
Jar – IKEA
Toothbrush holder & soap dish – Muji