A Luxurious "Modern Not Stuffy" Chicago Apartment
We independently select these products—if you buy from one of our links, we may earn a commission. All prices were accurate at the time of publishing.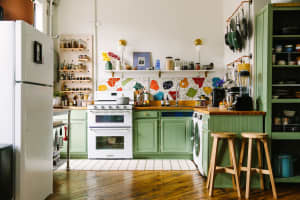 Can't-Miss House Tours Straight to Your Inbox
Keep up with our latest house tours each weekday with our House Tour of the Day newsletter
Name: Ashley Beaumier
Location: Lakeview East — Chicago, Illinois
Size: 600 square feet
Years lived in: Rented 1 Year
Ashley Beaumier has hit the sweet spot of home design, that moment when all those one-of-kind finds that took you months of searching to find finally all come together and fit perfectly into your home. You know it's right because there is nothing to add, and nothing to take away. It took her a while to get here because the "right" pieces don't come easily, and for some special items she had to move mountains. But her slow, meticulous curation has yielded her a home that perfectly captures her style: bohemian, luxurious and modern.
The entryway is beyond chic with an African JuJu headdress hanging on marble wallpaper. To the right is the living room, filled with light and a soft palette of blush, cloud grey, linen and hazel wood. The wall of framed artwork cleverly hides the TV, while the bar cart and record player offer guests a cocktail and some bebop jazz. A svelte dining table and chairs sit under a classic George Nelson pendant in the kitchen, and a nearby open slate shelf beautifully displays all manner of cooking, serving and hosting tools. Further in, the bedroom shows off dark walls and soft jewel tones; they provide an excellent backdrop for a collection of white furniture, bed coverings and artwork.
Ashley's place has a great floor plan that allows for a lot of natural light, and she laid out the major furniture pieces wisely, but the real beauty of her home, the thing that truly sets it apart, is her collection of objects, artwork, plants and décor. Some people have a talent for mixing things that combine just the right scales, color, contrast and texture — and Ashley definitely is talented in this regard. The living room side table, for example, has a sleek white top, upon which is placed a textured concrete-base lamp, a handful of round metallic candleholders, and a very unique looking raw metal candle cover. In the bedroom, there is a particularly impressive arrangement on her dresser where she paired a large framed wallpaper sample from Black Crow Studios with a tiny framed graphic print, a glass tray for perfume, and a graceful Calcynia flower in a gold square vase.
Ashley's home isn't just a place that shows off her creative talents. One moment it can be a quiet refuge where she goes to contemplate and unwind, and the next moment it can be the scene of some epic girls' nights. If you want to get to know this talented designer, look no further than her dashing pad.
Apartment Therapy Survey:
My Style: I once read a post on aesthetic values by florographer Ashley Woodson Bailey and realized how effortlessly it put my style into simple terms – Bohemian, Lived in, Luxurious, Modern, Not Stuffy.
Inspiration: I love the simplicity and color palette of Scandinavian design with a layer of tribal patterns and texture. I looked to Australian Interior Designer Pamela Makin's spaces for some inspiration for my own home. I am always inspired by homes that have so many layers to them and feel lux, but still very comfortable and inviting.
Favorite Element: It's a close tie between the living room coffee table and rug, but if I have to pick just one, I'd say the coffee table. It's usually one of the first things people ask about when coming to my home for the first time. I like that its style is unique enough, that I don't see pieces like it when I am browsing through Pinterest or thumbing through design magazines. I also got a ridiculously good deal on it off of craigslist, which made me feel like it was meant to be. I had prior arrangements the day the seller needed it to be picked up so two of my good friends drove almost 45 minutes to go pick it up for me. To top it off, the table weighs almost 200 pounds. They carried it down my never-ending vestibule to the freight elevator and then down another long hallway to my apartment. They were both out of breath and secretly resenting me by the time they got to my front door. I still owe them majorly for that.
Biggest Challenge: Patience, budget and decision-making. I am a designer by trade so I am exposed to a million different pieces of furniture, fabrics, art and accessories on a daily basis. One of the best parts of the job is being able to see everything that you've selected come together during your install and usually having a decent budget to source from your favorite "dream sources". When it came to designing my own place though, it's taken years of acquiring certain pieces, constantly nagging my designer friends to help me make certain decisions and scouring the internet daily for great deals and that perfect piece. I've also been told many times by my mother that I've always had champagne taste on a beer budget, so there's that.
What Friends Say: My friends say that it feels homey and is great for entertaining. There have been some epic girl's nights here…
Biggest Embarrassment: The floors. The building isn't that old, but wasn't put together well and the floors are the biggest example of that. They make so much noise when you walk on them, are stained, pieced together and are weak in many areas. There is a board by the front door that sticks out like a sore thumb from where my foot literally went through the floor. I've done my best to cover as much of it as possible with area rugs. I call it putting lipstick on a pig.
Proudest DIY: The bar cart. This was once a Walmart bar cart, turned craigslist purchase, turned DIY project. I spray painted all of the hardware with a metallic gold spray paint that has since changed over time to look like antique brass and hand painted the cart.
Biggest Indulgence: The African JuJu headdress. I would drool over them at every designer market and through endless images on Pinterest. For years I couldn't let the idea of owning one go. I had almost pulled the trigger on purchasing one twice, including sending my aunt to the market during her stay in Africa, but chickened out last minute. Finally one night I was on Ebay and placed a bid. I remember being outbid and 10 seconds before the auction was over, I bid one dollar over the latest price and won. I knew then I was meant to have it.
Best Advice: Don't settle for the first thing that works just to finish off a space. Keep pushing the design until it feels just right.
Dream Sources: Lawson Fenning, BDDW, ABC Home, Jayson Home, Oscar Isberian
PAINT & COLORS
Benjamin Moore: Silver Satin – House Color
Benjamin Moore: Iron Mountain – Bedroom
ENTRY
Wallpaper – Blick
Console – IKEA
JuJu hat – Ebay
Rug – Allmodern
Catch-all dish – Vintage
Bud vase – CB2
LIVING ROOM
Sofa – Room and Board
Pillows – Etsy, Custom
Draperies – IKEA
Side chairs – Industry West
Coffee table – Craigslist
Area rug – Overstock
Side table – Room and Board
Table lamp – Nate Berkus for Target
Bar cart – Craigslist DIY
Media cabinet and bookshelf – IKEA
Desk and oversize mirror – Craigslist
Desk chair – France and Sons
Desk lamp – Land of Nod
Floor lamp – Target
Gallery wall – Etsy, Society6, Custom Prints
Record player – Urban Outfitters
Canvas painting – My Dear Friend Carlos De Jesus
DINING ROOM
Dining table – IKEA
Dining chairs – Overstock
Hide rug – Craigslist
Bookshelf – IKEA
Light fixture – George Nelson Bubble Pendant
Art Print – Poster Shop
Frame – IKEA
KITCHEN
Butcher block island cart – Ikea
Rug – Urban Outfitters
Clock – Target
Hardware – Knobs.com
BEDROOM
Headboard – Target
Bedding/pillows – Target, Etsy, Custom
Bedside Tables – IKEA DIY
Lamps – Target
Art above bedside tables – DIY w/ IKEA frames and agate coasters from Etsy
Dresser – IKEA
Art on dresser – Framed wallpaper from Black Crow Studios
Tray – Olive Juice Interiors
Black vase – IKEA
Gold vase – Jayson Home
Rug – Overstock
BATHROOM
Art – IKEA Framed Custom Print
Wall hanging – Attalie Dexter available at Gild Assembly
Tank tray – Zara Home