A Serene "Bohemian Eclectic" San Francisco Studio
We independently select these products—if you buy from one of our links, we may earn a commission. All prices were accurate at the time of publishing.
About this tour
Home Type
Studio Apartment
Location
San Francisco, California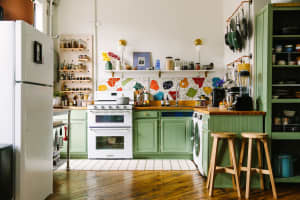 Can't-Miss House Tours Straight to Your Inbox
Keep up with our latest house tours each weekday with our House Tour of the Day newsletter
Name: Jory Dayne
Location: Tenderloin — San Francisco, California
Size: 525 square feet
Years lived in: 1.5 years, rented
The bustle of the street scene just outside Jory's doorstep is a contrast to the warm, serene studio apartment he calls home. A flood of light pours in through bay windows, reflecting off the cluster of plants in the corner. "It's a full morning routine to keep them watered, but they brighten up the place so much, and make it feel so homey," he says of the plant-filled nook, which happens to be his favorite thing in the apartment. His green thumb is enviable, but really, there is a lot to love about his apartment: the preserved historic details, the way he makes great use of the space, or his adorable dachshund, Hexl.
At the entryway, a small built-in nook displays his ceramics collections, and the IKEA sofa is adorned with colorful kilim throw pillows. The space itself showcases beautiful elements, but Jory's eye for design surely helps. He works in UX design as an art director, and is also an illustrator. Like great design, his apartment decor illustrates a fine balance — in this case, between a minimal and bohemian-eclectic vibe.
Though the historic building he calls home has a charm of its own, his guests are often surprised by the beauty inside. "I'm in a neighborhood that has a rougher reputation," he says. "So, I think some visitors have been surprised with the charm in the building."
Apartment Therapy Survey:
My Style: Eclectic-bohemian
Inspiration: On a good day I'd say Miyazaki film interiors — I basically want to live in Kiki's mom's house, or in Howl's Moving Castle. On dark days I'm sure it looks more like the Cutwife's cottage in Penny Dreadful.
Favorite Element: All my lovely plants. It's a full morning routine to keep them watered, but they brighten up the place so much, and make it feel so homey.
Biggest Challenge: Because I put my bed in the closet, everything else has to basically serve double duty. My hall closet is a linen closet, a tool shed, a clothes closet and stores a makeshift dresser. Under my bed has all my luggage (I travel for work a lot), my vacuum, my clothes hamper, etc. So surprise, surprise: space is a struggle!
What Friends Say: Wow, it's actually really cute!
Biggest Embarrassment: Friends always exclaiming "wait, is your bed in your closet?!"
Proudest DIY: I built my writing desk from spare lumber. Besides that, I think just devising a whole organizational system for everything to keep things tidy.
Biggest Indulgence: Keeping so many books when I moved here, and then shelves to keep them on. It's the only piece of furniture I've added since moving here.
Best Advice: If you're trying to save space, my work-horse solutions are back-of-closet doors for anything that can be hung for storage, and roll-under bins that can slide under couches, beds, etc.
ENTRY
Pottery — The Perish Trust and assorted thrift stores
Leather tray — Ace Hotel
LIVING ROOM
NOCKEBY sectional — IKEA
Coffe table — IKEA
Shelves — IKEA
Floor lamp — IKEA
Wooden vases — Target
Scarf — Block Shop
Indigo pillows, throw, tassle — St. Lightning
Kilim Pillows — Nomadic Arts
Burl side table — Alice Lane Home
Brass ballerina bowl — Skultuna
Leather coasters — Ace Hotel
Cameras — Vintage
Pottery — Magpie & Rye
Wall beads — Pottery Barn
Rudraksha beads — Gift
Fromme Kalendar print — Art.com
Painting — Nick Sheehy
Barrister shelves — Vintage
Stool — Vintage
Steamer trunk — Vintage
Eames shell knock-off — Secondhand
Grizzle bear skull — Museum Company
Lingam Stone — CG Sparks
Turntable — Pro-ject Audio Essential 2
DINING ROOM
Bookshelves, Stairway Shelves — CB2
Teak dining table — Vintage
Large painting — Dan Christofferson, beeteeth.com
Table Runner — General Store in the Outer Sunset, http://shop-generalstore.com/
Smiley Mug — My mother's
Magazine boxes — The Container Store
Table vase — CB2
BEDROOM
Bedspread, black pillow shams — Bohem
White print pillowshams — Target
Lamp — IKEA
Boxes — IKEA
Indigo pot — Emilie Halpern
Canvas bins —T he Container Store
Wooden dolls — Hinterfolk by Jes Hunt
Wall Hanging — Dan Christofferson
Diver pillow — Bought at a farmers market
Black star —Restoration Hardware
Sundance Tree Room blanket —Pendleton
BATHROOM
Stool, bucket — Mjolk www.mjolk.ca
Pine shelf — Hardware store
Bath mat —West Elm
Magazine rack — Bohem
Brass catchall — CB2
Faux bois towels — West Elm
Turkish bathrobe — Bohem
Wood crate side table — CB2
Concrete bowl — West Elm