A Super Small Studio Apartment in Beijing
Name: Becky Lane
Location: Sanlitun — Beijing, China
Size: 300 square feet
Length lived in: 1 month, rented
Not many Beijing residents would be brave enough to make over an entire apartment, much less in 10 days and with a tight budget. But that's exactly what Becky Lane did, much to the bewilderment of her neighbors living in a sleepy community in the Chinese capital's trendy Sanlitun district.
Becky's cozy studio is within a community of danwei, five or six-story brick buildings usually constructed during and after the Mao era as part of sprawling work units. Almost every home within her flat features an uninspiring cookie cutter layout, and local residents Becky talked to did not see much point in making major changes to an old building. But when her landlord showed her this shoebox-sized, dimly lit space lined with mismatched shabby furniture, Becky didn't think it was anything that her background in interior design couldn't solve.
A freelance graphic designer who frequently works from home, Becky now makes the most of her transformed tiny space with a lofted bed, a sunny balcony, and minimalist decor. And she's already inspired her friends; her apartment is proof that ripping up and starting over is doable, even with limited resources.
Apartment Therapy Survey:
My Style: Great question…When I lived in Canada, I loved going to thrift shops and auctions, collecting mid-century Scandinavian furniture, antique rugs and quirky accessories. Since moving to China (almost four years ago) one of the first things I encountered when trying to set up a home is the fact that the style of things I loved finding and collecting in Canada, simply doesn't exist here. This, combined with the competitive rental market here in Beijing (where moving houses every year is almost a given), has meant that what I previously would have considered "my style" has changed quite dramatically. Now, I look for simplicity and quality, I live with much less than I used to, and I try to look for things that can be moved relatively easily. Beijing can be a hectic city to live in, and I love coming home to a space that's peaceful, minimal and clean.
Inspiration: I've been really inspired by Scandinavian interiors over the last few years. I guess by virtue of living abroad, I've become interested in the way that people bring their cultural roots with them when they leave their home countries. My mum's side of the family are Finnish-Swedes, and for the first time, I think I can appreciate the importance my grandparents placed on bringing all their furniture and belongings with them from Finland when they immigrated to Canada. So, to me, Scandinavian interiors remind me of family and home.
Favorite Element: My favorite element of this house is the open balcony that lets in south light, and makes everything feel warm and bright. Eventually I plan to build a small extendable dining counter there so I can enjoy the sun, a good meal and a glass of wine all at the same time, which is pretty much perfection.
Biggest Challenge: Space! It's pretty easy to fill up at 28-square-meter (300-square-foot) house. If I see something I like, I have to ask myself, "Is this thing worth lugging up five flights of stairs, and replacing something else that I'll have to lug down five flights of stairs and give away?"
What Friends Say: I've had a few friends offer their homes up, in case I feel like I need a new project.
Biggest Embarrassment: Ugh, the bathroom. It's a bigger project than I really want to invest in for a rental home, but I know I'll probably continue to obsess about renovating it for as long as I live here.
Proudest DIY: I gave myself a week and a half to complete the renovations because I wanted a project to distract myself with over the Christmas holidays when most of my friends were gone and my freelance work had a bit of a slow period. I was in reno-robot mode, but I think even I was a bit surprised when everything came together so quickly.
Biggest Indulgence: Getting a loft bed built.
Best Advice: You're probably going to spend more than you planned on your renovation, so make sure you prioritize the things that will make the biggest difference to your space first. Also, get rid of anything you don't love or find extremely practical.
Dream Sources: "Tiny Apartment" key word search on Pinterest!
---
Explore this style: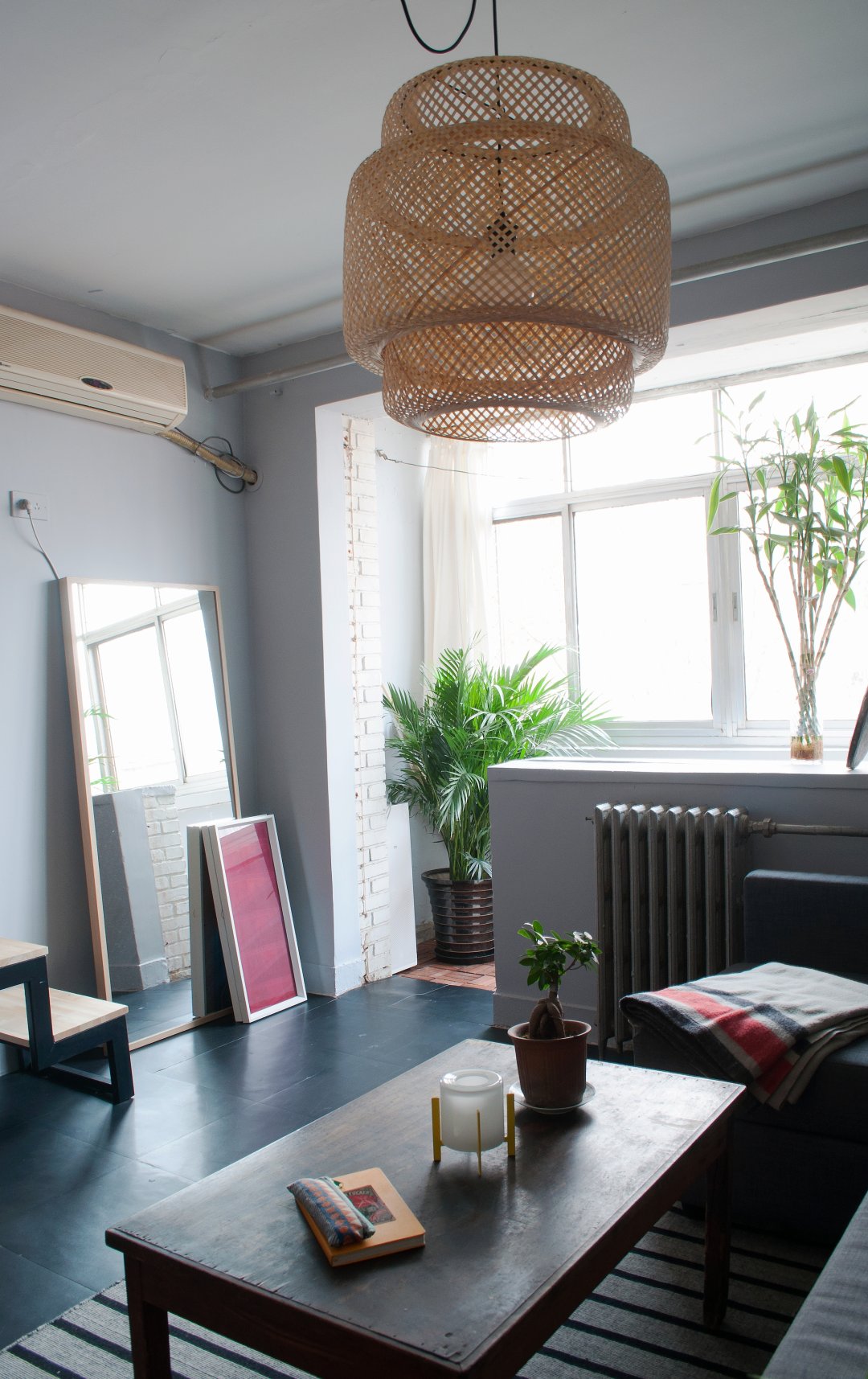 ---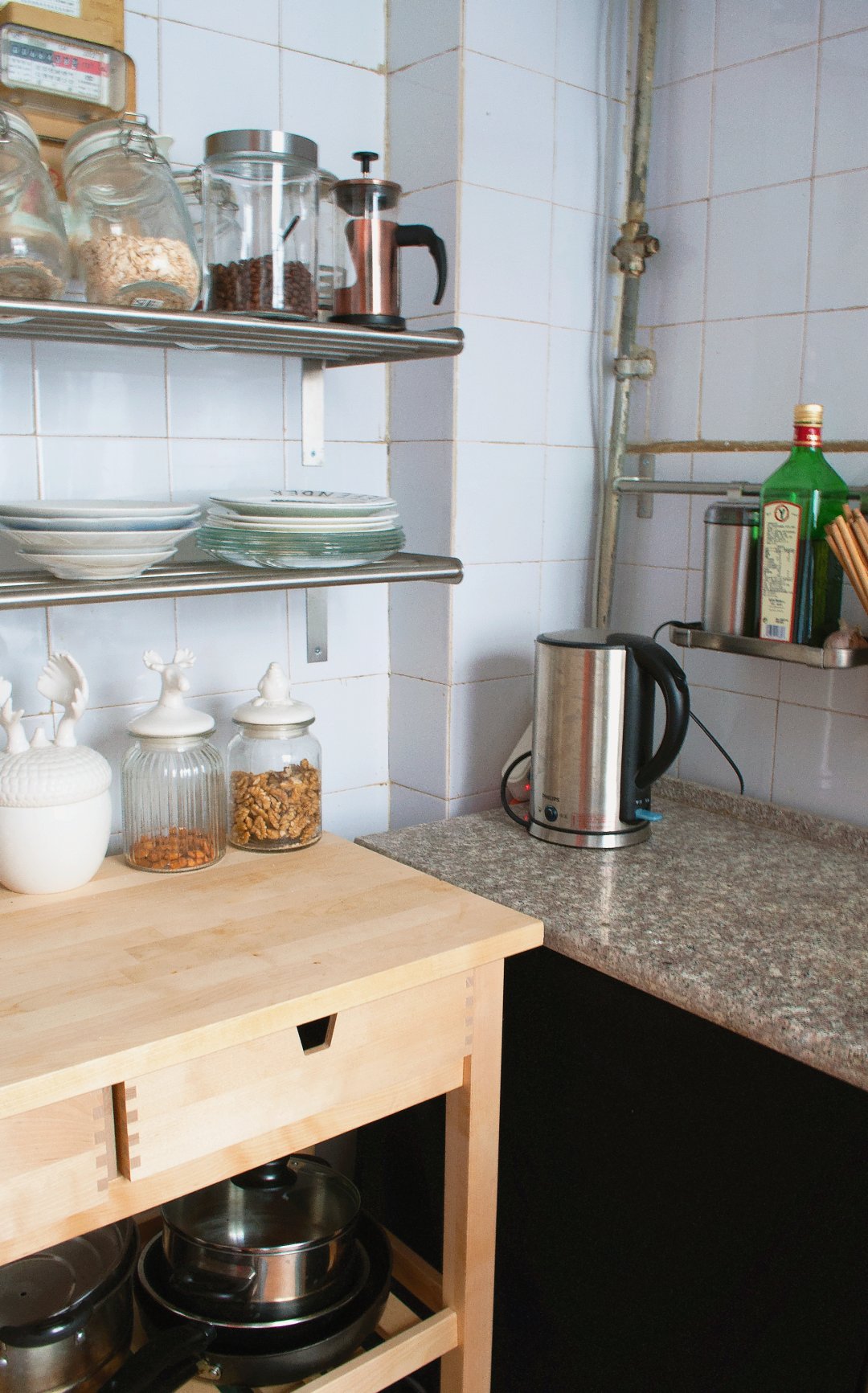 ---
Further resources:
ENTRY
Tanum Rug — IKEA
LIVING ROOM
Canned Air — Plastered 8
Rattan Alseda Stool — IKEA
Jute Osted Rug — IKEA
BEDROOM
Ringblomma Blinds (hanging from bed) — IKEA
Thanks, Becky! And see what her studio looked like before her renovations.
---