A Filmmaker's Teeny Tiny Greenwich Village Studio
Name: Alee Ruggieri
Location: Greenwich Village — New York City
Size: Roughly 200 square feet
Years lived in: Rented 1.5 years
Alee Ruggieri is a film director, editor, writer and photographer living in New York City's bustling Greenwich Village. The neighborhood is filled with things to see and do; coffee shops, restaurants, vintage clothing stores and more. Alee is just a few minutes away from Washington Square Park, a great spot for people watching and taking in the sun on warmer days.
Most people are crunched for space in NYC, but Alee's apartment is particularly challenging, measuring in around 200 square feet. Despite her limited space, she has made her tiny home feel comfortable. The bed doubles as a couch when friends come over and her desk is also used as a kitchen counter. Her love of vintage wares, thrift shopping, and her growing collection of friends' artwork means there is always something interesting to take in.
Apartment Therapy Survey:
My Style: I love to combine modern and vintage elements. I try to keep my furniture pieces as simple and as clean as possible so I have more freedom to rearrange and change accent elements. I get bored very fast and always end up switching small pieces around. It has probably already changed by the time you're reading this!
Inspiration: Most of the small pieces come from my grandparents' home. They lived in the same home for almost sixty years and the decor never changed. It was full of amazing mid-century modern furniture. I want my spaces to feel special and personal, like they couldn't belong to anyone else. I always use things that belonged to family members or remind me of my childhood.
Favorite Element: My favorite element is probably the Persian rug. I used to have one in my bedroom as a little girl and found this one on eBay very cheap. I'm not even sure if it's a real one, but I love the patterns and colors.
Biggest Challenge: I'm very particular when it comes to placement and symmetry. My fireplace is not centered on the wall and it drives me crazy! There's hardly any room to the right side of it, which made it very difficult to use and feel balanced.
What Friends Say: "How do you get all those books to balance like that?" or "You've only lived here a year and a half and you have all this crap?"
Biggest Embarrassment: I had more plants in here, but apparently my thumb isn't as green as I thought.
Proudest DIY: Does Ikea furniture count as DIY? If not, then my gallery wall. It's full of pieces my friends have done and it makes me happy. Also, hanging my plants was a challenge...I don't have a step ladder so I got pretty acrobatic.
Biggest Indulgence: Thrift stores. Half of the stuff in here was thrifted. I love hunting for little treasures and adding new pieces.
Best Advice: It's easy to find nice things on a budget. It's all about the context that they're placed in. I change my mind so much and always like to add things, so I've learned to get creative—even if it means finding stuff on the street! It's a weird kind of curating that becomes part of the charm. For small spaces, I highly recommend finding furniture that can function more than one way. My countertop is also my desk and my bed is also a couch when I have guests.
Dream Sources: I'm not sure I have any specific ones. My favorite part about decorating is accumulating things over time and discovering pieces where you might not have thought you would. If I had to pick a general dream source, it would be one of those antique furniture stores off Broadway. I want my home to look like a museum!
---
Explore this style: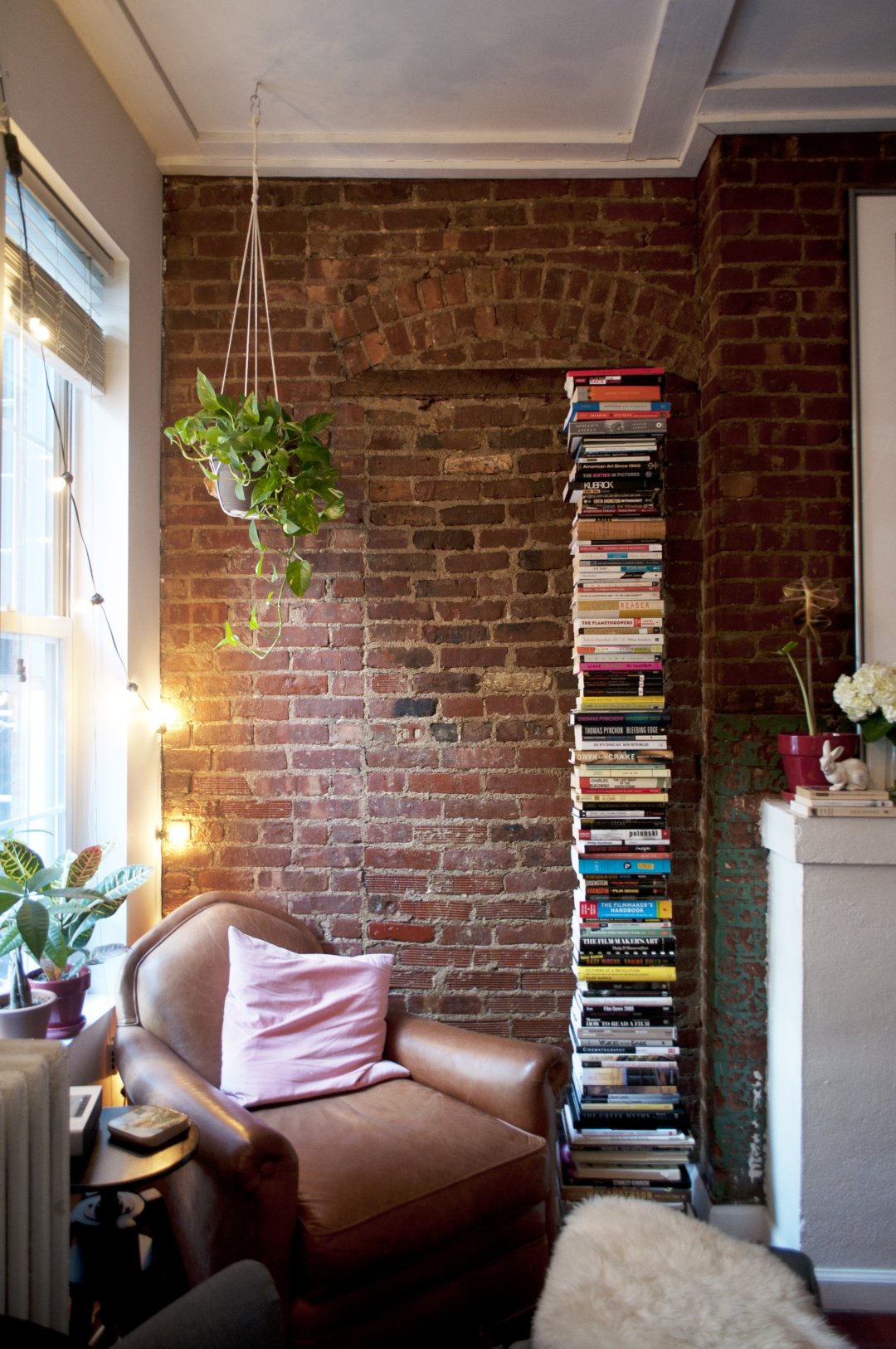 ---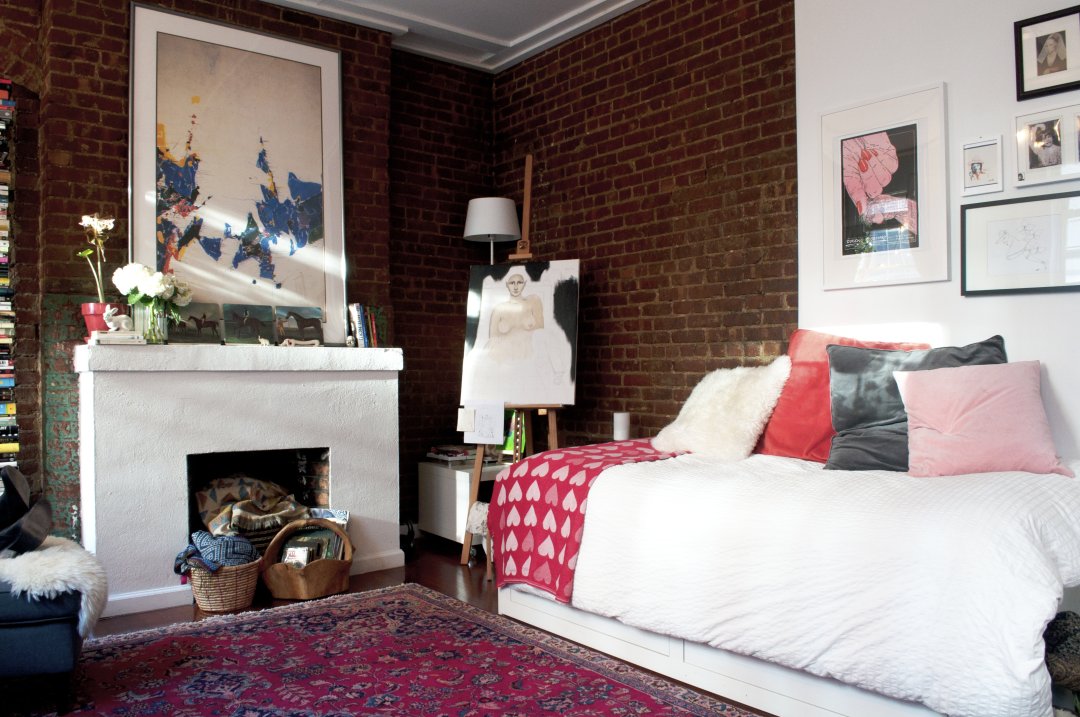 ---
More resources:
ENTRY & KITCHEN
Shoe Rack — IKEA
Mirror Lights — Urban Outfitters
Red Lamp — Thrifted
Cat Cookie Jar — Vintage (from grandparents house)
BEDROOM AREA & FIREPLACE
Dresser — IKEA
Persian Rug — eBay
Race Horse Placemats— Goodwill
Baskets — Ikea and Monk's Thrift Shop
Tall Lamp — IKEA
Rosemary's Baby Poster — Amoeba Music
Woman with Flowers Ink Drawing — Mekenna Edwards
Mick Jagger Portrait — Zhenyuan Shi
Photobooth Photos — Vintage (My mother when she was a child)
Photograph of Girl with Orange Hair — Amanda Jasnowski
Water Color Drawings — Megan Hutchison
Large Picture — Salvation Army (Anyone know the artist?)
Ceramic Weiner Dog — Vintage (from Grandparents' House)
Elephant — Hand-me-down From Mom
Buddha Head — Flea Market
Storage Bed — IKEA
Side Table — IKEA
Bedding — IKEA
Pillows — IKEA
Easel — Craigslist
Wheeled Coffee Table — IKEA
READING NOOK & OFFICE AREA
String Lights — Target
Grey Armchair — IKEA
Michelangelo Boxes — Vintage (from Grandparents' House)
Leather Armchair — Salvation Army
Side Table — IKEA
Gold Wire Side Table — Vintage Shop
Bookshelf — Design Within Reach
Counter/Desk — IKEA
Desk Chair — Herman Miller
White Lamp — IKEA
Thanks, Alee!
---
Apartment Therapy supports our readers with carefully chosen product recommendations to improve life at home. You support us through our independently chosen links, many of which earn us a commission.