A 163-Year-Old Victorian House on the Coast
We independently select these products—if you buy from one of our links, we may earn a commission. All prices were accurate at the time of publishing.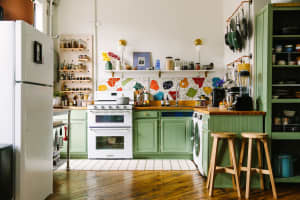 Can't-Miss House Tours Straight to Your Inbox
Keep up with our latest house tours each weekday with our House Tour of the Day newsletter
Name: Kristen Coates and Michael Paddon
Location: Historic Downtown — Newport, Rhode Island
Size: 1,000 square feet
Years lived in: Rented 3 years
Kristen Coates wears many creative hats: gallery and store owner, artist and curator. When she is at work, her mind is focused on bringing art and beauty into the homes of her customers and clients. When she returns home to the apartment she shares with her boyfriend Michael, she isn't interested in spending time decorating. "So often, most of our home decorating is considered while traveling," she says. Their home's soothing light gray walls and airy white linens were inspired by a trip with friends to St. Tropez, France. The couple loves to surround themselves with books, photographs and special finds from vacations and weekend getaways to places like Miami and Montreal. "It's nice to be surrounded by the sweet memories of travel," says Kristen.
Still jet-lagged from a two-week "trip of a lifetime" to Italy, she is excitedly talking about a suitcase of gorgeous handmade linens she brought home to sell in her store; the lifestyle book she and Michael are writing about the food, people, and places they discovered during their travels; and the pottery and paintings she can't wait to make. "I feel like a different person when I travel. I come back rejuvenated and with a renewed love for my life here," Kristen explains.
Kristen and Michael's hometown, known as the City-By-The-Sea, is a popular vacation destination itself. The couple frequently host friends in need of a getaway of their own.
The 163-year-old Victorian they live in, located on Newport's charming "Historic Hill," is just a five-minute walk to Kristen's store and gallery on Bowen's Wharf, the Newport Art Museum (where they are active members) a weekly farmer's market, coffee shops, and Newport Harbor. The neighborhood's narrow streets, stone foundations, picket fences, flower boxes, and historic homes—some dating back to the Colonial era—make it a perfect setting for leisurely afternoon strolls. Even though she loves to travel, Kristen doesn't take her home for granted. "Whether it is waking up and starting my day, or coming home from my gallery, there is nothing more blissful than walking our sweet neighborhood with Sofia and having such a pleasant place to call home," she says.
Apartment Therapy Survey:
Our Style: A relaxed mix of coastal living and eclectic contemporary art.
Inspiration: We both have an affinity for travel, and it shows in our two apartments. I own an art gallery and home store, so I tend not to decorate much at home. Most of the inspiration for our home decor comes from our travels. When we first met, we planned a week with friends in the south of France. We returned home and painted all of the walls pale grey. We hung lighter curtains everywhere, added a lot of linen elements to our beds, and dabbled kitchen surfaces with pottery and home-cooking elements. We recently returned from Italy, and now I want to cover everything with hand painted tiles, but I will likely refrain! We will, however, enlarge a few of Michael's photos and hang them in both our Newport and NYC apartments.

We also find a lot of pieces while traveling. The set of three cathedral candles came from a tiny walled city in the south of France. Our German-made floral China set is from an antique store we found on a long weekend in Montreal. The photo above the mantel is one Michael took while at Le Fountain Blue in Miami. When we're not traveling, we're working in NYC, or resting and entertaining in Newport. It's nice to be surrounded by the sweet memories of travel.
Favorite Element: We are pretty in love with the morning light and the soothing wall color we chose for the bedrooms and living room. There is something wonderful about waking up in a beach town and knowing it is bright and sunny and you have a day off in front of you.
Biggest Challenge: Living in a 163-year-old Victorian is a challenge in itself. The water, power, unleveled floors, and drafty, noisy windows, are all things you have to get used to (and sometimes battle), but the rewards of living on a beautiful street on one of the most brilliant islands is very much worth the challenge.
What Friends Say: When can we stay with you again?
Biggest Embarrassment: We try to embrace the character of an old property as best we can. As renters, our hands are tied when it comes to updating things like the bathroom or lighting fixtures.
Proudest DIY: Converting a former kitchenette into a his-and-her walk-in closet. The free-standing rack was fabricated with plumbing pipes from Home Depot.
Biggest Indulgence: Art and linens
Best Advice: My mother told me if you only pack the clothing you love while on vacation you will always be happy on vacation. We apply this to decorating as well. If you put things in your house that you love, you will have a happy home.
Dream Sources: ALM in Ramatuelle, France; La Bandita in Pienza, Italy (not actually a store but so beautiful and wonderfully designed it makes our Dream Source list); Club 55 in St. Tropez, France; and, of course, Kristen Coates, my own gallery and home store, is a curated showcase of many of my dream finds!
Thanks, Kristen and Michael!