A Wallpaper Designer's "Psychedelic Modern Cowboy" Style Home
We independently select these products—if you buy from one of our links, we may earn a commission. All prices were accurate at the time of publishing.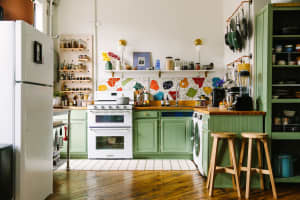 Can't-Miss House Tours Straight to Your Inbox
Keep up with our latest house tours each weekday with our House Tour of the Day newsletter
Name: Samantha Santana and James Lively
Location: Jefferson Park — Los Angeles, California
Size: 619 square feet
Years lived in: 2 years, 2 months, owned
When Samantha and James first moved into their historic, 93-year-old Spanish bungalow, they knew they would be doing most of the renovations and remodeling themselves. It was a long haul, especially since their home was inhabited by squatters before they moved in. After two years of the hands-on-approach, the couple is proud to call this fun, colorful home their own. They both hold a passion for creating, so the opportunity to work together on such a large scale project combined the best of their styles. Though at times the renovation process meant they were camping more than actually living in the house, the end results were well worth the effort.
Samantha — an artist, surface pattern and textile designer, creative director, ex-florist and wallpaper designer — is responsible for the retro, bold elements to the home. While James, a landscape designer (with a talent for carpentry) tied the look together with his penchant for natural woods and great taste in plants. The couple aimed to keep as much of the historic elements of the 1920s home, but they allowed their own personal style to shine through by incorporating textiles, color, and hints of modernism. The home is truly and uniquely theirs.
Apartment Therapy Survey:
Our Style: I, Samantha, would call my style psychedelic modern cowboy. I guess it is pretty bohemian. I would have a bull skull in the house if I had room (I tried!). James would call himself a nature boy. He loves natural wood elements and plants, so you can see his influence throughout the house. We are both laid back and wanted a comfy space to live in. Soft rugs, down sofa, lots of pillows. I feel that we have hit a good compromise with all the details and decor in the home. It is definitely us.
Inspiration: James and I took inspiration from the historic nature of our home, choosing permanent elements that make sense in a Spanish Revival home/ 1920s era home. However, we did not stay completely faithful to the age of the house, as we both like bright color, textiles, and some modernism. We actually held ourselves back a bit on the color!
Favorite Element: We both love the bullnose high ceiling and curved doorways in our house. Even though this home was a pile of junk when we first looked at it (seriously, it had been abandoned for years then occupied by hard partying squatters), those elements shined through and sold us on the property. I also love our tiny little stove (Craiglist!) and the remodel we've done on the bathroom, as we were able to keep the original iron tub.
Biggest Challenge: Can I say everything? With an almost 100-year-old home, everything was in complete shambles. We sacrificed our social lives for a good two years and counting, as every weekend is spent finishing a new project. I would say fixing the caved in ceilings and installing the toilet in our tiny bathroom was very trying.
What Friends Say: Our friends, especially the ones who saw the house in the beginning stages, are just impressed with the fact that this house is standing! They say the design and craftsmanship perfectly reflects us (it's super colorful and way too detailed), and they are impressed with the amount of space we've created in such a small home. Everyone is shocked that both James and I have all our limbs intact after such a huge project, as Jame is overly ambitious and brave, and I am prone to clumsiness.
Biggest Embarrassment: Our biggest embarrassment is the saltillo tile installation in the kitchen. We worked so hard insulating the floors, measuring and cutting the tile perfectly, and carefully laying them in place. However, we added a little too much water into the grout, so the tiles are already loosening and the grout is crumbling. In the worst spot, I've simply thrown a rug over it. We'll fix it eventually…
Proudest DIY: Samantha – The stain glass in the front door and the smooth plastering of the interior walls. James – All the woodwork in the house!
Biggest Indulgence: We definitely splurged on our comfy leather sofa (worth it!) and all the wallpaper (I had to, I design and sell it!).
Best Advice: If you are planning to dive into a fixer upper that you plan to do yourself, start small. We are so glad our home is only 619 square feet, so we could manage the projects physically, financially, and emotionally. Although this was a tough endeavor, we never felt like we bit off more than we could chew. And, we were able to restore the home almost exactly like we envisioned. Another bit of advice? Watch the contractors on Youtube! There is so much information that these experts are sharing, everything from tiling to woodworking to skim coating. We have not only used them to learn how to rehab our home, but also to learn what we should leave to the professionals (plumbing and stucco, definitely a job for the pros).
Dream Sources: Youtube, to learn how to get the job done. Craiglist, Ebay, and The Reuse People of America have been an amazing resource for salvaged materials to fit our tiny budget. Not to mention that almost all the materials we have found are so much nicer than anything we could have purchased cheap and new. For example, we found a black marble countertop on Craigslist that turned out to be leftover from a fancy home on the top hill of Beverly Hills. It only cost us $100. I later found out from the contractor that installed the countertop that it was worth at least $4000. Yay! This is definitely our proudest find.
PAINT & COLORS
Dunn Edwards — Jeff Lewis Interior Flat Paint, Cotton (entire house except bathroom)
Dunn Edwards — Semi-gloss Interior Paint, Toadstool (bathroom)
LIVING ROOM
Fabric peel and stick removable wallpaper — (Rad Bromeliad in White), Samantha Santana
Sofa — HD Buttercup
Mustard macramé wall hanging — Woven Whale
Wall sconce on wallpaper wall — Triple Seven Home
Wall sconces on white walls — eBay
Live-edge coffee tables — Ross
Bench — built by Samantha and James
Bar cabinet — built by Samantha
All baskets — Ross
Turquoise vintage mid-century lounge chair — Atomic Threshold
Faux sheepskin — IKEA
Pillow on turquoise chair — eBay
Pillow on bench — eBay
Pink throw pillow — IKEA
Throw pillows (right side of sofa) — Handmade by Samantha
Throw pillows (left side of sofa) — Lulu & Georgia
House plants — The Los Angeles Flower Market
Round Mirror — Target
Vases and trinkets — Thrift stores
Cabinets — Thrift stores
Floral Arrangement — Made by Samantha
Shag rug — Lulu & Georgia
Leather pouf — Lulu & Georgia
DINING ROOM (we call it the Dinnette)
Fabric peel & stick removable wallpaper — (Floral Finds in white), Samantha Santana
Bistro Table — CB2 found on Craigslist
Stools — IKEA
Copper Pendant Lamp — Lulu & Georgia
Marble and Gold side table — CB2 found on Craigslist
Saltillo floor tiles — Craigslist
House Plant — The Los Angeles Flower Market
Vase and Candle sconces — Thrift store
Floral arrangement — Made by Samantha
Custom window blinds — Built by James with product from Big Lots
KITCHEN
Cabinets — Designed by Samantha and James, built by Fernando's Lumber
Floating Poplar Heart Wood Shelves — Built by James
Pendant light — Triple Seven Home
Black unpolished marble countertop — Craigslist
Apartment size O'Keefe & Merritt Stove — Craiglist
Barn sink — IKEA
Golden utility faucet — Amazon
Metal Shelves — Urban Outfitters
Saltillo floor tiles — Craigslist
Backsplash tiles — Daltiles found on craigslist
Hanging macramé planter — Made by Samantha
Custom window blind — Built by James with product from Big Lots
BEDROOM
Fabric peel and stick removable wallpaper — (Palm Petal in white), Samantha Santana
Bed frame — IKEA
Vintage Turkish Kilim rug — eBay
Vintage white mudcloth — eBay
Nightstands — West Elm
Globe lamps — Urban Outfitters
Dresser — Craigslist
Wall rack — Built by Samantha
Round mirror — Urban Outfitters
Copper shelf — Urban Outfitters
Throw pillow — eBay
Sconces — Plates from Home Depot, Silver Dipped Light bulbs from Amazon
Vases — Thrift stores
Custom window blinds — Built by James with product from Big Lots
BATHROOM
Sink cabinet — Built by James
Golden swan faucet — Amazon
Exposed pipe rainfall shower and tub facet — Amazon
Golden shower head — Speakhead
Hairpin legs — eBay
Subway tiles — Home Depot
Vintage Mexican rug — eBay
Shower curtain and towels — Target
Little baskets — IKEA
Bath caddy — Gift from a sister-in-law
Medicine cabinet — Completely restored by Samantha and James
Thanks, Samantha and James!