An "All Grown Up" Townhouse in Denver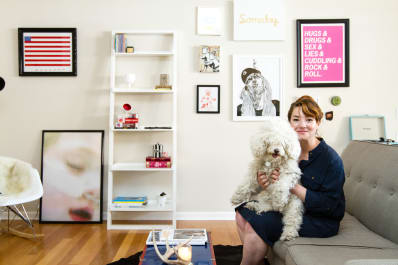 Name: Allison Shaw
Location: Denver, Colorado
Size: 1,000 square feet
Years Lived In: 1
When I arrived to tour the fabulous Allison Shaw's home last month, she was in the final stages of prepping her latest venture: Brick & Mortar, a traveling dry goods general store housed in a Vintage 1964 Aristocrat Trailer. Allison and her equally fabulous business partner, Tran Wills, are two of the biggest supporters of local design in Denver, making both their homes and business fun and enticing.
A townhouse was definitely not at the top of Allison's list when house hunting, but the newly renovated, well-lit living area, as well as the location, were enough to sell her on the property. After living in many 'vintage' homes, Allison definitely appreciate the well-insulated walls and lower energy bills. One challenge she faced in the new space was have zero natural light in her bedroom. It was perfect for sleeping — so much so, she was having an extremely hard time waking up. Her mother, like the best mothers do, remedied the issue, by sending Allison a Rise and Shine alarm clock. Genius? I think so!
Allison shares her bright and cheery home with Bo, a stray that jumped in a co-worker's car one day and came to visit her workplace. Allison and Bo fell madly in love and are living happily ever after.
Apartment Therapy Survey:
My Style: I suppose my style is a combination of timeless and contemporary. I love and appreciate classic, mid-century pieces, but in order to make them my own I like to pair them with some kitsch and color. To tie it all together, I generally keep a neutral wall color, which helps to ensure that nothing — classic or contemporary — feels out of place.
Inspiration: I have the good fortune of knowing a lot of creative people who either ooze style or create art. Seeing how they pair things together and trying to figure out their creative process always inspires me to experiment and apply the same inventiveness to my home projects.
Favorite Element: I love the Rob Mack deer above the fireplace. I think it is because it was really the first important piece of art that I'd ever purchased and I remember thinking how proud I was to be able to own something that someone had put so much energy and care into making. Wherever I am, where that deer is hanging, I'll be home.
Biggest Challenge: For some reason, I can't seem to figure out how to put a bathroom together. I try to strike a balance between clean and warm, but I usually land at sterile. One day I'll figure it out.
What Friends Say: Most say that my apartment is pretty grown-up and that it really gives the impression that I kind of have my life together. Of course, a five-minute conversation with me is enough to dispel that.
Biggest Embarrassment: Don't be fooled, the Louis Ghost chairs are most definitely not original, but replicas that I found online. Initially, I found a set of four for a crazy great price and ordered them on an impulse. Then, when I got them in the mail, I opened them up to find that each chair was only one-and-a-half feet tall. I had ordered a set of four children's chairs. So I returned them and paid a little extra for the adult size.
Proudest DIY: I'd have to say the slate grey accent wall in the bedroom. The original color was a burnt orange-y red that refused to be covered up. It took an entire day and four coats of paint to get it out of there.
Biggest Indulgence: To be honest, it was probably the chartreuse media cart from CB2. I was really struggling to find a good media console and I had been eying this one for a while, so I just went for it. I suppose there are worse things to splurge on.
Best Advice: Take your time and make sure you love it. My grandma had an incredible collection of furniture in her house and was way ahead of her time. She thought so hard about every piece before she got it and made sure it was absolutely perfect. So while I may occasionally buy the accidental baby chair, for the most part I try to think everything through.
Dream Sources: Design Within Reach, CB2, Mod Livin', Kartell, Jonathan Adler, Fab.com
Resources of Note:
PAINT & COLORS
• Grey: Behr, Intellectual
ENTRY
• Bike: Republic Bikes (www.republicbike.com)
• Apron: Stitch & Hammer
• Art: Chris Huth and Joe Triscari
LIVING ROOM
• Couch: Macy's
• Pillow: Matt Scobey via Society6
• Trunk: Goodwill
• Leaning Shelf: Crate & Barrel
• Cowhide Rug: Ikea
• Media cart: CB2
• Skull: Flea Market
• Eames Rocker: Amazon.com
• Lamp: Target
• Prozac & Dolls Jars: Jonathan Adler
• Magazines and books: Tattered Cover
• Art: Rafa Jenn, David Coccagna, Aidan's Monsters, Amanda Marie Ploegsma, Ray Youg Chu, Andrew Hoffman, Melanie Pruitt, Nigel Penhale, Karen Watkins, Jaime Molina, heymonster, Rob Mack
• Record Player: Crosley, amazon.com
DINING ROOM
• Table: Ikea
• Chairs: amazon.com
• Sheepskin: Ikea
KITCHEN
• Succulents: Iron Wood
• Art: Nigel Penhale, Kii Arens
• Big Girl Panties Pot Holder: Housewarming gift from Aunt Mary
• Stained Glass Peace Sign: Gift from Dad from Uptown Art Fair in Minneapolis
BEDROOM
• Bedding: Trina Turk via Macy's
• Trunk: Goodwill
• Art: Arna Miller, Steakmob, Ugmonk, Andrew Hoffman
• Carousel Letter: Talulah Jones
• Mirror: Me (cheap mirror/vinyl letters/determination)
• Dresser: Pottery Barn
BATHROOM
• Tray: Target
• Towels: Target
• Vase: Target
OTHER
• Dog: Rescue/fate
Thanks, Allison!
(Images: Ashley Poskin)
• HOUSE TOUR ARCHIVE: Check out past house tours here.
• Interested in sharing your home with Apartment Therapy? Contact the editors through our House Tour Submission Form.
• Are you a designer/architect/decorator interested in sharing a residential project with Apartment Therapy readers? Contact the editors through our Professional Submission Form.
Apartment Therapy supports our readers with carefully chosen product recommendations to improve life at home. You support us through our independently chosen links, many of which earn us a commission.