An Artist's Chic Compact West Village Apartment
We independently select these products—if you buy from one of our links, we may earn a commission. All prices were accurate at the time of publishing.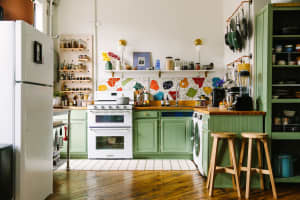 Can't-Miss House Tours Straight to Your Inbox
Keep up with our latest house tours each weekday with our House Tour of the Day newsletter
Name: Carly Berlin
Location: West Village, NYC
Size: 700 square feet
Years lived in: 3 years, renting
Part home, part professional art studio, Carly's long and narrow West Village apartment is outfitted minimally but filled with warmth and personality. Carly has a gift for seeing the beauty in the smallest of details, and her ability to set up her home from that perspective means she's made a million small but successful decisions. The result in one overall stylish and welcoming apartment.
The moment I met Carly and stepped into her lovely living room, I felt revitalized. She said that a lot of her friends like hanging out at her apartment because they find it to be an easy place to relax, and I absolutely understand what they mean. While her layout is long and narrow with no doorways, the high ceilings, lack of clutter, and careful space planning result in a feeling of spaciousness and calm.
As I moved through Carly's apartment and talked to her about her art, which she displays both as a personal reminder and as an economical way to decorate, I was struck by her interest in finding moments of order and balance — both in her work and in her life. This ethos of order and balance is apparent in the way she's set up her space. Her home is filled with pleasing moments of detail and symmetry, whether it's the way she's displayed the items on a coffee table, or the arrangement of her art supplies, or the simple and unfussy way she keeps her bedroom.
I got the sense that each little item in her home is intentional and well cared for — like she fully appreciates them. Her apartment is such a great reminder that, while we often focus on how nice (or not nice) our belongings are, the way we set up and care for our home — and all the little aspects of our home — are just as, if not more important, than the stuff itself.
Apartment Therapy Survey:
Inspiration: I've always been attracted to a boho feel in homes. I found my Persian rug on eBay and wanted to create a space that worked around that piece.
Favorite Element: The succulents. They give the living room some life and, luckily for me, are hard to kill!
Biggest Challenge: Creating a cohesive look with lots of hand-me-down items.
What Friends Say: My friends are always saying how cozy and "at home" they feel in my apartment, which makes me feel like I've done something right! That's always a tough thing to achieve in these small NYC spaces, so having an apartment that people actually want to come hang out in feels like a success.
Biggest Embarrassment: Most definitely my fake fig tree, which I probably shouldn't be telling you about. I tend to kill all my trees but this guy hasn't gone anywhere.
Proudest DIY: Most certainly my artwork. I launched my business, Carly Berlin Studio, almost a year ago. The art hanging on my walls is a reminder of where I started and how far I've come since then.
Biggest Indulgence: I would say my sofa. I wanted clean simple lines but definitely a lot of comfort. I think I achieved all of those things with the one I chose.
Best Advice: Don't put pressure on yourself to find every piece for your home at once. I tend to want everything done right away but I think my apartment fell into place organically with time. I'd find one thing I was absolutely obsessed with and went from there. I'm still excited about each area of my apartment in large part because each item has a story.
KITCHEN
Smart glass top console table — cb2