A Creative Couple's Eclectic Flea Market Style
We independently select these products—if you buy from one of our links, we may earn a commission. All prices were accurate at the time of publishing.
About this tour
Location
Raleigh, North Carolina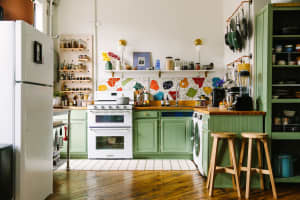 Can't-Miss House Tours Straight to Your Inbox
Keep up with our latest house tours each weekday with our House Tour of the Day newsletter
Name: Jessica, Andrew, and Gus Ullom
Location: Raleigh, North Carolina
Size: 1,750 square feet, built in 1965
Years lived in: Owned 2 years
From the outside, you would definitely expect a cute new family of three to live here. But you might be surprised at the beautiful creativity happening inside! Jessica and her husband Andrew both work with their hands on a daily basis. She as the owner of leather goods company Hawks and Doves, and he as head Executive Pastry Chef of the Ashley Christensen Restaurants (Poole's Diner, anyone?) They were surprised to be so drawn to a mid-century, tri-level home, but a Raleigh neighborhood of original homeowners and a vintage feel sealed the deal. It's been two years and they've created a wonderfully comfortable, eclectic home — and are running Jessica's business from the basement!
Not for long though. This creative (and BUSY!) couple is not only taking on parenthood and thriving careers, but will also be tackling an addition to the back of the house this coming year. They'll be adding workspace and another bedroom to accommodate their growing business and family!
Looking around their home, it's not a surprise that Jessica has had creative success. She went to school for photography, but has always loved repurposed materials. After bringing some homemade feed sack pillows to an art fair and completely selling out, she made more. And more. And eventually started playing around with leather bags, incorporating found American textile fabric insets. Her products and her home all have such a personal and vintage touch to them, but are still functional and accessible. She has an eye for spotting gems from all different origins and decades, and somehow brings them all together to live harmoniously.
Apartment Therapy Survey:
Our Style: Eclectic Flea Market
Inspiration: I am lucky to have a job that requires me to frequent the flea market. Sourcing materials for Hawks and Doves allows me to be on the lookout for cool pieces while I'm "shopping" for bag materials. I love mixing vintage textiles from different regions; the Indigo Overshot fabric on the couch pillows was hand woven in the US in the 1920s and the vintage mud cloths were hand woven in Africa around the same time. Mixing pieces from different decades and origins gives a lot of flexibility and the opportunity to change things up on a whim.
Favorite Element: I love the tri-level floor plan. When we were first looking to buy a home, I was convinced that split-levels were not my first choice, but after looking at a few I was in love! It has the perfect vintage feel and our neighborhood has many original owners, which gives it a real neighborly quality.
Biggest Challenge: Incorporating my workshop (Hawks and Doves) into our living space. Next year we will be building on to the back of the house and expanding my workspace by about 300 square feet and adding another bedroom. I will be able to move the shop out of our lower level and return that space to an actual room that we can use as a family.
Biggest Embarrassment: Popcorn ceilings! I wish we had handled these before we moved in. It's on the list of things to tackle as soon as our son is a bit older and we have a little more time!
Proudest DIY: The headboard for our bed. It was so fast and simple, but it worked out exactly as I had pictured it in my head and you just can't beat that! We made it out of old barn siding.
Biggest Indulgence: Our bed! We finally splurged on a king-size Tempur-Pedic and I'm happy every time I lay down in it, worth every penny!
Best Advice: Be you! It's your space, and you live there EVERY DAY. Make it as calm, fun, or messy as you want it to be. Your home is made to be used and lived in, and it becomes this little time capsule of your life. Plant your seeds and make memories.
Dream Sources: With the little bit of free time I have I usually scroll through Instagram to get some style inspiration. It usually leads me down a rabbit hole of antiques and vintage textiles.
WORKSPACE
Metal shelves — Sams Club.
Cutting Tools — Olfa
My worktables — old found tables/desks
Red desk chairs — Wayfair
Foam Floor tiles — Sams Club
Craftsman Tool box — Sears
Everything else is antique or found!
Thanks, Jessica, Andrew, and Gus!