Vanessa's Effortlessly Stylish & Relaxed "Chateau" in Montreal
We independently select these products—if you buy from one of our links, we may earn a commission. All prices were accurate at the time of publishing.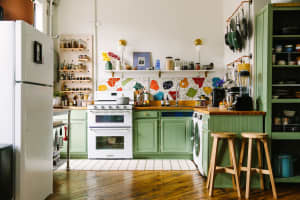 Can't-Miss House Tours Straight to Your Inbox
Keep up with our latest house tours each weekday with our House Tour of the Day newsletter
Name: Vanessa Gauvin-Brodeur
Location: Montreal; Quebec, Canada
Size: 1,600 square feet
Years lived in: 6 years; Rented
Vanessa's Montreal apartment (aka "Chateau Fairmount") is a bright, spacious gem in the heart of Mile End. The front rooms flow seamlessly into each other with a pattern of white walls and furniture and colourful, textured accents. The dining room boasts a generous, inviting table matched with elegant wallpaper. The master bedroom, at the back of the house, is equal parts vintage and romantic, and is gifted with the most beautiful afternoon light.
Vanessa points towards Scandinavian interiors and country homes as her style references and she knows how to integrate found and inherited objects (her dining table belonged to her great-great-aunt!) with modern accents. The result is effortlessly stylish and relaxed.
Apartment Therapy Survey:
Our Style: I try to give my house a country/ Swedish cottage feeling to it!
Favorite Element: I like my dining room a lot. The wooden table was my great-great aunt's. I looked for a shelf for a long time around different boutiques in Montreal and ended up finding the perfect one at… IKEA! I also love the big old suitcase in my bedroom found on a street corner. My mom renovated it completely.
Biggest Challenge: The apartment is very big and quite old… with two animals and a lot of cracks in the floor and walls, it's a huge challenge to keep it clean and warm in the winter. The landlord doesn't want to put any money into it so there are some rooms (like the kitchen) in big need of a refresh. The fact that there are so many rooms is also a challenge budget wise: I've taken one room at a time over the last six years to try to put it up to my personal taste… It can get pricey to furnish such a huge apartment!
When I moved in six years ago, it looked like hell. I repainted every single room, including the ceiling. There was food stuck in the cabinets, the walls were yellow with dirt… it looked like no one had cleaned in 100 years.
What Friends Say: That it's way too big for me!!! But that it's cozy and looks like an "adult" apartment.
Biggest Embarrassment: The kitchen!!! When I moved in six years ago, I was in my early 20's and had a roommate. We thought it would be cool to paint it green. Over the years, I got so sick of the green walls! And the melamine cabinets are just horrible and all falling apart one by one. And please, let's not even talk about the floor tile. That kitchen is a disaster. If I could, I would tear it apart and rebuild it from scratch with nice white or very very pale blue/lilac walls and black chalkboard cabinets… But I'm just renting so not sure the effort is really worth it.
Proudest DIY: The wallpaper in my dining room, which I put up myself, and the fireplace in the living room. That fireplace used to be a dark shiny wood (or some kind of material resembling wood). I painted it all white. Was a bit nervous the landlord would freak out but he actually really likes it.
Biggest Indulgence: Books!! I never think spending money on a book is not worth it. I never feel like I'm going over budget or don't have the money to buy a nice book. I would love to throw away my current shelves one day and have enough books to create a full wall space of books. Plants are also a big thing for me but I'm so bad with them, they always end up dying. The goal for this summer is to replace a few current plants with huge cactuses.
Best Advice: When in doubt, go white. It goes with everything and when you have an old apartment, it brings a sort of vintagy-country feeling to it. Although with a big dog and a long-haired cat, it takes quite some laundry expertise. I also love colours so I always try to bring at least a few big white items in the equation to balance things.
White couch and arm chair from IKEA
Candle holder from West elm
White bed frame from IKEA
Blanket from the Hudson's Bay
Table inherited from family
Bench from IKEA (Vanessa painted it white)
Sheep rug and big rug under table from IKEA
White chairs from local store NEON
"Hood'' artwork bought at C2MTL.
Wall paper from Imperial wall paper in Montreal
Elephant artwork bought in Burma
Side bed table found in the street
Big old luggage case found in the street and refurbished
Small white chair found in the street and refurbished
→ And see all of our past house tours here
Updated daily with fresh tours full of photos for you to pin & enjoy!