An IKEA Product Developer's Light and Airy Home
We
independently
select these products—if you buy from one of our links, we may earn a commission. All prices were accurate at the time of publishing.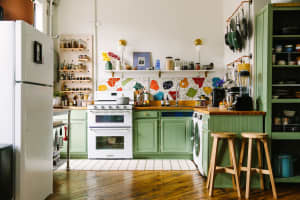 Can't-Miss House Tours Straight to Your Inbox
Keep up with our latest house tours each weekday with our House Tour of the Day newsletter
Name: Adam Wihlborg
Location: Former French Concession — Shanghai, China
Size: 950 square feet
Years lived in: 4 years, renting
When Adam Wihlborg tells the story, it's hard to believe that six flights of dark and dusty stairs once nearly deterred him from signing a lease on his spacious, light-filled flat looking out over the trees in Shanghai's French Concession. Now, friends and visitors who have successfully ascended those steps are greeted with a cheerful vanity and tidy shoe rack, just a small sampling of the coziness to come: Inside the home, vanilla-custard colored trim, white walls, picture windows, and a jungle of greenery complement spaces neatly filled with vintage treasures and more modern, Scandi-style touches. The former refers to the collections he accumulated over nearly a decade in and around China, and the latter is the inevitable result of being a product developer at IKEA. Editor's note: This is a tour rerun because it's such a beautiful space.
Adam's visitors are often guests and friends at his monthly themed house parties, which Adam has vowed to have in order to share his space. Save for some stray blue dots of paint on the wall from an "under the sea" theme and a designer planter once being used as a wine glass, one would never guess — the white sofas, which came with the apartment, remain spotless, and the decor is as curated and organized as an IKEA showroom (with a very personal touch, of course).
At home halfway around the world from his roots in Marin County, California, his goal has been to create a space he and his friends and loved ones will ultimately enjoy spending time in, and you could say it was a success. "My parents visited me almost two years ago, and stayed with me here after going to Tokyo and Hong Kong," Adam said. "I asked them which of the three cities was their favorite. My mom said Tokyo, but then my dad was like, 'It doesn't matter, as long as your apartment is there.' And I thought that was the sweetest compliment."
Apartment Therapy Survey:
My Style: Eclectic? I'm drawn to historical and traditional architecture, but there's nothing better than the clean lines, simplicity and focus on material that comes with modern Japanese design. I like to mix and match but keep things clean, organized and simple, mixing in plants and textiles to add life, warmth, and character.
Inspiration: Architecture (mostly historical), travel, nature, Japanese and Scandinavian design, and Instagram.
Favorite Element: Like the five elements? In that case, water. There's nothing more soothing than being submerged in or floating on water. But I'm guessing you are referencing my favorite element of my home? It's extremely difficult to pick just one, because there is so much I love about this place. I love the attention to details paid in the architecture, for example the arches in the living room. They take what could be a rather large and awkward space, and separate it into three distinct spaces, while allowing it to still maintain a flow and feeling of one room. While the windows are beautiful, they aren't great when it comes to blocking out the noise, cold or heat, but they don't block out the light either! And there's so much of it in the apartment, which I absolutely love. It's so bright and happy, even on grey and hazy days. And finally, the balcony. Coffee in the morning or a beer in the evening while looking over the tree tops helps create the perfect start or end to the day.
Biggest Challenge: Keeping the floors clean. They're old and worn, so no matter how much I mop, it just never feels clean.
What Friends Say: "How much do you pay for rent and when are you moving?"
Biggest Embarrassment: The apartment may look organized, just don't open any of the drawers or closets…
Proudest DIY: Does an UN-DIY count? The balcony used to be pretty gritty. There was a built-in plywood counter next to the sink and some disintegrating fiberglass sun awnings. I ripped those out. Yeah, not super impressive. But the space feels bigger and cleaner now!
Biggest Indulgence: Probably the Japanese ceramics and glassware. I just can't help myself.
Best Advice: If your favorite room of the house is the living room, like it is for me, make sure you have comfy seating for all types of occasions. Can your sofa support reading, naps, watching TV, having friends over, hosting a party, cuddling a loved one? Besides the mattress, it's the most important piece of furniture in the home, in terms of time spent interacting/using it. Also, plants plants PLANTS. They are the BEST way to decorate a home. They are beautiful, unique, alive, and yes they require maintenance, but studies say that promotes health and well-being.
Dream Sources: Carl Hansen and Son for seating. Louis Poulsen for lighting. Paula Lenti for outdoor.
LIVING ROOM
Sofas, TV cabinet, wooden chairs — Came with the apartment from last tenant
Coffee table — IKEA
Armchair — IKEA
Rugs — IKEA
Table lamps — IKEA
Plant stands — IKEA
Stools — IKEA
Desk — Salvaged bed base
Benches — Salvaged from junk yard
Artwork — Antique store in Tokyo, personal photography
Decoration — Sourced from travels, antique market in Shanghai, Spin Ceramics (Shanghai)
Green cabinet — Bought from a friend
BALCONY
Furniture — IKEA
Solvinden Pendant Lamps — IKEA
Pots — From previous tenant
KITCHEN
Furniture and stove — Came with apartment
Kitchenware — IKEA and sourced from travels (mostly Japan)
BEDROOM
Bed — Bought at second-hand market
Vanity — Bought off the street
Cabinet — Antique market
BATHROOM
Mirror — Bought at second-hand market