An Colorful & Cozy Home in China (With an Impressive Quirky Pillow Collection)
We
independently
select these products—if you buy from one of our links, we may earn a commission. All prices were accurate at the time of publishing.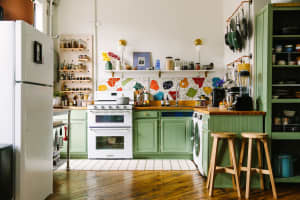 Can't-Miss House Tours Straight to Your Inbox
Keep up with our latest house tours each weekday with our House Tour of the Day newsletter
Name: Céline Lamée and Heather Mowbray
Location: Dongsishisantiao — Beijing, China
Size: 750 square feet
Years lived in: 1 year, renting
It's hard to step into Céline Lamée and Heather Mowbray's home and not be charmed by its sense of playfulness, starting so obviously with an extensive pillow collection that fills their dining nook and has started to take over their living room sofa. From neon-colored packages of Chinese ramen and a sunflower seed, to more international cushions like the one with a cowboy print and even one shaped like a jamon (fancy Spanish ham), the pillows are the essence of two ladies with a sense of humor and an air of craftiness when it comes to making a home abroad.
Céline is originally from Holland and is a graphic designer at Lava Beijing, and her girlfriend Heather, who is from England, works in a local library. When they first decided to move into their apartment, they quickly realized they needed to make some compromises. Heather had accumulated way more belongings from her 12 years in Beijing (that she hated to part with), while Céline kept her space more simple. "Our places looked quite different before we moved in, but then I also see now where it overlaps, like colorful things," Céline says. It turned out that the Chinese apothecary drawers in the living room were the ultimate demonstration of their effort to make both of their styles of living work — by keeping all of Heather's odds and ends, but meticulously organizing them in its 30 labeled compartments.
Apartment Therapy Survey:
Our Style: Céline: I like really minimal and clean spaces, but somehow my apartments always end up quite messy and full.
Heather: Eclectic minimal, calm clutter.
Inspiration: Céline: Everything.
Favorite Element: Céline: The monkey screen print.
Heather: The rooftop room with its own balcony where I work when at home.
Biggest Challenge: Céline: To find a good balance with Heather's accumulated things and a minimal living space.
Heather: She's actually a very small challenge: our diminutive neighbor and her rules for living (our lives).
What Friends Say: Céline: Your place really feels like a home.
Heather: "I wish I could rent next door", "How did you find this place!"
Biggest Embarrassment: Céline: Our clothes are all over the bedroom most of the time.
Heather: Plumbing. Hutongs have very unforgiving pipes. Or maybe the constant smell of roast lamb being pumped into our yard from the (excellent) restaurant next door.
Proudest DIY: Céline: The kitchen dining/chilling nook, and the tree trunk we made into a moveable table.
Heather: Getting a carpenter to make trapdoors for the bedroom to keep my two cats out at their most monstrous moments (middle of the night). They are staying with someone at the moment but would have loved to pose for this!
Biggest Indulgence: Céline: Pillows!
Heather: A wooden bathtub in the yard and hammock for drying off in. It's been sweltering hot this summer, but on the most sticky nights we've been able to dive into a pool of iced water.
Best Advice: Céline: Don't fill your space all at once, but wait until the right pieces come along and allow it to fill itself slowly.
Heather: You might like all those mementos from the past and want them on every wall and surface, but if you put them away (most of them), you are more present, gain a new sense of calm and can think more freely.
Dream Sources: Heather: Taobao for all the cushions, the best second-hand shop in Beijing for the furniture in Beixinqiao, which is now closed.
LIVING ROOM
Mazha (little colorful stools) — Henny Van Nistelrooij
Monkey Screenprint — Idle Beats, Shanghai
Pillows — Travels and Taobao
Yellow Desk Lamp — Taobao
Wallpaper — IKEA
Apothecary Drawers — Found on the street
Round Orange Table — Secondhand shop
Shelf — Found in the hutongs
Couch — Secondhand
White Lamp — IKEA
Purple Chair — Found on street and varnished
Wooden Mirror — IKEA
Floral Mirror — Vintage
DINING ROOM
Assorted Wood prints — Bought in China, Korea, made by friends, and DIY
Seating — Drawn by a friend and put together by a local carpenter
Table — Wood salvaged from an old bed that was being thrown out
Ceiling Lamp — Bought in Phu Quoc, Vietnam
BEDROOM
Bronze Bedside Light — IKEA
Pillowcases — JNBY
Fish — Chinese New Year decoration at a local shopping mall
Green Ceiling Lamp — Taobao
Nightstand — A Cajon drum bought at a local drum shop
Bedside Lamp — Taobao
Red Chair — Taobao
Mirror — Small Chinese shop
Thanks, Céline and Heather!