House Tour: Mott Street Micro Palace Week #3
We independently select these products—if you buy from one of our links, we may earn a commission. All prices were accurate at the time of publishing.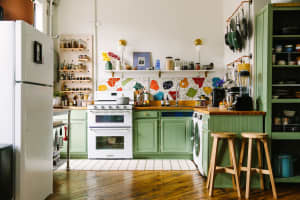 Can't-Miss House Tours Straight to Your Inbox
Keep up with our latest house tours each weekday with our House Tour of the Day newsletter
The waiting game. It's getting a bit trying over on Mott Street this week, as Amy says that she has entered "that delightful 'no one shows up when they say they will' stage of renovation." The kitchen is halfway in and the adjustable shelving is nearly up.
House Tour: Week #2
House Tour: Week #1
House Tour: Before
Also, there is a bit of crisis. Amy is having trouble finding a couch that will fit through her doorway: The hall leading to the apartment is very narrow, so I can't fit most sofas through it. I'm looking for one 65-72″ long, and no more than 22″ tall (with the legs off) x 33″ deep. I can't find one where the legs come off. Also, I need one with arms and relatively pet-proof fabric. Any thoughts?
If you can help, add a comment below. Here are more tips from the front lines. (Thanks, Amy – and Jill for awesome photos!) MGR
Amy's "Don't shop at Gregory" Tips
Sink and toilet: www.faucet.com. Significantly cheaper than the stores I looked at in NYC. Easy to deal with, good customer service.
The amazing ceiling fan, "Cirque" by Lighting by Gregory, but I will never shop there again. Almost everything they have is in another store on the Bowery, so there is no need to. Plus at other places you can bargain. Other stores that carry the fan (or could order it for you) are: Lighting Showroom at 137 Bowery
Creative Lighting 223 Court St. in Brooklyn
A full list of local dealers is at www.minkagroup.net.
The saga: Gregory's delivered the wrong bathroom sconces, then when I tried to exchange them for the right ones was told that the sales person undercharged me and that they will charge me the difference to exchange them for what I originally ordered ($100+ total, I would not have bought them at that price).
My bad for not opening the box when they arrived and not checking when the electrician was going to install them — Gregory's will not give me a refund as they were already installed. Still, I am paying for the pricing and ordering screw-ups on their end. Lessons for everyone:
1) open all boxes even when you are living in a construction site
2) make sure you know when things are going to be installed
3) shop at places where customers don't pay for store errors.