Saturated Semi-Maximalist Style in Fort Greene
We independently select these products—if you buy from one of our links, we may earn a commission. All prices were accurate at the time of publishing.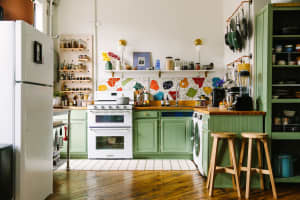 Can't-Miss House Tours Straight to Your Inbox
Keep up with our latest house tours each weekday with our House Tour of the Day newsletter
Name: Joan and Matt LeMay
Location: Fort Greene, Brooklyn
Size: 850 square feet
Years lived in: Renting 2.5 months
We cannot get enough of Joan, Matt, and their consistently awesome style. We first met Joan in her Portland studio, and Matt later in New York once their lives merged. Now in their first new apartment together, this creative force has been gracious enough to let us chronicle their style evolution—and after living there for only two and a half months!
Joan LeMay is an artist, illustrator, interior decorator, former music publicist, and creative powerhouse. Matt LeMay is a writer, musician, consultant, and all-around awesome guy. Together they are stylish, down-to-earth, and positively unique. Every piece in their apartment is a testament to how they keep things casual but beautiful. The color, lofted art space lounge, recording studio bedroom, and paintings from Joan and her friends are the special touches in this one-of-a-kind home. Joan started her own interior decor company, Fifth House Interiors, and she's full of energy and great ideas, some of which she shares with us below.
Apartment Therapy Survey:
My Style: Although my style continues to evolve, as everyone's does, my core focus is on classic MCM fundamental shapes fleshed out with tons of plants, vintage textiles and art. Having more space in this new apartment helped me push my innately semi-maximalist self towards an airier, white-and-pink-heavy theme—think Danish hygge, but with the saturation and estrogen turned up. The pink, despite being A Thing now (What's up, Pantone Rose Quartz 2016?!?!) is actually a direction my husband introduced, and I'm so glad he did.
Get the look! → Semi-Maximalist Style with Plenty of Pink
Inspiration: Hotel lobbies, Merci in Paris, everything Emily Henderson does, everything Shannon Baird does, David Nightingale Hicks.
Favorite Element: The high ceilings and exposed brick in the main room really help the space to feel big and grand, even though the footprint itself isn't that massive. The fact that we have an actual lofted area (not that either Matt or myself can fully stand upright in it, as I'm 5'10" and he's 6′ 4″) where I can work and paint and we can read is huge. Having a dedicated bedroom and a dedicated studio space for Matt is even more of a huge game-changer.
The space actually gives our larger plants even more room to grow, which I love even though one of them is about ten feet tall now. I sometimes like to walk that fine line between having a regular living space and a Jumanji/Little Shop of Horrors-type situation. The apartment also came with an estate sale-sourced '60s chrome, red, black and white chandelier—it wasn't quite what I would've picked, but I ended up using it as a jumping off point for the whole main room.
Biggest Challenge: When designing and decorating a space you can't alter, you always have to think about how to play up what you love about it while drawing the eye away from what you don't. Almost every NYC rental has at least one room that is a bummer, and ours is the tiny-ass kitchen. We cook a ton and added a Crate & Barrel cart and a pot rack to make it work, and we've been bangin' out some great meals. However, we're #blessed with a crooked and slightly-raised cracked tile floor, off-kilter cherry (CHERRY) cabinets, a non-level fridge and stove, and semi-flush mounted track lighting that is not only kind of '90s industrial, but that gets very hot and melts our cookies. Matt has also bonked his head and kind of burned his face on it.
I am hopeful that we can get approval to change that sucker out after we've been here a little longer, because we are in love with the place and really never want to leave. OH—and there was also a non-working leftover vent in the kitchen wall that basically just acted as a sound hole between our apartment and one of our neighbors' places—we could hear them pouring bowls of cereal. You should never be able to do that unless you're doing it on purpose because you are in the KGB, which doesn't even exist anymore. We covered the sound hole with a lot of acoustic foam, and now it's quiet, even if the foam isn't awesome to look at.
What Friends Say: We've only been in our spot for about ten weeks, but those who have made it over so far have been very kind. I retired from a sixteen-year long music publicity run last year to focus on Fifth House Interiors, my interior decor and design business (as well as illustration, painting and occasional writing), and everyone has been really supportive of that change—this apartment's look and feel is exemplary of the kind of work I like to do. It feels validating to have friends come in and ask me what I can do for their space.
Biggest Embarrassment: Aside from the aforementioned kitchen sitch, it's our bathroom. Shocker, I know. While it is newly redone and has some GREAT features (Big, rad bathtub! Big pedestal sink! New, working toilet!) the bathroom is definitely designed in a very intentional way—but not by me, so there's a massive taste chasm between how they did it and how I want it. The walls are the same color as the eggplant emoji, there's purple and green milk glass accent tiling, and lots of contemporary chrome lighting and LED fixtures—as well as heavy black ceramic tiled-in soap and toothbrush fixtures and a very '90s black ceramic and plastic towel bar. Guess what else is in there? A fancy square crystal chandelier.
I am picking this as the "biggest embarrassment" even though it's technically nice and new because I feel the habitual need to explain to bathroom visitors that I Did Not Design The Bathroom. To emphasize the slate (which I don't mind) and take some emphasis off of all that purple and chrome, I loaded it up with black, grey and white textiles and threw a big marble candle on top of the toilet. The whole thing would be an easy rental-style cosmetic upgrade if it were permitted. I'd paint the walls black, switch out the chrome fixtures for bronze ones from Waterworks, swap out the medicine cabinet for a big, round gold mirror, get some Schoolhouse Electric lighting in there, build in some shelving for storage….make it moody and sexy and earthy. "At least it's matte purple" isn't a sentence I thought I'd say in earnest ever, but here we are.
Proudest DIY: We had a builder's grade boob light in the bedroom, and that shall not abide—as I'm sure Apartment Therapy readers know, you can easily swap out the boob part of the fixture for a different shade without having to do any electrical anything, thus creating the illusion that you've actually hardwired in new lighting. West Elm has perfect linen drum pendant shades, so I snagged one and hung it up there. Much better.
Biggest Indulgence: We sold or donated the bulk of our old furniture and I picked out almost entirely new furnishings for the place—we really only kept a few pieces from the old spot. The most luxurious thing we invested in was a knockoff Barcelona chair from Canadian company Rove Concepts, who I recommend to clients all the time. The thing weighs a million pounds and looks, smells and behaves exactly like the $5,600 original, but at a fraction of the cost.
Best Advice: Making your home/office a place you really, really love to be in is an easier and more accessible thing than it has ever been, and I feel deeply that there are few bigger gifts you can give yourself than the permission to make your surroundings feel great. If you don't have the scratch, time, desire or energy to get help from a pro (decorators, stylists, designers and eDesign companies are easier than ever to find these days, and exist at very low entry price points), there is *so* much you can do yourself by reading generous design/decor/styling writers and through chasing after inspiration gleaned from following design professionals, enthusiasts and bloggers on Instagram. Do anything from reorganizing a sock drawer to rearranging your bedroom or swapping out a piece of furniture that has been bugging you, and see how baller you feel afterwards. You deserve to have that feeling as much as possible, so make it happen.
Dream Sources: My newest obsession is a desire palace in the next neighborhood over called Horseman's Antiques. That place is three labyrinthian floors stacked floor to ceiling with vintage modern furniture from the '40s to the mid-'80s, and all of it is glorious, and none of it is cheap, and I am itching to take a client there and have them buy something I cannot buy for myself. I also want to have no dishes that aren't Heath Ceramics someday. Since we're dream-sourcing, let's not leave out ABC Carpet & Home and their perfect million-dollar floppy-flat chartreuse pillows that are perpetually styled in front of a stone Buddha, as if to suggest there is a person somewhere who lives with both these incredible pillows and a sense of inner peace, and that that person could be you if you just, like, work way harder.
Get the look! → Semi-Maximalist Style with Plenty of Pink