The Perfectly Imperfect Home of Simplified Planner's Emily Ley
The Perfectly Imperfect Home of Simplified Planner's Emily Ley
We
independently
select these products—if you buy from one of our links, we may earn a commission. All prices were accurate at the time of publishing.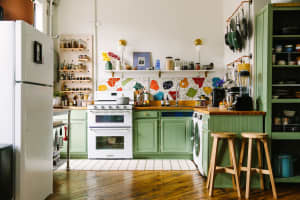 Can't-Miss House Tours Straight to Your Inbox
Keep up with our latest house tours each weekday with our House Tour of the Day newsletter
Name: Emily Ley, husband Bryan, toddler twins (Caroline + Tyler) and first-grader (Brady)
Location: Tampa, Florida
Size: a little under 4,000 square feet
Years Lived In: almost 3, owned
It was becoming a mom that led Emily to the life she leads today: A designer, author, and the creator of the wildly popular Simplified Planner. After struggling with wanting to be the "perfect" mom and creating overpacked schedules (and stressful days), she came to the realization that "joy is truly found in the journey — not necessarily at the destination." As she explains on her website, "I knew I had to make a change by simplifying my days and refocusing my efforts. From that point forward, I devoted my creative energies towards tools that empower and encourage women like myself to do just that." The home she shares with her husband and three kids mirrors many of Emily's philosophies. It's a simple, fun space that's organized…but also the sometimes-messy home of young kids.
"I love that we can all feel connected to one another, even when we're not in the same space."
Emily describes her home:
"We began building our home in 2014 before the birth of our now two-year-old twins. Our family was growing and we needed a space that would be a great home for our family of five and for my business. We worked with our builder to remove a wall between the dining room and office (from our plans) to create a large office for me to be able to run my company from home. It's one of my favorite spaces in our house. The windows are tall and let in lots of afternoon light. I have a large white desk set right in the center of the room that's often covered in crayons and beads and string. The kids love to come in and play. I suppose it's turned into a bit of a playroom / office!
The second story of our home is completely open to the bottom floor. The twins have a jack-and-jill bed / bath set up and Brady has his own bed / bathroom. From the kitchen or from the couch in the living room, you can carry on a conversation with anyone in the house, in any room, at a normal volume level. I love that we can all feel connected to one another, even when we're not in the same space."
Can we all just agree to not feel like we have to do all and be all this year (and every year)?
Apartment Therapy Survey:
My Style: Blending our styles was really fun when Bryan and I got married ten years ago. I love bright, white open spaces with pops of color and he prefers a more neutral, masculine feel. Together, we've learned to love heirloom pieces, valuing quality over quantity — perhaps waiting to make a purchase so that it's the right purchase, rather than hastily filling an empty space (a mistake we often made in the early days of our marriage). We love classic neutrals that are still on the coastal side (we're both from the Gulf Coast) – navy blue, greys, whites, and hints of copper and brass. But, we have three kids with big personalities, so we've found fun ways to incorporate what they love into our home as well. For instance, in our kitchen, we have three large linen-covered corkboards framed by Framebridge in a gorgeous brass-colored bamboo frame. We display each of our kids' artwork and achievements on these boards. The boards themselves are very classic, neutral, and symmetrical, while our kids' wild artwork brings some fun and personality to our breakfast nook.
Inspiration: I'm really inspired by the pairing of classic, coastal, traditional style with my husband's masculine taste and my kids' fun, bright, whimsical preferences. Family is everything here and, to me, that combination of styles says "family" in a really fun way.
Favorite Element: Definitely the three linen boards mentioned above.
Biggest Challenge: Our biggest challenge is that we have three messy kids. We can't necessarily have that glass and brass coffee table that we've been eyeing. Instead, we've had to find creative ways to make our space feel like home, but also be practical and safe. So, we found a navy blue tufted ottoman to use as a coffee table. Perfect for diaper changes, movie watching, and even afternoon dance parties (oh yes, on top it).
Proudest DIY: Definitely the boards again. J Cork boards were from Amazon, linen from Jo-Anns (adhered with spray glue) and Mandalay frames from Framebridge.
Biggest Indulgence: Our Restoration Hardware couches. They were so expensive and we splurged on the Perennial fabric (we saved and saved for these couches for years knowing how durable the fabric was). You can literally pour ketchup on the fabric and wipe it off with a wet cloth. Every mom's dream.
Best Advice: Be patient. You may have an empty shelf or a room you really want to fill. Instead of spending on a sofa or a vase you kind of like, save for something you really love. I always try and think "heirloom" over "knick-knack." We did this wrong in the beginning, buying "stuff" just to fill voids. Over the years, we've decluttered and decluttered, and waited to make good, thoughtful purchases until it made sense financially. That means it's taken us a LOT longer to decorate our home, and I've had to really break my shopping habit, but it means I'm more inspired by our space. And, the lack of clutter is nice, too.
KITCHEN
Barstools – Frontgate, no longer available
White dishes – Pottery Barn, Mikasa, Target
Chandelier – Ballard, no longer available
Kitchen Table – Restoration Hardware
Thanks, Emily and family!