A Plant-Packed 500-Square-Foot San Francisco Home
We independently select these products—if you buy from one of our links, we may earn a commission. All prices were accurate at the time of publishing.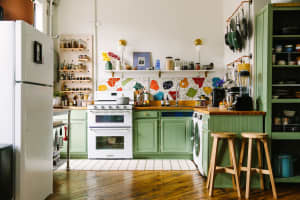 Can't-Miss House Tours Straight to Your Inbox
Keep up with our latest house tours each weekday with our House Tour of the Day newsletter
Name: Jessica Henry
Location: Duboce Triangle — San Francisco, California
Size: 500 square feet
Years lived in: 4 years, renting
Jessica likes to collect things that remind her of a specific time and place, like the leather butterfly chair she got in Argentina, or the bedroom mirror she found at a San Diego thrift store. All of those mementos combined with eclectic accents — and lots and lots of greenery — are what makes her place special. "The mix of my travel finds with some modern furniture and a ton of plants makes the flat feel cozy while brimming with personality," Jessica says. "It gives you a much richer connection to the things you have, and makes for a good story as you show guests around your home."
And it's true. As guests walk through Jessica's apartment, she can pinpoint exactly where she got a specific item and tell them how she more than likely went above and beyond to bring it home. "The last time I went to Argentina, I brought back a leather butterfly chair and two rugs," she says. "It was an adventure to get them home on the airplane!" But to her, it's worth the extra effort, as her travel memories add a warmth in her apartment that can't be matched.
Jessica is originally from the South, so naturally, she loves to have people over for dinner. It isn't rare for Jessica and her friends to squeeze into the cozy, plant-filled living room with a glass of wine as they listen to records. Clearly, Jessica has succeeded in making her apartment feel personal and welcoming by only bringing in things she's connected to — the fundamentals of making a home. "I'm so in love with and inspired by the stuff that surrounds me," she says.
Apartment Therapy Survey:
My Style: I'd say it's very bright, bohemian and eclectic. It wasn't an intentional thing — I've brought back so much stuff (small and large) from travels over the years, and they just work together.
Inspiration: This might sound cliché because I work at Pinterest, but my obsession with indoor plants really took off when I started a board. I kept saving Pins that looked like jungles… and then before I knew it I had surrounded myself with one. At least I have a few co-workers who share my interest so we can nerd out about propagating plants and watering schedules.
Favorite Element: The blue walls in the living room; they make anything look good. I can't take credit for them though, the previous tenants painted them and when I got the apartment with a good friend, she asked the landlords not to repaint it.
Biggest Challenge: Having a tiny kitchen. Even with just two or three friends over for dinner, I feel like I'm crawling around everyone in the kitchen to cook and serve food. That's why I've gotten really creative with storage — I put my extra pots and pans above the cabinets, and shelves around the kitchen hold my go-to utensils or spices. Even though the kitchen is the smallest room in the house, it's always where friends gather for the longest. We rarely leave the kitchen table!
What Friends Say: My friends would joke about the blue walls — that was until the house got taken over by plants. Now we have something new to laugh about. But generally my friends say it's super cozy and inspiring, and I love having guests.
Biggest Embarrassment: The kitchen feels a bit old (between the linoleum floor and the old countertops). But that's where I think adding texture and greenery has helped. It feels cozier.
Proudest DIY: Though they're far from being the star of the show, I made the shelves in the kitchen. I hand-sawed the wood and stained them. I did get help to hang them though.
Biggest Indulgence: I've never really invested in rugs (they go under your feet!) but one time I was in Buenos Aires and I fell in love with the rug that's in my bedroom. I was talking with the dealer about South American weaving styles, and when he showed me this one, I couldn't help myself. It was a pain to get back home though! I had to get another piece of luggage just to get it on the plane. But it's worth it.
Best Advice: Home goods make the best and longest-lasting souvenirs. I've seriously backpacked South America with ceramics and pillowcases in my bag, and am so glad I did (though I had to leave behind some clothes to accommodate for space). It gives you a much richer connection to the things you have, and makes for a good story as you show guests around your home. So yeah, surround yourself with things that remind you of places and moments in time.
Dream Sources: Pinterest, flea markets and antique stores across the country. I also always love looking through the home section of the Anthropologie catalog. They're never light on bright and bold use of color!
ENTRY
"Hard to Miss" print — Raven Roxanne
Small rug — Family antique
"Warm Geos" Print — Britt Bass
Shelf drawer — Family antique
BATHROOM
Hanging mirror — World market
Ruffled shower curtain — Amazon
Bath rug — Lisbon, Portugal
Standing organizer — A former roommate