A 400-Square-Foot Liveaboard Yacht Shared by a D.C. Couple (& Their Pup!)
We independently select these products—if you buy from one of our links, we may earn a commission. All prices were accurate at the time of publishing.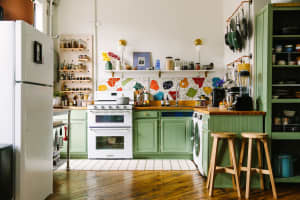 Can't-Miss House Tours Straight to Your Inbox
Keep up with our latest house tours each weekday with our House Tour of the Day newsletter
Name: Abigail and Mark Hobbs and dog, Solo
Location: Gangplank Marina — Washington, DC
Size: 38 foot yacht, approximately 400 square feet
Years lived in: 2 years, owned
Imagine: lounging in a hammock, sunbathing on the deck, and dropping a kayak out your front door for an evening paddle — all while living in a city. This is an average day for Abigail and Mark Hobbs on their liveaboard yacht, right in the middle of the nation's capital. After struggling to find an apartment with their sweet dog Solo when they first moved to Washington, D.C., the couple spotted the 1988 Carver Yacht on Craigslist. They toured it, put their doubts aside, and said, "Why not?"
Two years later, and Abigail and Mark have come to love the nautical lifestyle as well as the close-knit neighbors that it provides. The Gangplank Marina is D.C.'s only houseboat community, located in one of the District's most rapidly changing neighborhoods, the Wharf.
The duo has embarked on a number of home improvement projects with the two-bedroom, two-bathroom boat, including installing new ceilings, adding vinyl lining to the walls, and re-vamping the galley kitchen. Abigail is also a painter, and her vivid artwork can be seen throughout the home. The octopus mural in the living room is a guest favorite!
Apartment Therapy Survey:
Our Style: Eclectic with a nautical flair
Inspiration: People always ask us "HOW on earth did you wind up on a boat?" The answer is pretty simple: We had to move to DC for work and could not find housing with our pitbull Solo. One day, I was turned down by 30 places in the city. I was so worried we were going to have to send Solo to live with my parents for awhile. Then we spotted the boat on Craigslist! I was pretty dubious at first, but after touring the boat we realized how comfortable Carvers really are. It's small, but it's very comfortable — and it's definitely fun! We sold all our belongings and jumped into boat ownership headfirst.
Favorite Element: The decks! In summertime, we string up the hammock that makes our aft deck the perfect spot to lounge with a cold drink on a hot day. The afternoon sun beams down on the hammock; so it's not uncommon to catch my husband taking an after-work snooze. The forward deck is a great place to lay out or sip a glass of wine while watching the sunset. We rarely watch TV in summertime because the outdoor space is just too fun. The river is right outside our door so most summer evenings we toss our kayak right in and go!
Biggest Challenge: Winter. Typically, the boat stays very warm. It really only becomes a little chilly when the outside temperatures dip down into the teens or single digits. But winter brings a host of other challenges: ice on the docks, ice on the boat decks, frozen marina water lines, no waste pumpout, etc. Of course, most of these challenges could impact land-based homes, too. The main concern for liveaboard boaters would be snow removal. A very big snow will exert a lot of pressure and could sink a boat. Thankfully, spring, summer, and fall more than make up for winter's woes.
What Friends Say: "Y'all are so cool!" or "You'll remember this part of your life forever." Everyone wants to come stay on the boat. And I love that! I enjoy hosting people, and it's fun for people to stay here and say "I spent the night on my friend's yacht."
Biggest Embarrassment: Having to explain to guests how to use the toilet (or heaven forbid, if something goes wrong…) Marine toilets are such a joy. Our friends and family are always good sports about it, and so far everything has worked just fine. Thankfully, the marina has guest facilities as well.
Proudest DIY: Headliner and hulliner (ceilings and walls for landlubbers). When we purchased the boat, all the liners were torn out, exposing the bare hull. So we installed new vinyl liners in soothing shades of blue and added a wooden ceiling in the forward cabin (guest room). It really transformed the space. We are also pretty proud of the galley makeover. There, we refinished the cabinets in Annie Sloan Old Violet paint and installed a backsplash.
Biggest Indulgence: Our new bimini canvas. When we bought the boat, the canvas was so worn you could see through it. One good storm ripped a huge tear right across the front. For a few weeks, we had to duct tape it together. Oh my goodness! We hated it! I joked to my husband that we should rename the boat "Tow Mater" because the duct tape drove me crazy. Now we have a beautiful black custom bimini (made by Mount Vernon Canvas), and it made the boat's profile look so sharp. It was worth every penny.
Best Advice: We truly live by the adage that you only live once. While we know that living on a boat may not suit everyone, we have loved every minute of it. Living here helped us meet so many awesome people; this neighborhood is just amazing. I don't think we would have experienced DC to the fullest or made as many new friends had we lived in a traditional apartment. I'm so glad we put aside our doubts, ignored the naysayers, and took the plunge. Thirty or forty years from now, I think we will look back and say "I'm so glad we did that."
Dream Sources: My two favorite home decor stores are in downtown Frederick MD: Industrial Home and Great Stuff by Paul. Both have amazing one-of-a-kind pieces! Otherwise, I am a huge fan of the hunt, so I do a lot of my shopping in antique and thrift shops. I'm also not above digging through old barns and storage sheds. Ideally, I would love to have a lot of spare cash, go find an awesome hole-in-the-wall antique store, and just wheel-and-deal all day!
PAINT & COLORS
Walls — Behr Premium Plus in "White Flour"
Trim and accent walls — Behr Premium Plus in "Smoke Stack"
Hull liners — Naugahyde liner from Sailrite, ash blue and navy blue
Cabinet paint — Annie Sloan Chalk Paint in Old Violet
ENTRY
Dock boxes — West Marine
Outdoor Rug — Amazon
Dock box cushion — Amazon
Hammock — Eno
LIVING ROOM
Futon — Target
Yellow chair — Inherited from Abigail's grandmother
Large Rug — Nuloom
Small rug — Found at Emporium Antiques in Frederick, MD
Mural — Abigail's original design
Ginger jar lamp — Found at the Old Clarkesville Mill antique store in Clarkesville, GA
Lamp shade — Target
Paintings — Abigail's originals
"Everyday I'm Snugglin" pillow — PCB Home Etsy shop
Assorted throw pillows — TJ Maxx
Blankets — DelMex
KITCHEN
Cabinet color — Annie Sloan Chalk Paint in Old Violet
Backsplash — Home Depot
Rug — Pier One
Painting — Abigail's original
Compass rose whiskey set — Outdoor Reserve in Georgetown
Jadeite salt and pepper shakers — Shabby Crabby Etsy shop
BEDROOM
Duvet cover — Bed Bath and Beyond
Assorted pillows and throw — TJ Maxx
Assorted vases — Thrifted finds
Painting — Abigail's original
Thanks, Abigail and Mark!