How I Found the Window Treatments for Apartment Therapy's HQ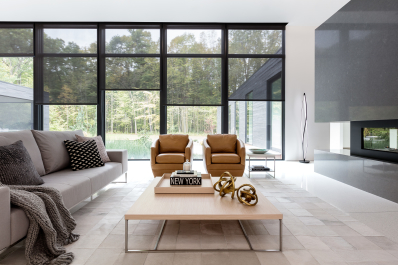 (Image credit: The Shade Store)
This year at Apartment Therapy, we expanded our growing offices into a new space. As project manager for the job, I oversaw everything from getting the lease signed to getting the gas turned on in our new studio kitchen. My very last step was to find and order the window treatments. A minor detail, I thought, until we started working in shadeless offices. Turns out, it's anything but.
After one day in the new space, it became clear we needed those window treatments pronto to regulate our sunlight-drenched SoHo work space (I know, I know...it's dreamy, but stay with me). We love our sunlight and view, but there are times of day that if you don't have a window cover you feel like you are staring directly into the light of a thousand suns. We have to accommodate photo shoots that mix natural and studio light and editors who work in the dark, but also staff who want bright rooms to work in.
(Image credit: The Shade Store)
We wanted our windows to keep the same simple, clean, minimal look of our office. So I went to The Shade Store's SoHo showroom (there are more than 55 nationwide) to see what they could do for us. They make the usually daunting process of buying shades — yes, even as someone who works for a home design site I find buying window treatments daunting — simple and, I dare say, fun.
They walk you through your project — whether it be a new apartment, upgrading to motorized drapery, blackout Roman shades for a nursery, or in my case, an office — step by step and to beautiful results.
My journey began by talking to a rep, who right off the bat helped me figure out what I was really looking for. Right away, I knew their solar shades were ideal for us. But even when you know what you want, there are still so many decisions! So here's how I got from inspo to install...
Step 1: Learn about your options.
I educated myself about all the different types of roller shades on The Shade Store website. The site is cool and easy to navigate. I knew I was looking for roller shades, but only after I learned about Roman shades, wood blinds, cellular shades, pleat shades, etc., etc., etc.
I was in the market for something simple and minimal, but they have collections that suit so many more tastes. I fell in love with two of their exclusive designer fabric collections: one from Nate Berkus; one from Jonathan Adler — check his out here:
Step 2: Measure the windows.
I thought this one would be my nightmare. Get the measurements wrong and your super nice, fancy shades won't fit in the windows. To my surprise, this step was the easiest because The Shade Store actually measures your windows for you…for free! They know all about how to adjust for an inside and outside mount, and how much space to leave for the shade to move. They know a lot.
(Image credit: The Shade Store)
Step 3: Work with your design consultant.
After The Shade Store takes your measurements, they assign you a design consultant. Mine was Richard. Fun facts I learned about Richard: he's very funny and legitimately seems to love window treatments as well as working on the weekends. He kindly and patiently explained that my next step was to go to the showroom to see it all in person. There I could narrow down color, opacity, and how I wanted to mount the shades onto the windows.
We chose an inside mount because it's clean and simple (we really have an aesthetic preference here, if you haven't noticed) and it helped give a cohesive look to rooms whose architecture is a little irregular. As for the rest, the showroom had beautiful examples of everything and Richard was able to answer all of my questions. Surprisingly, it wasn't the slightest bit overwhelming.
(Image credit: The Shade Store)
Step 4: Have fun with swatches.
Richard sent me back to the office with a snazzy folder of swatches so I could hold the different options up to the windows. This quality time with your swatches is key. Some shades look very different in the store than on your window because of the intensity of the light paired with the level of opacity of the shade in your particular space. I recommend having a friend hold the different options up to the window so you can step back and get the full picture.
Once we decided what would work for us (tip for project managers: keep your aesthetic committees small), I called up Richard and he quickly created a quote for each window.
Step 5: Place your order.
All you have to do is click a button at the bottom of the quote created by your design consultant, add your payment, and enjoy the last few days of having to wear sunglasses in your own space. They give you the date you can expect your shades — it'll be 10 days or less and with free shipping.
And voila: shades! When it's time to take care of your windows, visit Richard or any of his colleagues at The Shade Store's 55+ showrooms across the U.S. and enjoy your own simple journey to shades. Or blinds. Or drapes…
Find your local Shade Store showroom here.
This post is sponsored by The Shade Store and was created by the Apartment Therapy Creative Studio.
Thank you for supporting the brands that make Apartment Therapy possible.
Apartment Therapy supports our readers with carefully chosen product recommendations to improve life at home. You support us through our independently chosen links, many of which earn us a commission.