This Is How Much It Costs to Move Out of Your Parent's House
We independently select these products—if you buy from one of our links, we may earn a commission. All prices were accurate at the time of publishing.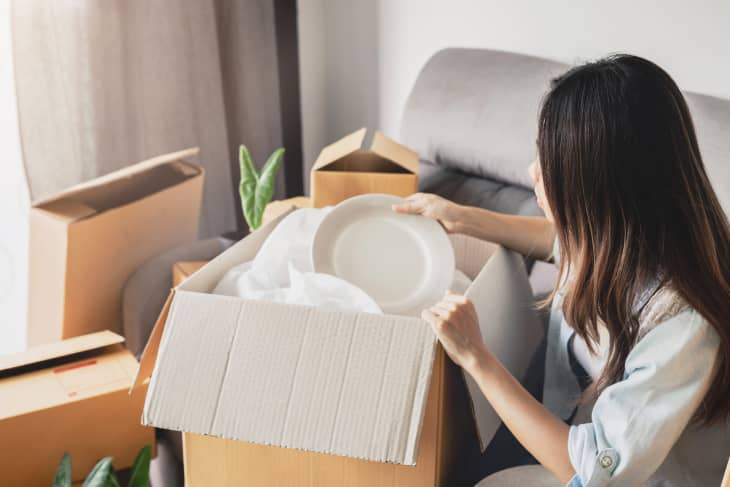 If you're like me, you severely underestimated the cost of moving into your first apartment. I had the deposit and first month's rent squared away, no problem, but weirdly didn't realize how expensive things like beds and ottomans and silverware were going to be until I went to my post-move-in Target trip. I can assure you, Moms were called and tears were cried. And while I ended up being able to cheaply, though scrappily, furnish my first place with a lot of hand-me-downs and inherited pieces from family members and recently-deceased relatives, I still couldn't believe how much my foray into adult life actually ended up costing. And now, thanks to a new analysis from Apartment Guide, the new wave of college grads can learn from my mistakes and actually plan for that sticker-shocking cost post-parental cohabitation: $7,481 (yeesh!).
For the analysis, the folks at Apartment Guide surveyed 250 current college students about their post-grad living plans. They asked them everything from where they planned to live after they received their diplomas and why they chose to live there, to how much they were planning to pay for their apartment and how they'd make the rent. While 54 percent of those surveyed planned to move back in with their parents, 44.8 percent said they would immediately rent their first apartment.
Follow Topics for more like this
Follow for more stories like this
No surprises here, the majority said they were moving back home to save that sweet, sweet cash. According to the survey, only 30 percent of respondents had jobs lined up directly after graduation. So for many, the only feasible option to making rent was not having a rent bill to pay—so back home with the ol' 'rents it was until they could save, as stated above, on average, $7,481. This amount was when Gen Z said they would feel they'd have enough to comfortably live on their own. While that may seem like a lot, the key word is comfortably—meaning they'll have enough to furnish their apartments in a way that doesn't scream First College Apartment and also have a bit saved up if their first job doesn't pan out.
While I applaud Gen Z for being financially-conscious, I have to say for most, this is a bit much. Yes, between deposits, movers expenses, and associated fees, moving does end up being a lot more than you think it would—between four and five times the rent, some experts say. And while this $7.5K figure might make sense in places like New York City or L.A., where that breaks down a monthly rent of between $1,500 and $1,875.
But the math doesn't necessarily check out for where most college grads are expecting to live—primarily in the city or town where they went to school (or another place with a similar feel). Because, often, rent is cheaper in these towns, Gen Z expects to pay somewhere between $575 and $715 a month, either with a gaggle of roommates or solo. So hey, Gen Z, if you're reading, know that if that's true, you can secure freedom for between $2,300 and $3,575. (And if you're a Millennial or Gen X-er or Boomer or what have you, please forward this article to the closest under 20-something to save a life!) This seems like a more reasonable number to save up quite quickly when you're living rent-free, doesn't it? (However, we understand if you want to postpone a bit because well, there's no place like home—especially when Dad's Taco Tuesday game is still on point!)
More great Real Estate reads: