I Started Buying Up Vintage Placemats, and Here's Why You Should, Too
We independently select these products—if you buy from one of our links, we may earn a commission. All prices were accurate at the time of publishing.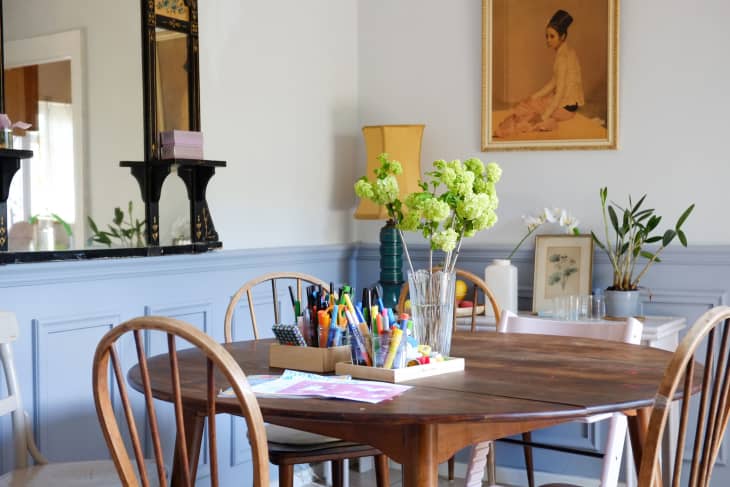 When I started feeling comfortable hosting people in my home again in January of 2023, I switched out my small round dining table in the middle of the room for a banquette, complete with a long table for several guests and a comfy storage bench. With my vintage vase and mini pampas grass arrangement, I felt ready to start having people over. 
Follow Topics for more like this
Follow for more stories like this
Well, almost. We tend to keep it pretty casual in my house, so I literally didn't own any placemats. I did up until a few years ago, when my IKEA placemats looked worse for wear, and I had to toss them. Since then, I've been without placemats because company really wasn't coming over. Now, I finally felt ready to invest in some. 
As someone who prefers the vintage version of anything, I decided to go off on a quest to find stylish, vintage placemats to complete my table for gatherings. I kept remembering these vinyl placemats that my mom put on our table back in the day, and I wanted to recreate that same retro look. 
While I can spy well-made macramé wall hangings or real-deal Nemadji pottery with ease, placemats were kind of new territory. Why are some of them so expensive while others aren't? Are some materials more durable than others? What brands are collectible? 
That's when I took to Etsy, eBay, and other sites to discover some vintage placemats, and along the way, I picked up some tips that you can use, too.
As a thrifting devotee, I don't like to spend tons of money on household essentials if I can help it. As I began searching, I found that some vintage placemats could cost upwards of $40, $50, or even $60 a piece in some cases. And at first, I couldn't understand why. 
Turns out, it all comes down to branding. In the land of vintage placemat collecting, a couple of companies are considered more sought-after than others. One is Town & Country, which tends to specialize in vinyl placemats with adorably retro designs (think: roosters, vegetables, and Christmas motifs, all with a 1980s vibe). 
Another beloved brand is Vera, the same brand that made those iconic silk scarves of the 1960s and '70s. These placemats, which run from vinyl to fabric, have still on-trend designs with whimsical butterflies and painterly flowers. These pieces truly look like little pieces of art for a table. These, again, typically fall into the $40 to $60 range. 
If you want to go for the collectible placemats, by all means, do it! If you leave them out all the time, they'll act as table decor, and you'll get your money's worth out of the splurge. 
Personally, I went the cost-effective route with my placemats. I bought one set of eight with retro ferns and mushrooms from Town & Country for $25 and another set of graphic placemats in '70s hues for the low, low price of $6 (and that was for a set of four). 
And as it turns out, my mother hung onto a couple of her vinyl placemats from decades ago, so I was able to score those, too (for free, of course!). It goes to show that asking family members for their bygone treasures can definitely pay off. 
There's a reason why so many vintage placemats that have survived to current times are vinyl: The material is waterproof and durable, and, in many cases, the design lasts. So, if you have a family or want to hang onto your placemats for, say, longer than a few months, opt for vintage vinyl. 
While cloth and woven or even macramé varieties are certainly cute, buying these materials vintage can be tricky. Older fabrics can carry a musty smell at times, and you may have to work on getting that scent to disappear. It's definitely doable, though. And you'll need to scrutinize the listing photos online before you buy. Check for tearing, fraying, and other worn spots before purchasing. Don't be afraid to ask the seller questions, either. 
In general, I've found that while the vintage wares are undoubtedly high-quality on Etsy and eBay, they can be pricey. Instead, go to other sources to find a deal on a set of placemats. For instance, I bought both of my placemat sets from Poshmark, which has a home section and has become my new favorite source for vintage. Otherwise, Facebook Marketplace has several sets of reasonably priced placemats, and don't forget your neighborhood thrift store and nearby garage sales.