8 Foolproof Ways to Keep Your Cat Away From Your Christmas Tree
We
independently
select these products—if you buy from one of our links, we may earn a commission. All prices were accurate at the time of publishing.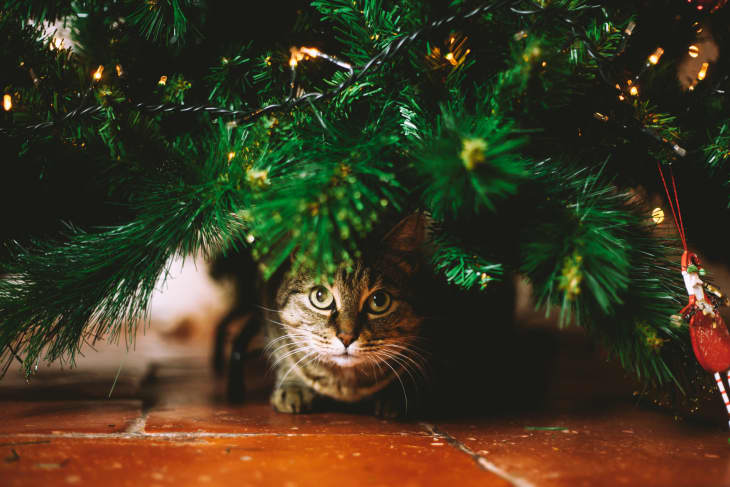 Cats love trees. In fact, it's most likely incredibly exciting for your furry friend to see you gussying one up with shiny hanging things on it for them to play with indoors. So it's important to consider how to cat-proof your holiday evergreen before you end up with broken ornaments on the floor, with it falling over, or worse.
Are Christmas trees safe for cats?
Toppling over tends to be the biggest concern when it comes to owning a cat and a Christmas tree. While there is a chance your cat can get hurt, they usually come out fine from the fall, but your ornaments and tree may not be so lucky. But the nature of the tree itself can pose more threats to your cat. Blue Cross for Pets notes that some oils that are released by real trees can be mildly harmful "causing minor irritation to a pet's mouth and stomach" if it's consumed. The company also says that any kind of fertilizer or plant food you use can end up in the base of the tree, where it's easy for pets to access and drink, so it's best to avoid.
What about those pesky needles? PetMD explains that ingesting needles can cause stomach upset, and in the rare case it eats a large clump, the poky nature of the foliage can be a problem for your cat's insides. To keep this issue from happening, it's best to routinely clean up pine needles or look for trees that rarely shed.
So if your cat's knack for climbing on anything and everything is the only deterrent from you getting festive this year, scroll through these tips to help keep your kitty from making your Christmas tree its new home.
1. Implement some kind of barrier
Physical barriers are fool-proof You can make it sneaky by buying a wire barrier that goes among the tree's boughs or you can make it stylish by wrapping a cute fence or wooden barrier around the base. Baby and pet gates are also useful tools to discourage climbing.
2. Spray a pet-safe deterrent
Don't give your cat any in-scentive (pun intended) to crawl up your evergreen. According to Treehugger, your four-legged friend won't be a fan of bitter apple spray or citrusy oils as they're too strong for their liking. With a few sprays not only will your cat back off, but you'll have a tree that smells refreshingly fruity, too.
3. Avoid tinsel and other shiny things
Unfortunately, cats absolutely love these eye-catching accents as much as we do, and Pets At Home notes that things like tinsel garlands and beaming ornaments are a no-go when you have a cat. While it may require a bit more effort to find baubles that aren't super shiny, it'll pay off when your tree is still standing come December 25. Try searching for felt or wooden garlands and colorful matte ornaments to create an equally stylish finish.
4. Opt for larger decorations
Even if your cat doesn't intend to eat ornaments, it's instinct to play with them may result in an accidental meal. To avoid a trip to the vet's office, choose larger decorations that aren't easy to pull apart or swallow. If you do have a favorite bauble or two that's smaller in size, place those near the top of the tree.
5. Be mindful of Christmas lights
Lights and their dangly cords are enticing to cats as well, and it's important to keep it from getting tangled up or biting the bulbs and wires. According to The Spruce Pets, this can lead to choking, burns, and electrical hazards, so it's best to restrict access by start your string of lights a few layers of branches up from the ground.
6. Move furniture away from the tree
It's a lot harder to jump into a tree without the help of an unsuspecting couch. Pet Health Network recommends placing your tree in an area away from furniture or do some rearranging to make sure there are no platforms that make the task of climbing simpler.
Preventative Vet suggests going for a tree that's thinner than your usually voluminous fir. Less surface area means there's not as much room for climbing or hanging out in. This'll bore your kitty before it even tries to scale it. Not to mention it'll be easier to keep your eye on ornaments and lights before they fall prey to a very curious cat.
8. Keep catnip gifts away from the tree
Wrapping gifts for your cat is really fun in itself, but leaving them under the tree is a surefire way to make it more enticing, giving your cat more of a reason to climb. Blue Cross for Pets suggests that any presents for your cat that contain catnip should be placed far away or left in a closet to avoid a tree fiasco and a mess of shredded wrapping paper.