How To Green Clean Moldy Shoes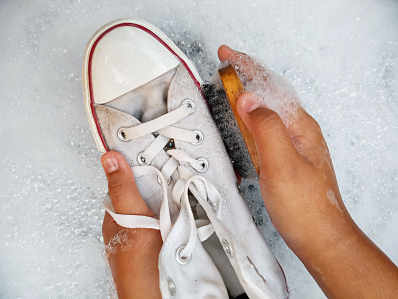 (Image credit: Ukrit Theengarm/Shutterstock)
I know... scary stuff. I can understand how your first thought might be 'Quick! Throw them out!' But fear not; if you are a fellow humid climate dweller who has faced this situation and shamefacedly thrown out pair after pair of otherwise perfectly good shoes. I have the solution! It's quick, it's easy and you more than likely already have everything you need.
What You Need
Materials
A moldy shoe
A soft cloth
A firm bristled brush
A bucket
1/2 cup of white vinegar
1/2 cup of water
Instructions
1. Use the firm bristled brush to dust away all the visible mold and mildew from the shoe.
2. Pour half a cup of white vinegar and half a cup of water into your bucket.
3. Dip the soft cloth into the mixture and gently wipe over the affected areas.
4. Dry with a clean towel or leave in sunshine... if you have any... sunshine I mean.
Additional Notes:
1. Do this outside to avoid spreading mold spores through your house.
2. This method will not work on suede shoes.
3. Canvas shoes might need an extra wash either by hand or in your machine as they will hold the vinegar smell longer.
4. The vinegar has a potent smell! You can overcome it by spraying an essential oil or tea tree/water mix afterwards.
5. If you have some water/vinegar solution left you can put it in a spray bottle for use around the house!
Apartment Therapy supports our readers with carefully chosen product recommendations to improve life at home. You support us through our independently chosen links, many of which earn us a commission.