I'm Obsessed With Vintage Pyrex, So I Asked the Experts How to Find the Best Pieces
We
independently
select these products—if you buy from one of our links, we may earn a commission. All prices were accurate at the time of publishing.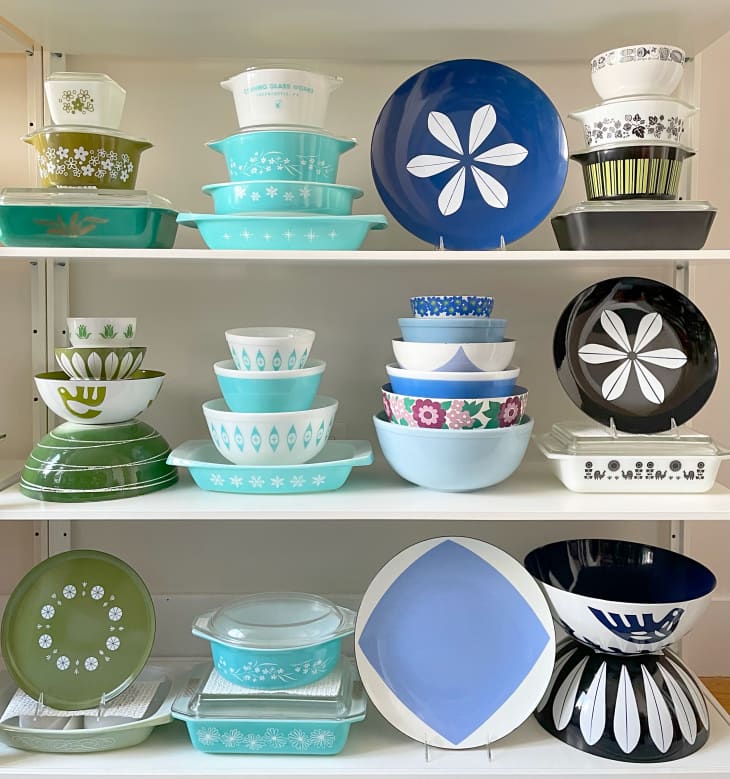 My fascination with vintage Pyrex started at a flea market last year in Brooklyn, on one of those unseasonably warm days in January that make New York City feel as though it's worth all the trouble. I was browsing a stall full of mismatched dishware and cut crystal whiskey glasses, when I stumbled upon the item that ultimately stole my attention: a green casserole dish decorated with a playful floral motif. It reminded me of home, even though it looked nothing like the dishes I'd grown up with. I didn't buy it, but upon leaving the market, I immediately regretted not doing so. 
I'm still not exactly sure what it was, in particular, that tugged at my heartstrings, but I needed that dish. Thanks to some quick sleuthing online, I learned that I had been looking at a Pyrex Spring Blossom Casserole dish in Avocado Green. According to the Corning Museum of Glass, this pattern was introduced in 1972 and sold until 1979, with a second version of the pattern sold until 1981, making it one of Pyrex's longest selling patterns. Luckily for me, I used Etsy to find an identical Spring Blossom casserole dish to the one I'd seen in-person and had it shipped to my apartment right away. It's a handy serving dish for dips, sides, and veggies, but more than anything, I enjoy looking at it in my kitchen.
Today, Pyrex is probably best known for its simple, function-first glassware, from pie plates to glass measuring cups, although the brand has a long history of decorated homewares. Several Pyrex patterns, collections, and sets are quite common on Etsy, eBay, and Facebook Marketplace, including Spring Blossom, while others are regarded as rare, including complete matching sets and limited-edition patterns. Mixing bowls in the Dots pattern are quite coveted online, for example, with single bowls going for well over $100 on eBay. I quickly learned that I'm not the only one so taken with the nostalgia factor of these dishes. In fact, there's quite a robust community of vintage Pyrex collectors online, with some showcasing their favorites finds on Instagram and others buying and selling rarities on various sites. 
Once I realized I'd entered deep into the realm that is the vintage Pyrex community, I decided to turn to the experts to help me make the most of my online and IRL collecting (I'm up to four pieces now). Thankfully, there's no shortage of knowledgeable collectors out there, many of them on Instagram. I tapped Esther Lee, a social worker who runs the knowledge-filled account @vampyrex; as well as Nicole Miller of @pyrexnplants, who uses her account to display the creative ways she makes use of her vintage collection,  for their tips on shopping for vintage Pyrex, and how to start a collection of your own. 
Decide why you want to grow your collection.
Whether you grew up with a Pyrex-filled kitchen, are determined to buy vintage as an eco-friendly move, or want to adhere to a particular color scheme, there are plenty of reasons why you might want to source a well-loved plate or casserole dish. Whatever your reason, getting clear on it can help you power through thrift store piles and website pages until you find the perfect piece.
Miller's interest in collecting vintage Pyrex was sparked by nostalgia. "I grew up with the '80s Brown Homestead Pyrex," she remembered. "I never thought a thing about it until I found my first set of vintage Pyrex about a decade ago at a thrift store. It was [the Verdé pattern] with all the different shades of green…I was hooked [and had to] to have all the colors."
Childhood nostalgia also inspired Lee, who has always loved thrift shopping. "My parents owned a small business for over 40 years, worked seven days a week, 10 hours a day and my mom always cooked fantastic dinners every night," she said. That's why the Spring Blossom pattern, the dishes she grew up with, are particularly special. "They're my most 'common' dishes but will always remind me of our kitchen growing up and I'll keep them forever. I think that's a big part of why Pyrex is so popular right now. It just has a universal appeal and nostalgia that almost anyone can identify with."
And although Lee's collection is vast, she does have favorites. "As a lifelong New Yorker, one of my favorites is definitely the Lincoln Center promo. It's just such a wonderfully odd piece that was produced to commemorate the Opening Night of Lincoln Center in 1962," she said.  
Lee admits that starting your Pyrex collection can be both overwhelming and exciting. "Take time to figure out what it is you really like because you're not just investing your money, you're investing a lot of physical space to very fragile items that can be pretty burdensome to unload if you realize you're not quite in love with it like you thought you were," she said. 
By setting your sights on a specific color or pattern, for example, you can create a more cohesive collection. Your shelves and display cases will thank you. Conveniently, Corning Museum of Glass offers a handy Pattern Library for potential collectors to browse and learn about what vintage Pyrex might suit them and their homes. 
Become a social media sleuth.
Both Lee and Miller mentioned the breadth of vintage Pyrex that's available online, specifically on social media platforms. The Instagram hashtag #pyrexlove, for example, is commonly used by collectors and is also a great way to find Pyrex-related content, whether you're shopping or browsing for design inspiration. 
Social media is also a helpful resource for learning more about the history of Pyrex and the lore behind certain rare pieces. Curious about the story behind your favorite pattern? You can probably find the answer from your favorite Pyrex Instagrammer or in a collectors' Facebook group. 
… And don't forget to scour your local thrift shop.
Miller counts "thrift stores, estate sales, and online selling sites for local pickup," as the best places to shop for vintage Pyrex. You'll have to do more physical searching than you would with online shopping, but scouring in person will also allow you to inspect a piece more thoroughly and you'll avoid the risks that come with shipping. 
And don't think you have to spend a ton of money to start your collection. "Almost all my pieces are extremely low-priced (under five dollars) from thrift stores," Miller said. And with one look at her beautiful collection, new collectors should see this as a hopeful sign. 
Buying vintage invokes the adage "buyer beware" on principle, but there are a few key features to look for in order to make sure you're getting the highest quality for the price. Dishwasher damage, for example, is a common issue collectors run into, Lee points out. "Modern dishwashers have been something of a plague to vintage Pyrex," she noted. "The paint just wasn't designed to hold up to the extreme heat/chemicals/whatever else is going on during those cycles."
And while some of the best and most rare Pyrex can be found online, shipping dishware can certainly pose some challenges. "I can't tell you how many broken pieces I've received in the mail from sellers that didn't know how to pack/ship glass," Lee said. "When in doubt, don't be afraid to send a quick message to the seller with some tips (double box, reinforce corners, make sure the dish is not touching the sides of box, and make sure there's absolutely no movement in the box after it's closed, etc.) or even offer to pay a little extra for packing materials."
Don't be afraid to get creative with imperfect pieces.
There's a good chance you'll find a piece you love — one in just the right color, in that pattern you just can't get enough of — but it's in less-than-perfect condition. Concerned about a scratch here, or some chipped paint there? That doesn't mean you have to abandon an otherwise gorgeous piece of dishware, especially if you're snagging a stellar deal. Miller admits that "a shiny finish is the most important factor for most Pyrex collectors." However, she also suggests staying open-minded when repurposing flawed pieces. "A few scratches are not a huge deal but if they lose the shine and are dull or chipped, I usually make them into a planter or dog dish," she said.