How to Create a Gallery Wall In Your Dorm
We independently select these products—if you buy from one of our links, we may earn a commission. All prices were accurate at the time of publishing.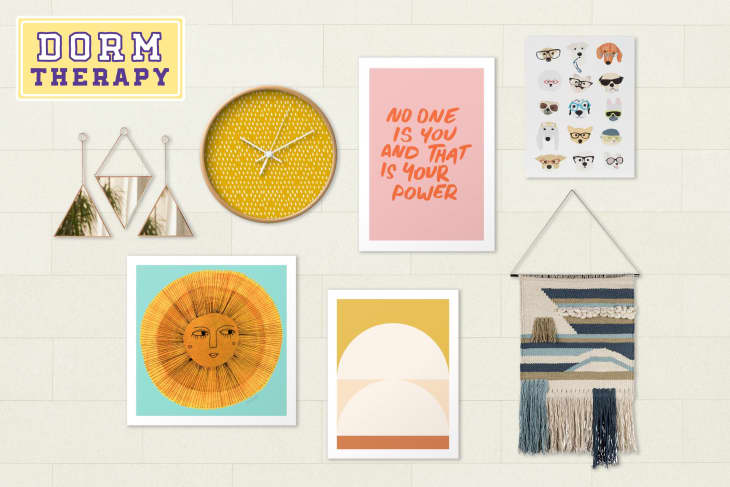 Dorm room walls don't have to be bland, beige and boring! One way to combat this is to go to college with the materials to build a personalized gallery wall, which is a lot easier than it might sound. It's also inexpensive and packs a lot of decor and personality into a small space. You can bring any small space to life with the following tips and tricks I used when I designed mine for my sophomore year dorm room.
Follow Topics for more like this
Follow for more stories like this
There are three things to keep in mind while scouring stores and online websites for gallery wall products: the size of your dorm space's walls, the size of items, and a color scheme. 
If possible, before you begin to search for items, visit your university's website and search for an online rendering and the dimensions of the wall to determine if you have space.
Prior to beginning my gallery wall, I determined my color scheme based on the bedspread I chose. I decided to go with a simple gray and white striped duvet cover, and my accent colors were light shades of pinks and purples. While I'm usually a bold person who likes bright oranges and pops of yellow, I wanted to keep a subtle and minimalistic style that year to match the preexisting modern furniture in the room.
The best way to begin creating a gallery wall is to choose a staple item. This item should stand-out from all the others. Your item does not need to be in the center of your gallery wall, but it should be an item that draws your eyes to it before anything else. 
My staple item was a dreamcatcher made with a scavenged piece of driftwood for the base. I bought it from Etsy, and I thought the piece gave more dimension to the wall, rather than your average art or framed photo.
Other fun staple items might be funky mirrors, neon signs, or a woven wall rug.
Once you've determined the staple item, figure out your accent pieces. The number and size of your accent pieces will depend on the amount of wall space you have remaining once you've added the main item.
When creating my gallery wall, I had enough space to include an additional four framed photos from Society6 and metalwork art pieces. Ensure your accent pieces complement your staple item, but don't overpower it. 
For the items I used for my gallery wall, check out the following:
How to arrange your gallery wall
After you've collected all of your items, I'd suggest tracing the actual shapes of each item out on paper so you can fit them together in a fool-proof way.
Once you have them cut out, lay out the options either on the floor of your room or on a large table to see what design looks best, and choose one that you like. 
Then, you can loosely tape the items on the wall and arrange and rearrange. It's also great to enlist the help of friends who can serve as an additional set of eyes or for leveling purposes. Then, hang your gallery items right over your tracings. 
Best hooks and adhesives for hanging 
I recommend using Command Hooks and Command Picture Hanging Strips. If possible, you can also use thumbtacks or nails, but some universities do not want you to damage the wall, so always check with the school or your RA first.
Simply remove the tracings from behind your gallery items once you're done. 
And that's it! Now that we have the how-to out of the way, here's some inspiration for you below.
Don't let your dorm room decorations fall flat this fall. Go back to school in style by investing in your own gallery wall!
Want more dorm ideas, inspiration, and stories? Head over to Dorm Therapy HQ!